Best earbuds Buying Guide: Welcome to What Hi-Fi?'s round-up of the best in-ear headphones you can buy in 2021.
Are your current in-ear headphones falling apart? Do you need a new pair to partner with your smartphone or tablet? This is the page for you.
If you haven't thought of upgrading your in-ear headphones before, now could be a perfect time. Our list of hand-picked buds proves you don't have to spend a fortune to get a serious jump in sound quality.
Of course, if your budget allows you can always opt for a more expensive pair. This could be something to consider if, say, you use a premium portable music player packed with hi-res music.
Compared to over-ear headphones that can look and feel big and bulky, the best earbuds offer a more discreet listening experience, while their snug fit tends to deliver decent levels of isolation from the outside world.
There's a pair of in-ears for everyone on this list, including budget and premium in-ears, plus noise-cancelling headphones and wireless headphones, too. Rest assured, we've tested all the in-ear headphones mentioned below, which is why you can be confident they're all up to the job of being your next pair of earbuds.
Klipsch has form when it comes to excellent, affordable in-ear headphones. First it was the R6i IIs that stole all the headlines, but for now it's the T5M Wired causing a stir. Not only are they extremely comfortable, they're also some of the most musical buds we've heard in this price bracket.
Each bud houses a 5mm dynamic driver and features a soft silicone ear tip that offers a great seal that ensures good noise isolation. The rugged cable feels tough enough to withstand the rigours of a daily commute and there's an in-line mic and one-button control, so they'll work with most smartphones. While not positioned as 'sporty', they are IPX4 sweat- and water-resistant.
Any negatives? Well, they can generate cable noise if you don't use the supplied clothing clip and the one-button control doesn't allow for volume adjustment. But overall, the Klipschs combine detailed and dynamic sound with great build quality, meaning they're a stellar product for the money.
Read the full review: Klipsch T5M Wired
These Sony in-ear headphones are a brilliant option for many reasons. They offer a stable Bluetooth connection and also manage to pack in some of the best active noise-cancelling technology we've heard from a pair of true wireless buds.
At the heart of each earpiece lies a Sony QN1e HD noise-cancelling processor. Sony claims the chip delivers a 40 per cent increase in noise-cancelling quality, compared to previous WF-1000X model.
Battery life is excellent: with Bluetooth 5.0 and active noise cancelling switched on, these buds should last a commendable 6 hours. You can stretch that to 24 hours using the supplied charging case (or 32 hours if you're prepared to switch off noise-cancelling). There's also get support for Siri and Google Assistant voice controls.
Of course, all of these features would be useless if the Sonys didn't sound great - but they do. They serve up a musical and entertaining performance, overflowing with energy and detail. A sensational pair of in-ear headphones.
Read the full review: Sony WF-1000XM3
The SoundMagic E11C headphones are the latest addition to a range that represents one of the more surprising success stories of recent years. Founded in 2005, a relative flash in the pan compared to many audio companies, SoundMagic rose from obscurity to multiple-Award winners, most notably with its budget in-ear headphone range.
The E11Cs deliver a snug fit and a well-balanced, fun and energetic sound. With an updated 10mm dynamic driver and a silver-plated copper cable, they're great value for money too. Sound is warm and there's decent depth to the bass, which is topped with a clear and crisp midrange. It's also worth noting that their high sensitivity (112dB) means that the E11Cs can deliver plenty of volume.
Functionality is kept simple with a remote and mic on the cable for the left earphone. It's a standard three-button job, so it should work with Apple and Android smartphones, giving you volume and stop/start functionality. Given the price, it's hard to find fault with these excellent budget buds.
Read the full review: SoundMagic E11C
Shure has plenty of experience with wired in-ear headphones, and it shines through in the Aonic 3s. They're comfy and lightweight for starters. The headphone cable hooks over the top of your ears and keeps them secure at all times - there is a slight knack to getting the swivelling buds in place, though.
Nine different eartip choices allow for excellent isolation, while an in-line remote and mic can control your tunes and answer calls.
And the Shures absolutely nail sound quality. They're dynamic, detailed and their sense of rhythm and timing needs to be heard. We can't think of any pair of in-ear headphones at this price that comes close.
Read the full review: Shure Aonic 3
Panasonic isn't a brand that immediately springs to mind when you think of earbuds. But perhaps it should be. The RZ-S500W are the company's first foray into wireless noise-cancelling earbuds and they're sensational performers for the money.
Specs are thorough, with noise-cancelling tech, an Ambient Mode, twin mics for voice calls, and battery life that totals 19.5 hours (6.5hrs from the buds and 13hrs from the charging case). A 15-minute USB-C quick-charge can deliver 70 minutes of playback. The touch controls on each bud are responsive and intuitive, allowing you to control your music and switch between noise-cancelling modes with zero fuss.
You also get five sizes of ear tips to help with fit. We found this a little hit and miss, so we'd definitely experiment and consider mixing the sizes if it means getting a more secure fit.
Both noise-cancelling and sound quality are excellent. There's plenty of agility through the low end and loads of texture across the frequencies. Music sounds clear and there's a great deal of refinement on show, which is to be welcomed at this price level. To sum up, these Panasonic earbuds are superb for the money.
Read the full review: Panasonic RZ-S500W
If an unadulterated sound is your sole concern, these What Hi-Fi? Award-winners are hard to beat for the money. The budget-conscious in-ears feature 6.5mm graphene drivers that deliver a cohesive, expansive and rhythmically-driven sound, augmented by a playful soundstage that few earbuds can achieve at the price.
A good fit is essential, and, due to the length of the earpiece itself, that might not be as easy to come by for everybody, but their sonic talent is such that it's worth the effort and potential purchase of extra buds.
With a stellar nine hours' battery life from the buds themselves, plus four additional charges from the included case, you get an impressive 45 hours of continuous use from this little set-up.
In addition to Bluetooth 5.0, there's support for Siri and Google Assistant, as well as a control button on each earpiece (designed to look like the Cambridge Audio logo). An IPX5 rating means they're water and sweat-resistant too. There's no noise cancelling, but it is clear Cambridge Audio's focus has been on great sound over bonus features.
Read the full review: Cambridge Audio Melomania 1
The original version of Momentum True Wireless was an impressive debut – but the company's second bite at the cherry brings noise-cancelling technology and improved battery life.
Thanks to their lightweight design, these premium wireless in-ear headphones are comfortable to wear and offer 7 hours of playback (28 hours with the charging case). The big attraction here, the noise-cancelling technology, is a useful addition – turn it on and it blocks out all the chatter and rumbling of the outside world. You can toggle noise-cancelling on and off by tapping the touch-sensitive controls, which are pleasantly responsive.
As you'd expect from Sennheiser, their sound is refined and mature. They present a spacious soundstage, with nicely balanced highs and lows. When viewing Netflix and YouTube video content dialogue is loud and clear, with no lip-sync issues.
While these classy Sennheisers sound a tad more composed than the Sony WF-1000XM3s (above), they're also much pricier. Still, if your budget stretches you won't be disappointed.
Read the full review: Sennheiser Momentum True Wireless 2
Historically, the vast majority of Bose's noise-cancelling headphones have been on- and over-ear designs, but the Bose QuietComfort Earbuds take the legendary line into the world of earbuds. And they do so with great success.
The offer superb noise-cancelling tech, which can be adjusted in the companion app, as well as customisable controls. The QuietComfort Earbuds feel lightweight enough and, for the average commute or exercise session, they are great to live with. Battery life is a claimed six hours from a single charge or 18 hours total with the included charging case – a decent reserve, but by no means class-leading.
As for sound, they dish up a sense of enthusiasm and excitement that is highly infectious. There's power, poise and a fantastic sense of dynamism. Bass notes sound full-bodied, go deep and the QuietComfort Earbuds squeeze out lots of detail.
All in all, the Bose QuietComfort Earbuds are great all-rounders, capable of impressive musicality and topped off with top-notch noise cancelling. They're more than a match for any rival at this level.
Read the full review: Bose QuietComfort Earbuds
Earfun isn't the first brand that jumps to mind in this category, but If you want cheap and cheerful wireless in-ear headphones, you need to give the Airs a try.
These in-ear buds are packed with features. You don't get noise-cancelling at this price point, but Earfun Airs do provide excellent noise isolation and they feel comfy in situ too. They're also waterproof to IPX7 standards (submersible in one metre of water for up to 30 mins), support virtual assistants and include Qi wireless charging if you've got a suitable charger to hand.
Battery life is seven hours from the buds and a further 28 hours from the charging case. Amazingly it all feels fairly premium too. The Bluetooth 5.0 connection is solid and stable, calls sound clear and for the money, the earbuds offer an energetic and spacious sound.
If you're after a pair of affordable and entertaining in-ear headphones, the Earfun Airs are definitely worth investigating.
Read the full review: Earfun Air review
Take the Earfun Air positioned (above), switch to a 10mm driver, cram in even more features such as noise cancellation and you arrive at the Earfun Air Pro.
They're a great proposition with a good fit, solid connection, decent controls, and good noise-cancelling for the money. You also get USB-C charging and wearer detection, plus a well-balanced, relatively transparent sound with tight, full-bodied bass. They're a musically pleasing pair of earbuds and you'll struggle to find anything at this level that carries out similar functions and does it so well.
Read the full review: Earfun Air Pro
Given that we first reviewed the Shure SE425s back in 2013, it's fair to say they've stood the test of time. Fun, absorbing, classy, polished and captivating are just a few adjectives we'd use to describe their sound. The level of finesse and refinement on offer is astonishing for the money.
The first thing you'll notice about these headphones is the design: Shure has gone for the in-ear pro-style in-ear monitor configuration, where the cable passes up your back and splits behind your head before passing over the top of your ears.
Once you've got your head around the set-up, you'll almost certainly be wowed by quad micro drivers that deliver sparkling vocals and plenty of detail. A choice of foam and 'Soft Flex' tips should make for a snug fit, too.
As for drawbacks, the standard SE425s don't come with a remote or mic unit. You can buy separate ones (including a three-button version for Apple devices and a one-button model for everything else), along with a Bluetooth 5.0 module.
Their looks might not appeal to everyone, and they can be a bit fiddly to wear at first, but these are all about the amazing audio. And boy do they deliver.
Read the full review: Shure SE425
The Beyerdynamic Soul Byrds (no, that's not a slip of the keyboard) are a talented pair of sub-£100 / $100 / AU$150, wired in-ear headphones. If you want to upgrade your ageing Apple EarPods, the Beyers should be high on your hit list.
Timing is excellent, sonic balance is perfectly poised and there's a surprising amount of detail for the money. A universal three-button remote control with mic provides basic functionality (play, pause, skip tracks, etc) across iOS and Android devices.
They're supplied with five sizes of ear tips, so you should be able to achieve a decent level of isolation. It's also worth noting that the earpieces are magnetic and snap together around your neck, holding them securely in place when not in use.
While the Soul Byrds are more expensive than some rivals, such as the SoundMagic E11Cs (above), they represent a clear step up in quality. Build quality is good and they're an easy listen. At this low price, the Soul Byrds are a bit of a no-brainer.
Read the full review: Beyerdynamic Soul Byrd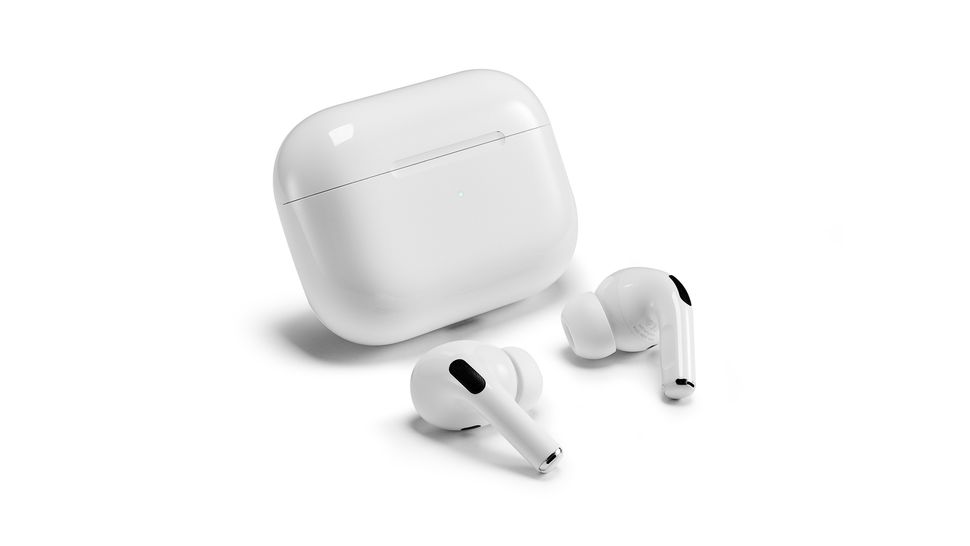 By combining the magic of the original AirPods with active noise-cancelling, Apple has another hit on its hands. And while the AirPods Pros aren't the best-sounding noise-cancelling in-ears, they are still an utter joy to own and use.
Excellent noise-cancelling is complemented by a useful transparency mode that feels almost as natural as wearing non-isolating earphones. Powering the whole experience is Apple H1 chip, which ensures flawless wireless performance and supremely quick pairing.
Battery life is is decent, too, with a claimed five hours for the earphones and another 19 hours available thanks to an included charging case. If the buds die, there's the option to fast-charge: five minutes in the case will give you another hour of listening.
Here Apple has created a pair of headphones that's as well suited to a long-haul flight as it is to a run around the block. For Apple users, the AirPods Pros could be the only pair of headphones they ever need.
Read the full review: Apple AirPods Pro
JBL is a heavy hitter when it comes to sporty earphones and the JBL Reflect Flow is a hotly anticipated entrant to this flourishing, albeit rather niche, true-wireless-for-sports market.
Aimed at active lifestyles and gym-goers, they're IPX7 waterproof and provide 10 hours playback (or 30 hours with the charging case) that should outlast multiple workout sessions. Pop them in the case and these in-ears will go from empty to fully-charged in two hours.
Whether pumping iron or beavering away in an office, the 'Ambient Aware' and 'TalkThru' modes could come in useful. By short-pressing the left bud, you'll scroll through to a slightly quieter sound (Ambient Aware) or very low volume playback (TalkThru) so you can engage in conversation without taking the earbuds out.
Sound is solid, with crisp detail and a pleasing amount of precision. Overall, the JBL Reflect Flow headphones are impressive performers for the money, especially if you want a bassy sound for the gym without resorting to a pair of over-ear headphones.
Read the full review: JBL Reflect Flow
The Sony WF-SP800N earbuds certainly try to please everyone. They want to please those who need accompaniment to their workout and also those who have a commute to endure. They aim to please those who don't want to spend an arm and a leg on some well-specified, true wireless in-ear headphones with active noise-cancellation, but also those who have spent enough on a Deezer or Tidal subscription to have access to 360 Reality Audio, Sony's spatial audio format. And in a nutshell, they succeed.
These Sonys may have average battery life (18 hours total) and an arguably daft look (they aren't exactly discreet and do fill your lugholes), but their dynamic sound, decent noise-cancelling and indisputable build combine to ensure they're front-runners in their field.
Read the full review: Sony WF-SP800N
If you need in-ear headphones that hold their own while you're exercising, the Jaybird Vistas could be the in-ear headphones for you. These athletic earbuds feature Bluetooth 5.0 and offer a fantastic fit, meaning they're ideal for runners. They're also IPX7 water- and sweat-proof, so you can be confident they'll handle multiple gym sessions a week.
They work with Jaybird's clever app which can pair the headphones to your smartphone and also tweak their sound and customise their controls for ultimate ease of use. There's USB-C charging, with a five minute 'super-charge' enough for one hour - a full charge gives you six hours plus an additional 10 come courtesy of the supplied charging case.
Boasting new 6mm drivers, sound is exciting, entertaining and bass-rich. The only real downside is the lack of a visual battery life indicator on the case – although a voice tells you the current percentage of charge left each time you put them in.
Read the full review: Jaybird Vista
The Shure KSE1200s are no ordinary in-ear headphones. Firstly, they're an electrostatic design. Secondly, because of that design, they come with their own headphone amplifier. And thirdly, they sound out-of-this-world.
At £1796 the Shures aren't cheap but the electrostatic tech is impressive. Well-engineered electrostatic drivers tend to have lower distortion and a faster response than any alternative technology, which means that the KSE1200s sound sensational, with a wonderful balance and sense of organisation. Insight and precision are first-rate too.
The black headphone amp (about the size of a pack of cards) is solidly built and boasts a classy knurled rotary volume control. On the back, there's a micro USB input for charging the internal battery, which should last 12 hours on a full charge (though it depends on volume level).
Downsides? They work perfectly well with a smartphone, but we found you can get better performance using hi-res and CD-quality files through a laptop and dedicated music player software, or hooking them up to a high-end music streamer.
Still, if your budget can stretch and your system is of the right ilk, you'll be blown away.
Read the full review: Shure KSE1200
In-ear headphones don't get much better than the mighty Shure SE846 earphones, yours for a cool £950 . And it goes without saying, you'll need a serious DAC/headphone amp to make the most of their sonic talents - we'd suggest something along the lines of the Chord Hugo 2 or Naim DAC-V1.
The SE846s use four balanced armature drive units, which work in a three-way configuration with twin bass drivers. And like the AKG N40s, the Shures come with a choice of interchangeable filters so you can adjust their tonal balance. The effect is subtle but impressive, delivering last nuance and dynamic shift. In fact, you'd have to spend thousands of pounds on speakers before you find as much detail.
And while they might not look expensive, they certainly feel it. Smooth, curved enclosures sit nicely against the ear and the range of buds in the box should help you achieve a good seal.
Yes they're expensive, but the Shures are good enough to justify the cost.
Read the full review: Shure SE846
These are some of the best-sounding, most reliable running and gym-friendly in-ear headphones you'll find for under £150. They're not truly wireless – the two earpieces are joined by a a neckband cable that incorporates a lightweight remote control part-way down.
As you'd expect, they're sweat-resistant and IPX4 splashproof. The fit is good, with soft, silicone in-ear hook to hold them in place during strenuous workouts. Bose has also included NFC, which means that you can touch the earpiece to an Android device to make the two connect.
If we were to grumble, we'd say that the battery life is less-than-stellar. Six hours is a pretty average performance, but we'd imagine it'll do most people for a few runs or circuits.
As for sound quality, Bose has crafted a lively sound signature with no glaring flaws and plenty of enjoyable bass. Overall, these high-quality buds are comfortable, sound great and easy to use.
Read the full review: Bose SoundSport Wireless
Bowers & Wilkins' in-ear headphones might have taken a back seat to other designs in recent years, but the wireless PI3s are up there with the best in this price category.
These attractive (if slightly chunky) in-ears feature a dual driver design, and boast a flexible, comfortable neckband. Options are limited when it comes to the included ear tips, so they might be one to try before you buy to make sure you're happy with the fit.
The neckband has the in-line battery pack and power button on the left side, with the controls and mic on the right. The eight-hour battery life is good enough and a 15-minute quick charge gets you two hours of playtime. They aren't technically waterproof but B&W claims they are "resistant to light rain, splash and sweat".
Sound is clear, solid and balanced. We found that, across multiple genres, the B&W PI3 in-ear headphones deliver a confident, entertaining sound. Another fine option from B&W.
Read the full review: B&W P13
Technics might be better known for its turntables, but that hasn't stopped it entering another market with its own pair of premium wireless in-ear headphones. The earbuds include Alexa voice control, touch controls, and 18 hr battery live (six from the earbuds plus 12 from the case).
The earbuds include Technics' own noise-cancelling tech, and its strength can be tweaked via the Technics Audio Connect app. Here, you can also switch between different sound modes and even locate lost earbuds.
The connection is solid and stable, with these comfy in-ear headphones opting for a lively and punchy sound. Bass goes deep and sounds well-defined with it. They're not the best in-ear headphones by any stretch, but they are a good option if you want to go wireless.
Read the full review: Technics EAH-AZ70W
Anyone looking for a pair of more affordable, and sport-friendly earbuds may well be tempted by the Sony WF-XB700. Battery life is a reasonable 18 hours – nine hours from the buds, nine hours from the case, while their IPX4 water resistance rating provides the buds (but not the case) with protection against 'water splashing'. It takes a few twists to get them securely into place, but once they're in you can almost forget about them apart from when you need to use the button found on each bud to control them.
The WF-XB700 are part of the company's Extra Bass range of audio products and are tuned to emphasise low-frequency response, rather than deliver a neutral sonic balance. And although there's meat behind their low-end, it doesn't overshadow mid and high frequencies. It's actually complemented by decent punch and pleasing tautness and agility. Some rivals boast greater detail and subtlety, but at this price, you could do a lot worse.
Read the full review: Sony WF-XB700
MORE:
Feel the burn: best wireless headphones for running and the gym
Shut out the world: best wireless noise-cancelling headphones
Our pick of the best Sony headphones from budget to premium
Go in peace: best noise-cancelling earbuds