The Black Friday sales have started in earnest, and alongside the great headphone deals and TV deals, there are some nuggets of great hi-fi and audio products being discounted, too.
Case in point: the superb Naim Mu-so 2nd generation wireless speaker system is available for just £899 at Richer Sounds, Peter Tyson and Sevenoaks – that's an over 20 per cent discount on what is a terrific, five-star premium audio system.
We originally tested the five-star Naim Mu-so 2 in 2019 at £1299, but it's been available at £1149 for the better part of this year – which means a huge £250 saving (or £400 off its original RRP) if you take advantage of this deal.
Remaining just as cutting-edge with streaming smarts (and its gorgeous looks) today as it was during its launch, the Mu-so 2 offers wireless streaming via a variety of methods (AirPlay 2, Tidal Connect and Bluetooth), physical connectivity (including HDMI ARC and 3.5mm), six custom-made drivers and a huge 450W of total power.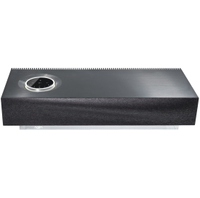 Naim Mu-so 2 was £1149 now £899 at Sevenoaks (save £250)
Despite growing competition, the second generation of the Naim Mu-so holds its own against an ever-expanding array of wireless speakers and streaming systems. Featuring a stunning all-in-one design, the Mu-so 2 offers rich, powerful sound, comprehensive features and a user-friendly app. If you're looking for a single, capable unit to handle all things audio (and some TV), then this huge saving on a brilliant product is worth exploring. Five stars

Deal also at Richer Sounds and Peter Tyson
In our Mu-so 2 review, we gave it five stars across the board for sound, features, and build. In particular, we noted its comprehensive feature list, great all-in-one design, and its rich, rhythmic, insightful sound.
The Naim Mu-so 2 allows you to stream hi-res audio via UPnP (Universal Plug and Play) and access all of your favourite music through AirPlay 2, Tidal Connect, Spotify Connect, Bluetooth and built-in Chromecast. It's now Roon Ready, too.
Alongside this, there are USB, optical, and 3.5 mm inputs offering flexibility when it comes to connecting sources such as a CD player. An HDMI ARC socket was also added to this model, allowing users to connect their TV set to pass through high-quality Blu-ray formats. This means you can use the Mu-so 2 both as a great hi-fi streaming system and as a soundbar alternative to boost movie soundtracks.
The Naim app is updated and slick to use, you can create multi-room systems with other compatible Naim networked products, and we still adore using that stunning, illuminated touch-sensitive dial for changing volume, sources and playback.
Sonically, it remains a punchy, powerful, attention-grabbing beast. The bass performance is hefty and controlled, it can go very loud and fill a large room with dynamic sound and there's rhythmic agility. Five years on, and the Mu-so 2 is still a big, fun performer that we have no problem recommending. We've tested many more all-in-one systems and versatile wireless speakers since then – the five-star Ruark R410, Sonos Era 300 and Sonus Faber Omnia for instance – but the Mu-so 2 still sounds fantastic and remains a firm recommendation.
And with this significant £250, this superb deal on an equally superb premium system isn't one you should ignore.
MORE:
Check out the best Black Friday hi-fi deals on speakers, amplifiers and turntables
Read our full Naim Mu-so 2 review
Ruark Audio R410 vs Naim Mu-so 2: which all-in-one music system is better?
Why I'd take Focal's five-star headphones home in a heartbeat this Black Friday