Do you want to make a big saving on one of the best DACs around? You're in luck. The award-winning Mojo 2 is £100 off at all UK Chord dealers, including Amazon, Futureshop and AV.com. This tidy deal takes the price down to £395.
The deal is valid until 31st August, so you've got all summer to save up/umm and aah/convince your other half. Or just take the plunge right now while they're in stock. After all, it is our DAC Product of the Year, so we wouldn't count on there being a cheaper price any time soon, even with Prime Day around the corner.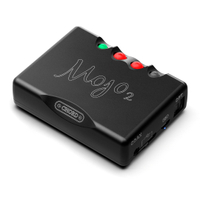 Chord Mojo 2 £495 £395 at Amazon (save £100)
Mojo stands for Mobile Joy, and that's exactly what this DAC delivers. With unparalleled transparency, a lively, open sound and plenty of customisation options, it's the best portable or desktop DAC solution in this price region by a country mile. Snap it up.
Owners of the Chord Mojo 2 might feel a twang of envy at this price but recent events mean they shouldn't feel too downhearted. The DAC launched at the start of last year at £449, but because of inflation, its RRP went up to £495 in December. So if you bought one at launch, you're only missing out on a saving of £50 – not quite as galling as double that amount.
Anyway, if you already own one we imagine you would be too busy enjoying its awesome performance to worry about a few quid. The Mojo 2 is head and shoulders above the competition at this price bracket – as was the original Mojo. If Chord had just tweaked the design and not tinkered with the sonics it would still be the best DAC at this level, so the fact it also boosted the sound so much is a very welcome surprise.
So, how is it better? The Mojo 2's soundstage is more open than the original, and the extra depth and dimension has been filled with greater resolution, clarity and precision. Piano notes' leading edges are crisper, while harmonic subtleties are more easily discernible. Compared to the original Mojo, listening to the sequel is like moving from the fourth row to the front of an audience. And now you can get it for a small but significant discount.
MORE:
Also consider: Audioquest's Dragonfly Cobalt
These are our picks of the best DACs
See all the What Hi-Fi? Awards 2022 winners