While Black Friday is officially behind us, Cyber Monday is here and some of the very best TV deals are still available. One of the very best is this absolute cracker on Sony's superb X90L TV, which can now be picked up for just £1099 at Amazon.
That's thanks to a recent discount of £200, which means the TV has been discounted a massive £500 since it launched at £1599 just a few short months ago.
£1599 is also the price at which we reviewed the X90L and gave it a full five-star rating. It might not be a fancy MLA or QD-OLED model, and it has fewer dimming zones than some LCD rivals, but the specs don't tell the whole story. As we said in our review:
'It may not be a glamorous TV, but thanks to Sony's excellent care and attention, the X90L is a TV that is a genuine pleasure to watch and to live with. If your budget won't stretch to an OLED (most obviously the A80L), this is a superb option that delivers consistently cinematic and cinematically consistent results. An excellent buy.'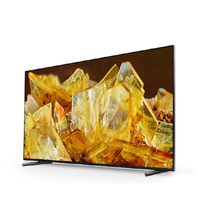 Sony XR-55X90L was £1599 now £1099 at Amazon (save £500)
Sony has had a particularly good year when it comes to TVs and that sentiment isn't only for its flagship OLED models. This LCD TV offers a brilliant picture and even a few flagship features at a tempting price, which is why we had no other choice but to award the TV the full five stars in our Sony XR-55X90L review.
While it's easy to get whipped up in the excitement of OLED and Mini LED, it is still worth paying attention to traditional LCD sets, as they have lots to offer. Case in point is the Sony XR-55X90L (or X90L informally) which is a fairly traditional TV as far as screen specification goes, but one that excels in the picture department.
Before we go in-depth with its performance, it's worth looking at the X90L's feature set. The LCD panel features a full array LED backlight, which under most circumstances would raise some concerns regarding black depths – as is the nature of LED backlights. Thankfully, Sony boosted the number of local dimming zones in this year's model, meaning its backlight control is rather impressive, as noted in our review.
This TV also features a 4K resolution, HDR compatibility (in the HDR10, Dolby Vision and HLG formats) and a maximum refresh rate of 120Hz. This is good news for gamers on the latest generation consoles, although it's worth noting that only two of the four HDMI ports are the 2.1 standard for 4K/120Hz gaming. Annoyingly, one of those HDMI 2.1 connections is dedicated to eARC, meaning if you have a soundbar or AVR plugged into this TV, there will be only one connection left for a PS5 or Xbox Series X; not ideal if you have both.
Gripes with connectivity aside, the Sony truly shines when it comes to picture performance, as many of the key characteristics found on more expensive models are present here. While black depths aren't as good as the Mini LED, OLED and QD-OLED models, the Sony makes up for it with bright, punchy highlights as well as an even and consistent approach to shifting from high to low brightness scenes.
Colours are notably natural and overall the picture is detailed and sharp, and there's a tangible sense of three-dimensional depth, as with Sony's more expensive sets.
It even sounds good by TV standards. Sony has implemented some clever audio processing to somewhat replicate the actuator-based sound systems on its compatible OLED sets which vibrate the screen to produce sound. On this LCD set, we find that vocals lose some direction and lack some fullness, but it does play to its strengths in other scenarios. For example, it's not as weighty as its peers, but it also doesn't tend to overextend and distort in the low ends. Still, it is surprisingly punchy and impactful, earning a solid commendation from us, especially at the price point.
To conclude, this is a thoroughly impressive TV and, at £500 off the asking price, it's a great deal too. Not quite what you're looking for? There are plenty more bargain Cyber Monday TV deals around...
MORE:
Check out the best Cyber Monday deals
Read our full Sony XR-55X90L review
And check out our picks for the best TV