Are you ready for a new smart speaker? If so, check out Amazon's Echo Show 5 now on sale for just $40, down from its original $90.
In our Echo Show 5 review, we gave this speaker five-stars for excellent Alexa integration, impressive AV performance, and great build quality. This is a great choice of smart speaker made even better by this deal.
Echo Show 5 Amazon sale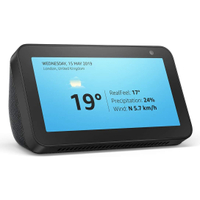 Echo Show 5 was $90, now $40 at Amazon (save $50)
This smart speaker from Amazon has all the familiar smart speaker functionality you'd expect, like rich Alexa integration, but you also get a spacious display that brings with it a ton of new features, too.
Amazon Echo smart speakers have been around for a while, long enough for Alexa to become to predominant virtual assistant, but Amazon's Echo Show line adds something else to the smart speaker formula: a big display. Not only is doing a lot of things easier on a Show, but with this sale, it's now fantastic value.
With the Echo Show 5, you're getting built-in speakers, rich Alexa integration, a 2MP camera, and support for all your favorite streaming services. Use your Echo Show to make video calls, watch TV, display photos, and so much more than what you can do with just a smart speaker like a traditional Amazon Echo.
In terms of audio quality, you can't expect the moon from a speaker of this size, but in our testing, we found the Echo Show 5 to offer up some entirely acceptable audio. It runs reasonably warm, sonically, which definitely helps with voices and makes for an overall enjoyable listening experience in our estimation.
If you need a full-featured smart speaker, Amazon's Echo Show 5 is a great choice. Now that it's nearly half off thanks to this Amazon deal, it's an excellent time to pull the trigger and get one for yourself.
MORE:
Read our Amazon Echo Show 5 review
And check out our list of the best smart speakers
And all the best Alexa speakers