The Award-winning Sony HT-A7000 Dolby Atmos soundbar is now available for its lowest-ever price.
We reviewed the HT-A7000 soundbar in 2021, giving it five stars. We were impressed with its robust low-end, excellent Atmos performance and its feature-rich design in particular.
So impressed, in fact, that we made it our Product of the Year in the soundbar category. Not only in 2021 but also last year. On top of this, it's in the running to potentially repeat the feat at our 2023 awards, though there's still a lot of testing to be done before we make that decision.
One thing that could help the Sony HT-A7000's case even more is that it has just dropped to a new, low price of just £999 at Richer Sounds. That's £200 lower than it was when we bestowed upon it that five-star verdict and those two Awards.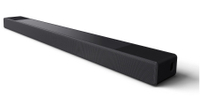 Sony HT-A7000 Soundbar was £1299 now £999 at Richer Sounds (save £300)
The HT-A7000 has stolen the show for the last two years, receiving a five-star review and winning multiple awards thanks to its great sound and excellent features. Now, it's cheaper than ever!
On top of this new price, RicherSounds is also offering a few additional offers that can be taken advantage of:
• The first deal offers an additional £200 off the HT-A7000 soundbar when you also buy selected Sony TVs.
• The second offer provides a £100-£150 discount on selected Sony subwoofers and rear speakers; the amount of the discount depends on the model of the additional speaker.
Described as an 'Omnidirectional Block' by Sony, the HT-A7000 uses a combination of driver placement and psychoacoustic techniques to enhance the width and height of the soundstage, regardless of whether you're watching immersive content or not.
In terms of physical connections, there are two HDMI 2.1 pass-through sockets capable of handling 8K@60Hz, 4K@120Hz, and Dolby Vision HDR.
Alongside these inputs there are sockets for eARC/HDMI out, analogue and optical audio inputs, USB type-A, power, and an analogue output for Sony's Acoustic Center Sync, which lets a compatible Bravia TV become part of the soundbar's centre channel when the two are connected using the supplied cable.
We also recently reported on Sony's plans to bring some next-gen gaming features to the HT-A7000 soundbar. With VRR and ALLM support rolling out in the near future, this deal could be worthy of PS5 and Xbox Series X owners' attention.
MORE:
Read our Sony HT-A7000 review
Sony's HT-A7000 soundbar is getting a huge next-gen gaming upgrade
Our picks for the best soundbars in 2023