Finding a PS5 restock can be tricky, but if it's games and accessories you're after, you'll find plenty online. Prices are tumbling fast, so let's get straight into today's best PS5 deals...
We'll start with some big discounts on PS5 games: Amazon has slashed 40% off Mortal Kombat 11 Ultimate (was £25, now £15) while God of War Ragnarök gets its first price cut (was £70, now £62).
After PS5 accessories? Currys has £5 off the ace PS5 DualSense Controller (was £65, now £60).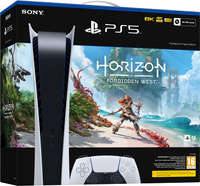 PS5 disc + Horizon Forbidden West + Call of Duty + God of War bundle £629 at Studio
In stock now: Proof that the bigger the bundle, the better the deal. This haul includes the full-fat hardware, Call of Duty: Modern Warfare II (disc) Horizon Forbidden West (disc) and God of War: Ragnarok (download).
In the US, Amazon has 28% off Tom Clancy's Rainbow Six Extraction (now $29) and 36% off the hugely popular Saints Row (Day 1 Edition) (now $39). Both are strong contenders for best PS5 deal 2022.
Walmart has some mega PS5 deals too. Hurry, and you can save $52 on FIFA 22 (was $70, now $18). Assassin's Creed Valhalla is a steal at $20. Those are some of the lowest prices we've seen – and on some of the best PS5 games too.
Still trying to find a find a PS5? Try this Call of Duty Modern Warfare PS5 bundle at PlayStation Direct ($559), for US buyers with a PlayStation ID. Meanwhile Game has a PS5 Digital with purple DualSense controller bundle for only £435.
Fingers crossed the holiday sales continues to throw up even more of the best PS5 deals...
How much does a PS5 cost?
The PS5 launched at £449 ($499, €499, AU$749). Too expensive? You can grab a disc-less PS5 Digital Edition for £359 ($399, €399, AU$599). Read our full PS5 vs PS5 Digital Edition comparison for a full breakdown of the two machines.
In August 2022, Sony announced a price rise in certain countries, including the UK and Australia. UK punters can now expect to pay £479.99 for the standard PS5, and £389.99 for the PS5 Digital Edition without a Blu-ray disc drive. Australia is also seeing the prices rise to AU$799.95 and AU$649.95 respectively.
Prices are also going up in Europe, Japan, China, Mexico and Canada. The US price remains unchanged.
You'll find the latest savings (if any) below.
Best PS5 and PS5 Digital Edition deals
Best PS5 accessory deals
PS5 DualSense Wireless Controller
The PS5 only comes with one controller in the box, so a second controller is a must for those who want to get stuck into multi-player gaming. The PS5 DualSense (£59.99, $69.99, AU$109) boasts improved haptic feedback and adaptive triggers that deliver a more immersive experience. So while you can use the PS4 DualShock with the PS5, it doesn't offer the new features of the PS5 controller.
In October 2022, Sony announced that it would release a pricier, customisable wireless controller – the DualSense Edge – on 23rd January 2023. The company is taking pre-orders now. It's not cheap, mind – expect to pay £209.99 / $199.99 USD (around AU$375).
For now, here's today's best PS5 DualSense controller prices...
PS5 Pulse 3D Wireless Headset
Not only does the PS5 offer 4K HDR gaming, it also has 3D audio. But if you want to enjoy it – and you do, because it's one of the console's best features – you'll need one of these. The Pulse 3D Wireless Headset launched at £89.95 ($99.99, AU$159) but we've listed today's cheapest deals below. Not convinced? Then you might like to have a peek at our pick of the best gaming headsets for all consoles.
PS5 HD Camera
This new camera peripheral (£50, $60, AU$100) lets you add yourself to gameplay videos or video chat during multiplayer marathons. It works with the DualSense controller's 'Create' button, so you can jump into the PS5's video editing functions. You can actually use the old PS4 camera with the PS5, but the new PS5 HD camera ups the quality. For the best prices on this handy accessory, cast your eyes over the box below.
PS5 Media Remote
Want to use your PS5 as an entertainment hub? The PlayStation 5 Media Remote (£24.99, $29.99, AU$49) is a handy remote that will help you navigate everything from Netflix to 4K Blu-ray discs. If you want to use your PS5 as a media streamer, it's a must-have and doesn't cost the earth. Here's our pick of today's best Sony PS5 Media Remote deals.
PS5 DualSense Charging Station
This nifty dock allows you to charge up two wireless DualSense controllers simultaneously, so you need never be powerless. It's become a bit of a hot buy and sold out ahead of the PS5 launch. It's easier to come by these days, and most big retailers have stock. Fancy a PS5 DualSense Charging Station (£24.99, $29.99, AU$49)? You'll find all the cheapest prices below.
When will more PS5 deals show up?
Getting your hands on a PS5 remains tricky, but Game, Currys PC World, Amazon US, Amazon UK, BT and EE have all restocked in recent weeks, so the shortage seems to be subsiding. (Here's all the latest pointers on where to buy a PS5).
There are plenty of deals to be had on the best PS5 games and the best gaming TVs, of course. Sony has even certified selected models 'Ready for PS5', thus giving you an even better reason to splash out on a new screen. It's also worth noting that selected Bravia TVs are finally getting VRR support.
We've also spotted some cheap PlayStation Plus deals lurking around. Sony has launched an upgraded PS Plus, including a range of PS4, PS5, original PlayStation and PSP titles that you can play natively on your console (obviously you will need a PS5 console to play PS5 titles).
So, while there's no doubt that getting your hands on a PS5 console is a bit of a mission, we're expecting more and more PS5 deals to show up in the next few months.
Fed up of waiting for PS5 stock? You can still find plenty of PS4 deals and Xbox One deals. Xbox Series X stock is generally easier to come by, too.
MORE:
PS5 vs Xbox Series X: specs, features and price compared
PS5 vs PS5 Digital Edition: which should you buy?
Our guide to PS5 3D audio and how to get it
PS5 Digital Edition vs Xbox Series S: which all-digital console is better?