It's been a busy time here recently. What Hi-Fi?'s Awards season has been hectic, full of tricky decisions and test rooms heaving with the best, and occasionally fa-from-best, audio goods in the game. Part of our expert team's collective goal during this stressful but rewarding time has been to whittle down our favourite headphones of the year, and to do so we have had to listen to a lot of them. During that happy process, I can't think of many that I enjoyed as much as the superb Focal Bathys wireless noise-cancelling headphones, and now that Black Friday is underway and customers are getting ready to snap up a deal, this is the pair I'd heartily recommend.
Sony might have swept the wireless category this year, but if you're after something more premium than its flagship WH-1000XM5, few wireless cans can compete at this price point with the awesome Focal Bathys over-ears. Usually available at its launch price of £699 but now enjoying their first proper discount, the exceptional Bathys have seen a hefty £100 cut from their RRP as part of the Black Friday sales, taking the figure down to £599 at Richer Sounds, Sevenoaks, Peter Tyson and Premium Sound.
If I had the money, they'd be the headphones for me...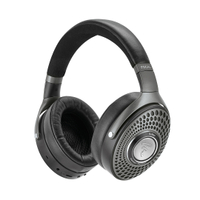 Focal Bathys was £699 now £599 at Richer Sounds (save £100)
These exceptional five-star over-ears are some of the finest we've tested in a long while, and while they might be relatively high-end in terms of price, that official retail figure is more than justified. Now at £100 off, the Bathys make an even stronger case for themselves, so you can enjoy that compelling, spacious sound safe in the knowledge that you've nabbed a cracking deal. Result.
Read our Focal Bathys review
Deal also at Sevenoaks, Peter Tyson and Premium Sound.
Why these headphones? What exactly makes the Bathys so special? Well, above all else, it's the sound of the things – it's truly exceptional for a pair of noise-cancelling wireless headphones. Not only are the Bathys open, spacious and as clear as the waters of the Mediterranean, but they're also full-bodied, rich and deeply compelling to listen to. Usually, even the best products have to play to one strength while making sacrifices in other areas, yet the Focal seem to have it all covered in a truly remarkable way. After a few days of listening to almost every type of headphone you can think of (including some rather iffy low-end in-ears), digging out the Focals was like sinking into a warm bath after a long day in a coal mine.
The buttons are a little plasticky and that price does put them out of the reach of many buyers, but if I had the money, these are the cans I'd pick, even above the exceptional Apple AirPods Max. I like the AirPods Max, don't get me wrong, and they make a whole lot of sense for iOS loyalists, but the Bathys' rich yet crystal clear sonic profile won over my heart. Plus, they don't have a ridiculous case, nor are they indelibly welded to Apple's operating system, while the feature list and build quality are utterly worthy of that coveted five-star rating. With extensive Bluetooth codec support, superb noise cancelling, 30 hours of battery life and even an illuminated logo on the earcup(!), you're a long way from being shortchanged.
If you've had your eye on the Focal Bathys for a while now and have been waiting for a discount to emerge from the heavens, your Black Friday prayers have been answered. They're a stunning buy, especially with that £100 markdown sweetening the deal. Pick your retailer of choice and get your paws on these exceptional premium wireless headphones.
MORE:
Read our original Focal Bathys review
Seeking some in-ears instead? Sony has slashed its five-star wireless earbuds
These are the best wireless headphones you can buy
Our Black Friday hub has everything you need to know about the big event