In the world of budget televisions, Hisense has been a big deal for a while, but even for a budget brand, it's tough to offer up premium panel tech for cheap. However, we've spotted a big saving among the early Prime Day deals deals. How does a 50-inch 4K QLED U6HF TV for just $300 sound, down from an original $530.
We haven't reviewed this particular Hisense just yet, but this 50-inch TV packs in 4K support, HDR, and a QLED panel for a low price. We think that's extremely competitive, spec-wise, for the money.
Hisense 50-inch U6HF QLED TV Amazon deal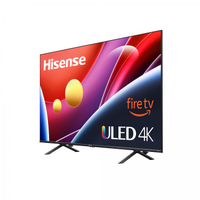 Hisense has a huge slew of budget TVs for sale, but when you get down to the $300 pricepoint, you're often looking at TVs that might be missing some premium features. But that doesn't seem to be the case, on paper at least, with this particular 50-inch QLED.
So, what does the U6HF come with? Well, you're getting the QLED panel, HDR by way of HDR10+, Dolby Vision, and HLG, and HDMI ARC support. This set also comes with full-array local dimming, 32 dimming zones, and up to 600 nits of peak brightness. You're also getting Amazon's user-friendly Fire TV OS.
For gamers, 60Hz is enough to handle most next-gen games with an attached PS5 or Xbox Series X, and you will get to output your games in their full-fat 4K. This may not satisfy hardcore gamers, but for some casual gaming, the U6HF should be able to get the job done if you aren't in need of more premium features.
All told the U6HF seems very competitive in terms of specs for a budget TV, and at just $300, it's a pretty tempting offer. If you're in the market for a new TV but don't want to spend tons of cash, give this Hisense a look.
MORE:
Here's everything you need to know about 2023 Hisense TVs
And here's our list of the best 4K TVs out right now
As well as the best deals on TVs currently live