The award-winning Sony WF-1000XM4 have just dropped to their lowest-ever price....again! The best-in-class true wireless earbuds have plummeted from £250 to just £149 on Amazon UK , and while we did see the XM4 fall to £159 for Boxing Day last year, we've never seen Sony's peerless buds reach such a low price.
We tested the WF-1000XM4 at £250 when they first launched, but their current price over at Amazon is a hefty 40% off the original RRP. We don't know if they will drop any lower in the next couple of months, so it could be worth striking now while the deal is still hot!
It's worth pointing out, though, that this is a UK-exclusive deal and only available at such a massive discount for the white version of the XM4. If you want the buds in black, you're going to have to pay £177, which is still a pretty respectable 29% off the original asking price.
Sony WF-1000XM4 Amazon deals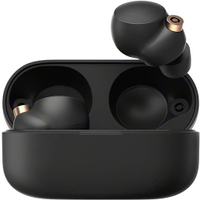 Sony WF-1000XM4: was £250 now £149 at Amazon
These are five-star wireless earbuds sound great and boast impressive ANC to boot. If you want one of the best pairs of wireless earbuds we've tested - and at a knockdown price - this is the deal to snap up this summer.
A quick look at our pick of the best wireless earbuds will tell you that the XM4 headphones have been rooted to the top spot every day since we tested them. And their superiority was confirmed when they won again at the What Hi-Fi? Awards 2022.
As we said in our Sony WF-1000XM4 review, the earbuds are comfortable to wear, sport new-look earpieces that include touch-sensitive controls and have a new ear tip design which helps with noise isolation. Combine this with the excellent noise-cancelling technology provided by Sony's Integrated Processor V1 and you've got a pair of headphones that effectively block out the hustle and bustle.
IPX4 water resistance comes as part of the WF-1000XM4 package, as does Sony's clever Headphones Connect app for iOS and Android, plus handy features such as Quick Attention and Speak-To-Chat which both allow you to have a conversation without removing the earbuds.
In our review, we said the XM4 sounded detailed, dynamic and well-balanced. Bass goes deep and lows also sound tight, while vocals are refined. The sound quality will have you listening to your favourite tunes again and again, while the eight-hour battery life is very good too.
They were already great but thanks to this Amazon deal, they're one of the best bargains out there right now.
MORE:
These are the best wireless earbuds around
How to choose the right pair of headphones
Read the full Sony WF-1000XM4 review