Amazon's October Prime Day sale is in full swing, and we've just spotted a great deal on the entry-level Sony STR-DH790. Originally £450, then £400, it's now dropped again to £359.
If you're in the market for a Dolby Atmos AV receiver from a big-name brand, but don't want to pay the earth, this extra £90 saving could be just the ticket. Don't let this one slip away...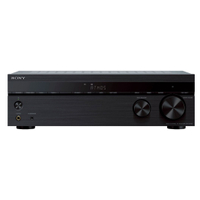 Sony STR-DH790 £450 £400 £359 at Amazon (save £90)
Already impressively specced amp for the money, the DH790 is now even cheaper thanks to Prime Day. Features include support for Dolby Vision HDR, Dolby Atmos, hi-res audio and Bluetooth. Now £359; deal ends midnight 13th October.
Our sister publication Sound + Vision has run the rule over the Sony STR-DH790 and adjudged it to be a "sensibly-equipped receiver suitable for someone seeking surround at this level, and especially so in combination with other Sony gear."
Of course, now that the price has dropped to just £359, it's even more sensibly-priced.
Features include Dolby Atmos and DTS:X for immersive 3D sound, the option to choose between 5.1.2-channels and 7.2-channels of amplification, plus Advanced DCAC functionality, which means you can use different types of speakers on all channels and still expect a cohesive sound.
The DH790 is also optimised for 4K HDR and has HDMI sockets that allow 4K passthrough. Sound + Vision felt that Sony's "auto-calibration did a good job tonally" and that the Atmos object-oriented effects were "convincing" for the money.
When you're not watching movies, the DH790 should do a stand-up job of streaming audio, too. You can stream tunes from platforms such as Spotify over Bluetooth, but there's also the option to play hi-res audio thanks to the DH790's support for DSD.
It was great value at £450. Now with 20% off the RRP in the latest Prime Day sale, the Sony STR-DH790 is a genuine home cinema bargain.
MORE:
Take a look at our pick of the best AV receivers: excellent home cinema amps
How to set up a home cinema sound system