I use a DAC every single (working) day to get me through the 9 to 5. The digital-to-analogue converter is essential to making music from my MacBook Pro sound decent through my wired headphones, and from my phone when I'm travelling. I've tested more DACs than I can count since I started working at What Hi-Fi? ten years ago, and there's one DAC line I've used continuously that has never failed me: the AudioQuest DragonFly.
AudioQuest's DragonFly USB DAC took the hi-fi world by storm when the first 'Black' model was first released, improving desktop audio from a device the size and shape of your average USB stick (remember them?!).
The latest, most premium release, the DragonFly Cobalt, is arguably the pick of the trio available today – not least as it is on sale for £179 at Sevenoaks for Cyber Monday. This is a £90 saving on the RRP and the lowest price I have seen it drop to.
If you're looking for a simple and affordable way to boost your desktop or on-the-go listening, consider this your golden ticket to better sound.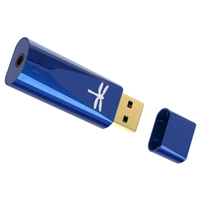 The Cobalt is as good as USB DACs get, delivering a very significant boost to the audio quality of everyday devices affordably and conveniently.
At the heart of its design is a single 3.5mm 2.1v headphone output, bit-perfect digital volume control and MQA renderer. It supports playback of up to 24-bit/96kHz hi-res PCM files and has a more advanced ESS ES9038Q2M DAC chip to deliver a more natural, clearer sound, while a new microprocessor draws less current and bumps up the DAC's processing speed.
As with all DragonFly DACs, once you connect it to your laptop, the logo's LED will light up with one of six colours to indicate the sampling rate: red for standby, green for 44.1kHz, blue for 48kHz, yellow for 88.2 kHz, light blue for 96kHz or purple when decoding MQA. It's a nifty feature for at-a-glance checking.
It's the audio quality, though, that really sets this little USB DAC apart. Military precision and stunning detail clarity are its highlights, but that goes hand-in-hand with a terrific sense of rhythm and wonderfully expressive dynamic range. If your entire music listening is through a laptop/phone and wired headphones, and you don't already have a DAC in between them, I'd urge you to consider adding a middleman. And, to that end, I don't think you can get a better value one than this brilliant DragonFly Cobalt for £179 this Cyber Monday.
MORE:
Read our full AudiQuest DragonFly Cobalt review
Want more choice? These are the best DACs you can buy right now
What's a DAC anyway, and what does it do?
I'm a hi-fi expert and these three systems deliver stunning value in the Cyber Monday sales