Disney's plans to launch a Netflix-rivalling streaming service have been known for some time, but the company has now revealed the name, US pricing and launch date. It will cost from $6.99 a month, undercutting Netflix and Amazon Prime Video.
Disney chairman and CEO Bob Iger has revealed the service will be called Disney+ and will launch in the US on 12 November 2019. Any potential UK launch would be likely to follow in 2020 at the earliest.
At launch the company says it will offer more than 5000 episodes of Disney shows. Within a year it plans to add 500 films and 2500 more TV episodes to its archive.
Chief financial officer Christine McCarthy says that Disney is committed to investing at least $1 billion into original content for Disney+ within the platform's first year, and aims to have more than 90 million subscribers by the end of 2020.
Subscribers can either pay a $6.99 monthly fee or a one-off annual fee of $70 a year (a saving of around $14 over the monthly payment plan). Details of UK pricing and launch date are still to be confirmed.
During a presentation to analysts, Disney gave a glimpse of the service's on-screen interface which will look familiar to anyone who uses Netflix or similar video streaming services.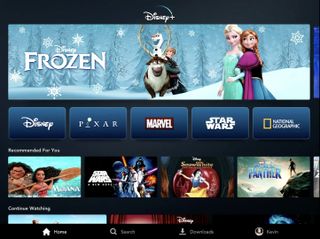 Following Iger's announcement last year that the service would exclusively stream Marvel and Star Wars films, he also revealed that Lucasfilm is developing a second Star Wars live-action series for Disney+ that is due to go into production this year.
According to Disney, 'the series will follow the adventures of Rebel spy Cassian Andor during the formative years of the Rebellion and prior to the events of Rogue One: A Star Wars Story'.
Subscribers to Disney+ will also get a Marvel Studios live-action series based on Marvel character Loki, starring Tom Hiddleston.
This new content will be joined by other Disney and Marvel films and series, which the company hopes will give it an edge over its rivals.
MORE: 6 video streaming service alternatives to Netflix and Amazon