Soundbars can very quickly get very expensive, but it doesn't always have to be like that. Thanks to an early Prime Day deal, you can get yourself a Polk MagniFi 2 soundbar for 64% off, down to just $180 from $500.
We haven't reviewed the MagniFi 2 just yet, but with some competitive specs and a slew of features, this bar is worth putting on your radar. If you're in the market for a TV audio solution, don't let this sale pass you by.
Polk MagniFi 2 soundbar early Prime Day sale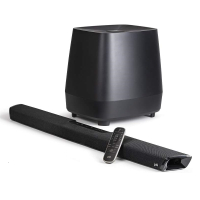 Polk MagniFi 2 was $499.99, now $179.99 (save $320)
This Polk bar comes packed with an included wireless subwoofer, Chromecast support, six drivers, and a bevy of proprietary Polk tech built right in. If you want a cheap way to upgrade some TV speakers, this Polk package is worth a look when over $300 off.
Premium soundbars aren't cheap, but usually, if you're looking for a soundbar, you're just looking for a reasonably priced way to upgrade your audio quality over what you can get with TV speakers. At $320 off, the Polk MagniFi 2 offers up a slew of modern specs and competitive features that should get that job done.
As for the bar itself, you're getting six drivers, 3D audio support, exclusive Polk tech aimed at maximizing clarity, minimizing delay, and expanding soundstages, and a wireless subwoofer with an 8-inch downward-firing driver, too. Plus, you'll also get compatibility with just about any TV and HDMI ARC support.
For some extra ease of use, Polk's MagniFi 2 comes with Chromecast already built right into the bar, so you'll be able to stream all your favorite music from all your favorite streaming services out of the box without any extra hassle.
This Polk bar may not be a Sony Beam, but most TV speakers don't fair too well in terms of audio quality, and at a staggering 64% off, this Polk soundbar is an easy way to upgrade your TV's audio game for cheap with this Amazon sale.
MORE:
Check out our list of the best soundbars out there
As well as our list of the best soundbar deals live now
And our comprehensive collection of all the best TVs around