We don't see many genuinely good Black Friday record player deals, but this one is a corker: a whopping great £200 off a 2023 What Hi-Fi? Award-winning Technics turntable.
There is a catch, but it's only a small one: the Technics SL-1500C is yours for £200 if you nab the white finish – but considering how brilliant this direct drive turntable is, we imagine it'll still look great in its fresh white paint.
The price of this excellent record player has climbed up in recent years to £1099 (still currently the price for the black and silver editions), so this £899 deal price at Richer Sounds could be one of the best Black Friday turntable bargains around.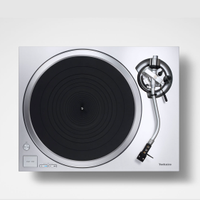 Technics SL-1500C was £1099 now £899 at Richer Sounds (save £200)
This Award-winning Technics is one of the best-sounding, fuss-free direct drive record players we've heard for around a grand. While the official RRP has shot up to £1099 in recent months, this huge £200 saving on the white finish is the best deal it's had yet. Highly recommend.
What Hi-Fi? Award winner 2023
Read our Technics SL1500C review
Deal also at Amazon, AV.com and Peter Tyson (white finish only)
Not to be confused with the higher-end SL-1000R turntable introduced in early 2018, the more (relatively) wallet-friendly SL-1500C is the company's 'entry-level' deck. It impressed us so much since we reviewed it that it has been a What Hi-Fi? Best Buy Award-winner since 2019, making that five wins in total now!
The SL-1500C is a less elaborate mini-me of the high-end model, still using a core-less direct drive motor with sophisticated speed management circuitry, a hefty, well-damped chassis and a version of the company's long-running S-shaped arm.
It comes supplied with the well-respected Ortofon 2M Red and is equipped with a very good built-in phono stage. There's a switchable auto-lift function that takes the stylus off the record once the end of a side has been reached and even the plinth is more sophisticated than its clean-cut appearance suggests, using a combination of aluminium, ABS and glass fibre to achieve the mix of rigidity and vibration control required to allow the turntable to do its job properly.
There are now three finish options – silver, black and the new white colour introduced in April 2023 – and while the price of all colourways has shot to £1099 this year, it's the new white finish that's available for this £899 deal price over at Richer Sounds, AV.com, Amazon and Peter Tyson.
Our advice? As we said in our review: "We're impressed by the SL-1500C's sonic agility; the way it resolves plenty of detail and manages to deliver all that information in a cohesive and musical whole. There are few rivals around the grand mark that do it better." We can't imagine prices getting any lower on the other finishes or once Black Friday is over, so if you want a 2023 Award-winning turntable for under a grand, this deal is worth considering.
MORE:
Check out all the best Black Friday record player deals
No, it's not Black Friday today – but here are the 21 best deals already live
Rediscover your vinyl collection with this brilliant turntable-based hi-fi system