Every time a new issue of What Hi-Fi? is published – that's 13 times a year – we update our playlist with a new selection of the music we've been listening to (and testing with) in the past month.
And guess what, it's now that time.
The November issue of What Hi-Fi? is now on sale, and this month we're helping you build the ultimate home cinema. We've put together seven superb systems ranging from a grand to twelve times that, showcased our favourite 4K Blu-ray players and surround packages, and given you a comprehensive guide to everything you need to know about Dolby Atmos.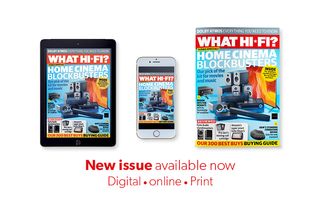 Elsewhere in the mag we look at the differences between HDMI ARC and HDMI eARC, signal the five product launches to look out for this month and select six of our favourite ever movie soundtracks.
And don't forget our First Tests section, full to the brim with speakers, amplifiers, TVs, cartridges and hi-fi racks this month.
Naturally, you're going to need something to test out all your new wireless kit with, so here's a list of 20 songs – handpicked by our editorial team – we've been using for our reviews this month.
Happy listening!
To listen to the playlist via the streaming service of your choice, just click on the relevant link below to load up on new music.
Listen: What Hi-Fi? Spotify playlist 2019
Listen: What Hi-Fi? Tidal playlist November 2019
Listen: What Hi-Fi? Deezer playlist November 2019
Listen: What Hi-Fi? Qobuz playlist November 2019