Here's proof that it's not just shiny new products that you should be looking out for during the early Black Friday sales that have already started. Roksan's five-star K3 integrated amplifier now has a whopping great £500 off its RRP at Richer Sounds, if you sign up for the retailer's VIP membership.
Roksan's K3 and Caspian M2 products have been a huge hit with What Hi-Fi? over the years, and this K3 integrated amp (not to be confused with the K3 power amp) was first reviewed back in 2015 but can still hold its own with newer models. Now available for a superb lowest-ever price of £899 at RIcher Sounds, surely it's destined for a new home in someone's hi-fi system.
If you're on the lookout for a premium amp that packs a big punch, this £500 saving could be the ideal bargain you've been hunting for. But wait – isn't this deal only for VIP members? That's right, but there's no catch here – becoming a VIP customer is completely free and all you have to do is sign up on the Richer Sounds website.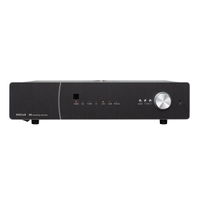 The Roksan K3 integrated amplifier boasts 140W of Class A/B amplification into 8 ohms, and you can really feel it. The amplifier delivers a sound that's big, expressive, energetic and agile – you'll never have a dull moment with this beast plugged into your system.
It's built like a tank and looks rather elegant too, and there are generous connections on board. This is an all-analogue affair and the K3 has five line-level inputs, including a built-in moving magnet phono stage for plugging in your favourite turntable. A 3.5mm headphone jack is available for late night listening and it also has aptX Bluetooth. Well, the model we tested back in 2015 did, but things have changed over the last eight years. A note from the manufacturer states: "All K3 products manufactured from September 2021 will be without Bluetooth." The Bluetooth button can be reconfigured to another input and Roksan urges you to check with the retailer to double-check if this is the case with the model on sale before buying.
Still, Bluetooth might not be the biggest draw for a stereo amplifier of Roksan's pedigree, and it's the K3 amp's sound quality that takes centre stage. A large, wide soundstage; punchy, controlled basslines; texture and depth to detail – the K3 dishes out all this performance with an energetic nature that aims to be as fun as it is competent. We said in our five-star review: "The wide soundstage allows instruments and vocals plenty of space to breathe, and detail retrieval is excellent as well. Dynamically it's superb too. This might be a powerhouse of an amp, but it also knows how to convey the softer, more fragile moments in music."
There isn't a shortage of good stereo amplifiers at this price (check out the Cambridge Audio CXA81 for an alternative option with digital connections), but we're still fond of this Roksan K3 amp and this massive £500 discount is worth giving serious consideration to.
MORE:
Check out all the best hi-fi and audio deals on five-star products
Save big on this superb Marantz and Q Acoustics hi-fi system bundle
This five-star Sonos speaker has seen its price plummet as Black Friday looms
Hi-fi deal alert! Award-winning Cambridge Audio CXN V2 and CXA81 prices slashed by £200