Individual deals on hi-fi products are great, but isn't it even better if someone does the hard work of building you a complete system AND give you a chunky discount for the package too? That's exactly what Richer Sounds has done with this superb Black Friday hi-fi deal that includes a Marantz CD6007 CD player, a Marantz PM6007 integrated amplifier and a pair of Q Acoustics 3020i standmount speakers – all for the terrific combined deal price of £799 at Richer Sounds.
All three products in this system have received five-star reviews from the What Hi-Fi? review team, and both Marantz products even have the distinction of being current (and multiple) 2023 Award-winners too.
How good is this deal? If you were to buy each product individually, the total price would be £887 (Marantz CD6007 for £339, Marantz PM6007 for £349, Q Acoustics 3020i for £199), so this £88 saving off the total price at Richer Sounds is a terrific discount for an entry-level system such as this.
I've checked the prices across several retailers (Richer Sounds, Sevenoaks, Peter Tyson) and this really is the best saving so far. You can also find similar bundle offers on Sevenoaks and Peter Tyson: right now, both these retailers are offering a deal on the two Marantz products together for around £675-688, but this leaves you little wiggle room for a speaker pair. The Richer Sounds bundle offer with a pair of speakers included represents the best value as the early Black Friday deals are underway – especially if you're aiming to buy a brand new entry-level hi-fi system from scratch.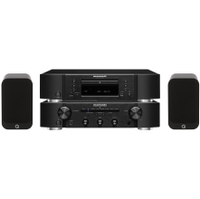 Marantz PM6007, CD6007 & Q Acoustics 3020i hi-fi bundle deal was £887 now £799 at Richer Sounds (save £88)
A fantastic system built of three stellar entry-level products that remain competitive to this day, with the superbly-made Marantz CD player and amp still impressing with 2023 What Hi-Fi? Award wins. The Q Acoustics speakers are compact and lively, and altogether this is a compelling, detailed and open system that should entertain with any genre of music. A brilliant complete budget system for under £1000, and now even more tempting with this bundle offer.
This is a classic product combination that my colleagues and I have regularly recommended for those looking for a great hi-fi system under £1000. Both Q Acoustics and Marantz have been What Hi-Fi?'s go-to budget recommendations for years, and these products in particular are ones I've personally heard during testing in our dedicated listening rooms, so I can confidently say this is a combination that works and sounds great together.
The Marantz CD6007 CD player and Marantz PM6007 stereo amplifier are exceptionally well-made for the money, and their performance far outstrips their modest price tags too. They deliver the kind of composed, authoritative, dynamic and detailed sound that keeps you entirely satisfied as you play through your music collection. In our CD6007 review, we said: "Notes are defined with a touch more precision, particularly at low frequencies, and the scale of sound is notably bigger... Similarly, larger-scale dynamics are delivered with more verve and punch. There's a pleasing sense of composure to tie it all together."
The PM6007 amplifier offers 45W per channel and includes a wealth of analogue and digital connections, including a moving magnet phono stage and a 6.3mm headphone jack, so you can add a streamer or turntable if you want to expand your sources beyond CD. We said the amp sounded "smooth, full-bodied and balanced, with a pleasing spaciousness" in our review. You'll have to dish out twice the amount of money for the next-step-up Arcam CD5 CD player and Arcam A5 amplifier if you want a significant audio improvement over this talented Marantz duo.
The Q Acoustics 3020i speakers are an evolution of an Award-winning formula that keeps things cheap and cheerful, but never compromises on the build and finish quality, or on the lively, agile and open-sounding performance. The speakers deliver lush midrange, ample scale, pleasing bass depth and refined clarity, with a sound that will make you double-check the affordable price tag. These 3020i speakers are also compact enough to fit into any space, but we'd recommend giving them a bit of space in the room. As we said in our review: "It's not the end of the world if they're placed near a wall, though – they simply lose a little openness and agility."
I can't think of a budget combination of truly excellent hi-fi separates that work together so seamlessly as this trio. I understand that £799 will be a considerable amount of money for many, but in my experience at What Hi-Fi?, I haven't come across a better budget system of hi-fi separates that sounds so satisfying or delivers such a great return for your money. And it genuinely is a good deal, especially considering how the cost of hi-fi kit has risen in recent years. Whether you're looking to upgrade or start your very first hi-fi system, this bundle deal at Richer Sounds is a great place to start.
MORE:
Check out all the best hi-fi deals and best speaker deals
Hi-fi deal alert! Award-winning Cambridge Audio CXN V2 and CXA81 prices slashed by £200
Black Friday UK 2023: time, start date and the best early deals
See all the What Hi-Fi? Awards 2023 winners