The Sonos One SL might have been around for a few years now, but that doesn't mean it's lost its touch. Even as newer Sonos speakers, including the Era 100 and Era 300, have arrived with new features and improved sound, the One SL remains a classy five-star operator with plenty to shout about. Essentially a Sonos One minus the voice control, the Sonos One SL is a great little speaker that is now seeing some big discounts across various retailers in the early Black Friday sales right now.
The best of these deals can be found over at Very for just £132 on both black and white colourways. But that's not all – use the VKEWR code at checkout and you get a further 10 per cent off (available until 09/11/2023). That's £17 off its original test price of £149 – although the price of the One SL has risen to £179 since we tested it a couple of years back, so you'll be technically making a bigger £47 saving now!
Very isn't the only place you'll find the Sonos One SL on a deal, though. Amazon UK has it listed at £133, while the official Sonos site, Currys, Sevenoaks, Argos and John Lewis are offering a similarly discounted rate of £134. If you're really counting your pennies, the extra savings you make on the Very deal is the lowest one we've seen so far. As Black Friday really hots up, it might be worth keeping an eye on a number of retailers to see who's willing to drop the lowest when push comes to shove.
The best Sonos One SL deal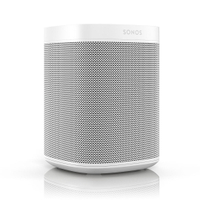 Sonos One SL was £179 now £132 at Very (save £47)
The Sonos One SL is a five-star speaker with some serious pedigree. It doesn't have the voice control capabilities of the Sonos One, but you are treated to punchy, pleasing sound, a host of streaming features and access to one of the best multi-room ecosystems in all of home audio. At this deal price, it's hard not to recommend it.
Five stars
Read our Sonos One SL review
The Sonos One SL is almost identical to the Sonos One, with a touch-sensitive top plate and pairing button at the back, but without the addition of voice control capabilities. That may seem like a step back for a newer iteration of the One, but if you're looking to save money and don't fancy using voice assistants at all, the One SL is an equally attractive option.
The rest of the qualities that made the original One such a hit remain with the SL. Designed for both Sonos multi-room system integration and solo use – you can pair it with other Sonos speakers if you so choose, it has AirPlay 2 and TruePlay tuning – the One SL is expertly made, extremely robust and comfortable performing in pretty much any place within your home and playing music from most popular music services.
Even now, the Sonos One SL can keep up with newer competitors. Punchy, agile bass gives the speaker an energetic foundation to work from, while vocals, strings and mid-range frequencies feel fully formed and well-placed within the ensemble. It's musically pleasing – all in all, it's some of the best sound-for-pound performance Sonos has offered.
As we summarised in our Sonos One SL review, "the sonic performance, streaming options and app support are among the best we've tested at this level." Interested? Head over to Very or Amazon, or any of the other retailers listed above, to get your hands on a discounted model as an early Black Friday treat.
MORE:
These are the best wireless speakers
Read our Sonos One SL review
Sonos Era 100 vs Sonos One: which Sonos smart speaker should you buy?