Resolution: 4K
HDR: Dolby Vision, HDR10, HDR10+, HLG
Bluetooth: 5.0 + LE
Dimensions: 8.6 X 8.6 X 7.7cm
The Fire TV Cube has plenty of power and is a doddle to use thanks to its Alexa voice assistant. And, when it comes to picture quality, it gets the basics right. But a lack of subtlety in both its audio and visual presentation costs it in the face of similarly priced competition.
For
Crisp image
Excellent app compatibility
Useful smart features
Against
Colours lack punch
Uninspiring visuals
Lifeless sound
Resolution: 4K
HDR: Dolby Vision, HDR10, HDR10+, HLG
Bluetooth: 5.0
Dimensions: 3.1 x 9.3 x 9.3cm
Cheaper than its Award-winning predecessor, but with minor but significant improvements, the Apple TV 4K is a winner. It's simple to use, quick, and the image and sound quality are a joy to behold. Out of the two, this is by far the better streamer.
For
Excellent picture
Expressive sound
Responsive user interface
In a world of smart TVs with built-in apps and cheap-as-chips streaming sticks, pricier streaming devices can be a hard sell. Do you really need to spend north of £100 / $100 on a device that just streams content?
Amazon and Apple clearly think you do, as they have recently released the third generations of their Fire TV Cube and Apple TV 4K streaming devices respectively. The Cube has a refreshed design and support for Wi-Fi 6, while the Apple TV has a smaller footprint and support for HDR10+. Both also have faster processors. But which should you buy? Let's find out.
Amazon Fire TV Cube vs Apple TV 4K: price
These streamers are more expensive than a typical streaming stick, but Apple's unit actually launched at a lower price than its predecessor. The third-generation Apple TV 4K starts at £149 / $130 / AU$219 for the 64GB model, or £169 / $150 / AU$250 for the 128GB model, which also adds an ethernet connection. The previous generation model started at £169 / $179 / $249. How very un-Apple-like.
The Fire TV Cube is broadly the same price; at £140 / $140 / AU$219, it is slightly cheaper than the Apple in the UK, slightly more expensive in the US, and the same price in Australia. This makes it the most expensive Amazon Fire TV streaming device, and about double the price of the Fire TV Stick 4K Max. It's also pricier than the second-gen Fire TV Cube that launched three years ago.
As we shall see, the Apple TV 4K has much a better specification (four times the storage capacity and RAM) and performance, making it better value for money.
Winner: Apple TV 4K
Amazon Fire TV Cube vs Apple TV 4K: design
These devices are designed to sit as part of your home AV setup, and not be hidden around the back of the TV like a streaming stick. Because they will be on show, you want them to look acceptable.
The Fire TV Cube is the bigger of the two devices – it's a little too chunky to fit in a coat pocket, whereas the Apple TV could (though it might have to be a more spacious winter coat, as it stands around the height of three CDs stacked on top of one another). The Cube has a new look from its previous incarnation, with a fabric mesh wrapping around the device in place of the black plastic.
A cutout houses a decent selection of ports, including an HDMI in, an HDMI out (both of which are HDMI 2.1), a power socket, an IR extender port, a USB-A socket and an ethernet connector. This trounces the Apple TV 4K, which lacks an ethernet connection on the base model and HDMI passthrough on either configuration.
The Fire Cube can double as an Alexa smart speaker when your TV is turned off, so it features volume up and down buttons, as well as those to summon and disable the Alexa voice assistant. You can also activate Alexa using the remote, which has way more buttons than the minimalist clicker that comes with the Apple TV 4K.
The Apple TV's remote has changed slightly from its predecessor – it has a USB-C port in place of the Lightning connector. This is in line with a European directive that comes into law next year, so expect to see future iPhones and AirPods featuring USB-C as well.
The Apple TV's low-key aesthetics – and smaller size – make it blend into an entertainment setup a little better than the Fire TV Cube. It's also a lot smaller, so can more easily be tucked away out of sight if you want.
Winner: Apple TV 4K
Amazon Fire TV Cube vs Apple TV 4K: features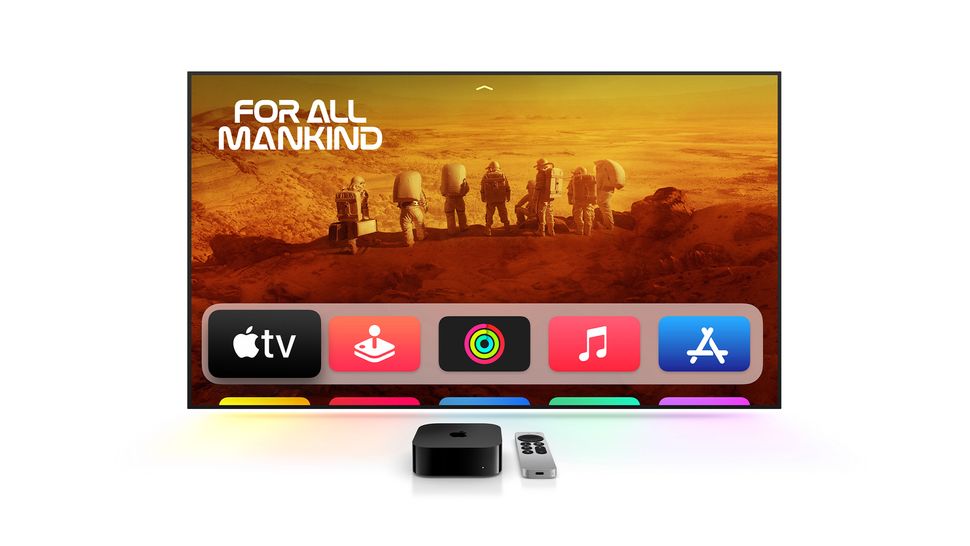 The main selling point for a device such as this over a standard streaming stick is the feature set. The Fire TV Cube is about as feature-packed as they come.
Voice controls are a big part of it, with the ability to turn your TV on and off and use the device as a smart speaker without powering on the TV. You can also ask the assistant to open apps, find specific content, answer general questions, make calls, set timers and even order things from Amazon. It makes you wonder if you even need the remote…
4K is supported, as are all the HDR formats you could hope for, including HDR10, HDR10+, Dolby Vision and HLG. It also supports Dolby Atmos for virtual 3D surround sound.
Having that HDMI input is handy, too, partly because it simply means you don't lose an input on your TV when you connect the Fire TV Cube, but also because it allows you to control the connected device using Alexa (or the Cube's remote).
The octa-core processor is twice as fast as the one inside the Fire TV Stick 4K Max, and it supports Wi-Fi 6E for smoother streaming (provided your router supports it). Almost all major streaming services are supported, for both TV/movies and music/podcasts, with Apple Music the one notable absence.
Apple Music most definitely is supported by the Apple TV 4K, along with iTunes for buying content. Those go hand in glove with a full suite of other streaming services, and the same 4K HDR support as the Fire TV Cube. Previous generations of Apple TV 4K didn't support Samsung's HDR10+ format, so the third-gen model is better suited to owners of Samsung TVs.
Inside is the A15 Bionic processor – the same one found in the iPhone 14 – along with 4GB of RAM (up from 3GB last year). The tvOS 16 operating system brings multiple user profiles, personalised spatial audio for compatible AirPods models, support for the Matter smart home standard, Apple Fitness+ compatibility and a redesigned Siri interface. It's easy to navigate, and isn't crammed with advertisements unlike Amazon's Fire OS platform; that being said it certainly guides you towards Apple's services where it can, such as Apple TV+ and iTunes Movies.
Winner: Amazon Fire TV Cube
Amazon Fire TV Cube vs Apple TV 4K: picture
This is where we see the real differences between the two devices. Because while they might support the same formats and output the same resolutions, not all streamers are created equal.
The Apple TV 4K proves why its predecessor was a What Hi-Fi? Award winner. It takes a bold yet balanced approach to colour, with warm and lively skin tones, while the contrast adds a real sense of depth to the image with plenty of dark detail to get your teeth into. Motion is smooth, and SDR content is brightened and sharpened but never artificially so. All in all, it's very good indeed.
The same cannot be said of the Fire TV Cube. Its picture isn't terrible, but it's far from exceptional. It handles the fundamentals well enough, but it's in the subtleties that it falls down. It might sound minor, but these details add up, and the Cube just doesn't deliver a truly engaging cinematic experience.
For example, while skin and environmental details are sharp and clean, with a decent amount of detail, the colours are a touch muted, with a definite lack of punch. Combined with its mediocre contrast, it makes for a flat, unengaging image that is not much better than that of the Fire TV Stick 4K Max (which costs half as much).
Motion is handled well, but overall the picture falls short compared with the Apple TV 4K. The latter is much more subtle, avoiding the bland and superficial character found on the Fire TV Cube, and it presents colours in a much richer and more vibrant way.
Winner: Apple TV 4K
Amazon Fire TV Cube vs Apple TV 4K: sound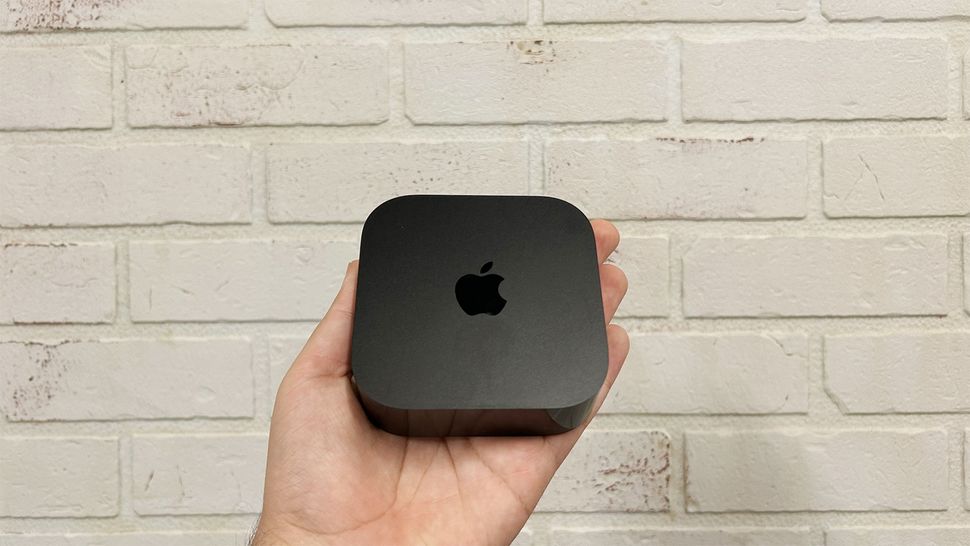 Sadly, much the same can be said of the Cube's sound. Music sounds a little flat and insipid, with little in the way of dynamics or punch. Vocals and instrumentation sound clear but lack texture, rendering tracks feeling hollow and drab. The timing is also a little off. Shame.
But the Apple TV 4K's sound is as good as its picture. Its warm and expressive approach lends tracks a rich and dynamic feel. The dynamics are in stark contrast to the Fire TV Cube, making for a dramatic and impactful performance. Timing is spot on, with a superb sense of rhythmic drive, while vocals sound clear and textured. For a video streamer, it's a great listen.
Winner: Apple TV 4K
Amazon Fire TV Cube vs Apple TV 4K: verdict
This contest is a bit one-sided. The Apple TV 4K has better picture and sound quality, and is smaller and sleeker device. The Amazon Fire TV Cube's HDMI input and Alexa controls can be useful, but they're not enough to make up for what is a rather uninspiring AV performance.
Having said that, the Amazon Fire TV Cube is bound to be discounted regularly, especially around big sale events such as Amazon Prime Day and Black Friday. If you see a great deal it could be worth snapping up. Otherwise, we would pick the Apple device every time.
Overall winner: Apple TV 4K
MORE:
Read our Amazon Fire Stick 4K Max review
These are the best video streamers you can buy
And our pick of the best music streamers