Best over-ear headphones Buying Guide: Welcome to What Hi-Fi?'s round-up of the best over-ear headphones you can buy in 2019.
In-ears have a time and a place (in your ears, when you're listening to music, mostly) but if you really want to lose yourself in sound, a pair of comfy over-ear headphones is the way to go.
With options to suit all listening styles and budgets – from a £35 pair that'll do you proud on the daily commute to a £3,000 pair that demand some serious electronics – there's bound to be something for you.
We've picked wired options plus super-convenient wireless headphones and noise-cancelling designs which can block out the outside world. Some of our recommendations even have a smart assistant built in for hands-free operation.
As if panning for gold, we've painstakingly sieved through our over-ear headphones reviews and ended up with 14 sensational pairs.
Whether they'll set you back a few notes or a few month's rent, you know there will be a decent pair that won't disappoint.
Without further ado, let's meet the best over-ear headphones around.
These are the third generation of Sony's fantastic WH1000 wireless headphones, and we're pleased to say they're the best yet. They're lighter than previous generations, and more comfy thanks to the softer cushioning on the thicker headband. Tap and voice controls are neat features, while the microphones have been improved making these great for calls.
Even the noise-cancelling for these Sony headphones has been improved. Bluetooth sound quality is fantastic with a more open and spacious delivery than their predecessors, while still offering sensational levels of detail and enhanced dynamics. Unbeatable.
Read the full review: Sony WH-1000XM3
The Sennheiser Momentum 2.0 headphones are a sensational option for the money. And they've dropped heavily in price in the past few years, which makes them more competitive than ever. Why so? They're stylish and supremely comfortable closed-back cans. And sound quality is superb, with stunning precision, vocal definition and nuanced yet weighty bass. They're where the smart money is.
Read the full review: Sennheiser Momentum 2.0 over-ear
Looking for a bargain? These quality closed-back wired headphones are among best out there for the money. The solid build means these are going to last - AKG bends the cable 80,000 times just to test longevity. The padding is comfy, while the three-metre cable offers more than enough play for listening comfortably at home. And the sound? Expansive, with the width, scale and bass you'd expect to find on a far more expensive pair of headphones. Snap them up now.
Read the full review: AKG K72
These are the wireless version of the stellar N60NCs, and you'll be glad to hear they don't disappoint. Tunes sound clear and striking. The AKGs deliver lashings of bass without compromising detail or precision. This is only enhanced by the addition of noise-cancelling tech: with no background murmurs to muddy the sound, tracks really get a chance to shine. Add in a comfortable design and sensible controls, and you've got a great pair of wireless noise-cancellers.
Read the full review: AKG N60NC Wireless
With these Shures, no corners have been cut on the design front. They're made of aluminium and carbon fibre, and their Alcantara earpads are comfy and light enough to wear all night long. Those 40mm neodymium drivers make for an utterly superb sound with impressive dynamics and an awesome amount of detail. These are truly fantastic headphones for the money.
Read the full review: Shure SRH1540
Grado is known for its retro styling, but in this case it's for function as much as form. Their open-backed design lets a lot of noise through, so they're not ideal for public use (unless you want the whole train carriage sharing your love of K-Pop), but they help deliver a nimble and pacy sound with clean and punchy bass. The result is a pair of over-ear headphones whose clarity, detail and dynamics are unmatched for the price. Retro looks, thoroughly modern performance.
Read the full review: Grado SR80e
If you like - or even just don't mind - retro looks, but don't want to compromise sound, and have around £300 to spend on a pair of over-ear headphones, these Grado SR325es are the best use of your money. The open back provides a clearer and lighter sound than the SR325es mentioned above with distinctive, well-organised layers and a naturally cohesive arrangement. But be warned - the sound will leak. A lot. One for the home rather than your commute.
Read the full review: Grado SR325e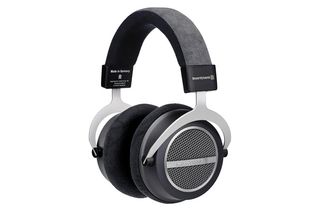 Beyerdynamic's Amiron headphones are extremely comfortable thanks to Alcantara micofibres and microvelour used in the earcups and headband. The open back design means some sound leakage but the design also brings an awesome spacious quality to your music. That sound is superb with a good grip on high frequencies, a clear midrange and fantastic sense of rhythm.
Read the full review: Beyerdynamic Amiron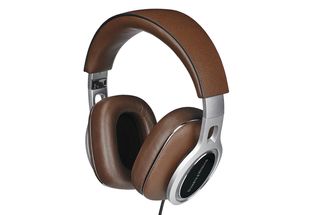 The B&W P9 Signature headphones were created to commemorate 50 years of Bowers & Wilkins and they certainly do the British brand justice. The sturdy Saffiano leather is comfortable yet hardy and the memory foam headband enhances that comfort. Housed in the ears are 40mm driver units, angled for more natural listening. After the first 50 or so hours these really loosed up for peak performance meaning a sense of space with vocals and perfectly layered instruments. They can grab a rhythm and hold it perfectly no matter what else is going on. The result is precision and enthusiasm with a perfect balance of pace and attack.
Read the full review: B&W P9 Signature
Sony has a great pedigree when it comes to wireless headphones, and this pair slots right into that legacy. At just £100, they're great value, packing wireless and noise-cancelling tech into a package that's plenty stylish. Bass is taut but still very punchy, while the timing isn't half bad at all. Overall, £100 well spent.
Read the full review: Sony WH-CH700N
These headphones have a dedicated button for Google Assistant: just press it, and it'll summon Google's digital assistant to read out text messages and let you respond using only your voice, plus it can control your music. But that's not the only thing to love about the Bose QuietComfort 35 IIs - there are three levels of excellent noise cancellation, intuitive controls and impressive sound quality. Another winner in Bose's QuietComfort family of products.
Read the full review: Bose QuietComfort 35 II
Sennheiser has tried to get around the usual reverberation issues of closed-back headphones by using Corning Gorilla Glass over the drive units on the HD 820s. And it works. Low frequencies have plenty of authority, with punchy bass. There's a high level of agility and precision too - the organisation is on point. At around £2,000, these over-ears aren't cheap, but for the serious home listener, they come highly recommended.
Read the full review: Sennheiser HD 820
Connect them to the right source and these Sonys could be the best headphones you'll ever hear. The unique drivers feature a two-piece 70mm diaphragm made of a magnesium dome sitting in an aluminium-coated liquid crystal polymer ring. With an impressive frequency response that reaches to 120kHz and sensitivity of 100db/mW no expense has been spared on these high-end over-ears. It all adds up to a pair of headphones capable of seismic bass, immense dynamic reach, a perfect tonal balance and a spacious yet detailed sound.
Read the full review: Sony MDRZ1R
Aspirational. That's the word that describes these headphones. At nearly three grand, they're out of the reach of most of us, but if your budget can stretch this far, they deliver performance in spades. Sound is incredibly dynamic, with a spacious presentation and plenty of drive. There's meaty bass too, all of which justifies the price, even if few can afford them. Time to start saving...
Read the full review: Focal Stellia