Amazon's 43-inch Fire TV 4-series 4K UHD smart TV is currently down 42% in price, dropping from £430 to £250.
We haven't tested this specific TV, but Amazon proved with its Omni QLED that it's capable of producing a TV with an impressively consistent and considered performance at a wallet-friendly price.
We're hoping that the even-cheaper 4-series follows suit – though it obviously lacks the more expensive model's QLED technology. It does, though, offer the full Fire TV experience in a very affordable package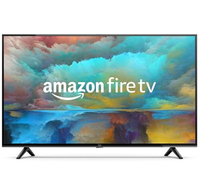 Amazon 43-inch Fire TV 4-series £430 £250 at Amazon (save £180)
We haven't yet tried out this model of Amazon Fire TV, however, considering the excellent on-board smart platform, comprehensive connectivity options and great voice controls, you'll be hard-pressed to find a TV that offers this much for the same price.
The Fire TV 4-series launched in 2023 and features an excellent smart platform, offering users the full Fire TV experience without the need to buy a separate stick. As an operating system, it's very user-friendly and features every app under the sun, so you won't find yourself short on options.
In terms of image, the TV packs in 4K Ultra HD, HDR10, and HLG support. It also comes bundled with the Fire TV Alexa Remote, which allows for convenient voice control and search functionalities of your TV, alongside smart home controls such as light dimming or displaying the front door camera.
All models of Fire TV support wi-fi or ethernet connections, and when it comes to online streaming there's access to major services such as Netflix, Prime Video, and Disney+.
For your connectivity needs, there are three HDMI inputs alongside a separate HDMI eARC connection for soundbars or other audio equipment. This is particularly nice, considering a lot of TVs, even at higher price points, can often lack sufficient HDMI ports.
MORE:
Best TV 2023: the latest and greatest TVs, rated and ranked