Looking to build a simple, streaming-savvy system that looks and sounds good You're in luck: the five-star Cambridge Audio Evo 75 streaming amplifier is down to only £1099 at Richer Sounds and the official Cambridge Audio UK site.
This fantastic £700 saving on the just-add-speaker system arrived for the Black Friday 2023 sales, but we're pleased to see this terrific deal price still very much live and ongoing the week after. Just in time for Christmas shopping...
The Evo 75 landed in our listening rooms a couple of years ago, originally priced at £1799, and won us over with its excellent sound, vast streaming smarts and good looks, giving us no choice but to call it "the best system of its kind to spend quality time with" in our five-star review.
At its current deal price, it's a real steal. Partner it with a good pair of speakers (like the five-star Dali Oberon 5 or the 2023 Award-winning Bowers & Wilkins 607 S3) and you've got an excellent-value modern streaming system.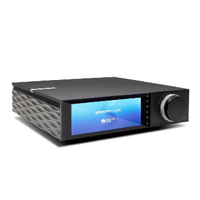 Cambridge Audio Evo 75 was £1799 now £1099 at Richer Sounds (save £700)
As we note in our Evo 75 review, this is a talented box packed with streaming smarts and physical connectivity. You get Google Cast, AirPlay 2 and access to the usual suite of music streaming services, plus inputs spanning coaxial, optical, RCA, USB and HDMI ARC. The Evo 75 looks appealing and sounds insightful and exciting, too, making it one of the very best of its kind – especially at this knockdown price. Five stars

Deal also available at Cambridge Audio
Streaming amplifiers are becoming increasingly popular and for good reason. Combining an integrated amplifier and music streamer in one box, they simply need a pair of speakers connected to them. Easy.
The Cambridge Evo 75 is among the best of that kind, particularly at this price level. If you can't stretch your budget to the £2299 Naim Uniti Atom or Cambridge Audio's next-model-up, £1999 Evo 150 (which packs more power and an MM phono stage, balanced XLR and second pair of speaker terminals compared to the Evo 75), this is the streaming amp for you.
At the core of the Evo 75 lies Cambridge Audio's StreamMagic platform, which provides access to all the popular music streaming services and comes with a companion control app that is easy to get along with. AirPlay 2, Chromecast, and aptX HD Bluetooth are also on board, as is DLNA compatibility so you can stream hi-res files from your digital music library stored on a connected laptop, NAS, or music server.
And if you want to go beyond streaming, optical, coaxial, RCA and HDMI ARC inputs allow you to hook up other audio sources such as a CD player or (phono stage-toting) turntable as well as a TV.
To quote our Cambridge Audio Evo 75 review, "Cambridge's efforts to tick boxes and create a satisfying user experience haven't gone to waste. The Evo 75 is the sonic success its spec sheet deserves." It's insightful, open and musical, delivering plenty of power while exhibiting dynamic prowess and a knack for digging up detail.
At this £1099 deal price, it is certainly tempting in every respect.
MORE:
Check out all the best hi-fi deals around
The best hi-fi systems you can buy, all tried and tested by yours truly