Of all the TVs we tested in 2022, we can't think of many better than the superb Samsung QN95B QLED, so it's been rather remarkable to see the price of one of the finest models on the market continue to drop and drop in such a short space of time.
That downward trend, if that's how you like to think of it, has continued to the extent that the 55-inch version of the QN95B has fallen below the £1000 threshold over at Amazon, a significant moment that could be enough to sway you into a purchase. The 55-inch QN95B launched at a price of £2599 but is now available for just £984 at Amazon. That's a massive saving.
In fact, it's close to being the lowest we've ever seen this particular model and, aside from a price nadir in late July, probably represents the best current value you're likely to receive on Samsung's five-star QLED 4K model any time soon.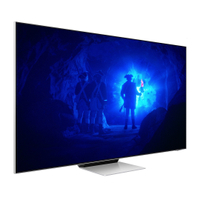 Samsung QN95B (QE55QN95B) QLED TV £2599 £984 at Amazon (save £1615)
We tested out the 65-inch version of this particular Samsung TV and immediately fell in love with its spectacularly bright and colourful display. Add to that unprecedented contrast for an LCD TV and a sleek, striking design, and you're onto a real winner.
Read our full Samsung QN95B review
When we reviewed the 65-inch version of the Samsung QN95B, we lauded it for producing "the finest picture quality we've ever seen from an LCD TV". That's quite the accolade, all things considered. We've reviewed a lot of TVs, after all.
As a Mini LED TV, the QN95B illuminates its screen with diodes a fortieth the size of those found in normal LED TVs, meaning you can cram far more of these much smaller units onto the screen itself for a brighter, more accurately lit picture. That's really what hits you about Samsung's five-star performer, in that its detailed, remarkably vibrant display really does make most equivalent models look dull and lifeless by comparison.
It's not even short on features, either. A fully loaded Smart TV utilising Samsung's Tizen-based smart system, the QN95B offers up four HDMI 2.1 sockets, all capable of dealing with cutting-edge gaming features such as 4K 120Hz, VRR and ALLM. You're also treated to three USBs for attaching external drives or playing stored multimedia.
You rarely get TVs of this quality and pedigree falling below the £1000 mark, let alone ones that are only a little over a year old. If you value vibrant, super-sharp picture quality from a TV that's smart and supremely well-made, head over to Amazon now and snap one up.
MORE:
Best OLED TV 2023: the latest and greatest models, rated and ranked
Read our full Samsung QN95B (QE65QN95B) review