Bowers & Wilkins needs no introduction when it comes to stereo speakers and we're excited to bring you a rather fine discount on one of their recent success stories.
The 607 S2 Anniversary Edition are down to just £349, which marks a not-too-shabby £100 saving on these brilliant stereo speakers. Not only are they five-star speakers in our opinion they're also two-time What Hi-Fi? Award-winners. For the money, they're exceptionally tough to beat.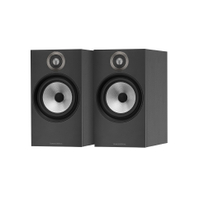 B&W 607 S2 Anniversary Edition speakers was £449 now £349 at Richer Sounds (save £100)
If you're looking for a pair of lower-midrange speakers to set your system alight, then these are superb options, with or without a discount! Their expressive, detailed sound makes for a great listening experience.
Despite the B&W's diminutive size (they're just 30cm tall) the speakers still manage to squeeze in a 13cm Continuum drive unit. Placed above it is a decoupled 25mm aluminium dome tweeter. Also key to their performance is the use of special bypass capacitors which have been specially treated by capacitor experts Mundorf.
And the net result is a sound that's delivered with bags of enthusiasm. The audio belies the speakers' diminutive dimensions, too: bass is not only deep but also extremely agile. There's loads of detail across the entire frequency range, too.
Despite being rear-ported to achieve a cleaner, sleeker overall image, we found the 607 S2 Anniversary Edition a dab hand at positioning and versatile enough for pretty much any room in the house. Small, powerful, adaptable... what isn't there to like?
We really can't think of any reason to hold back, so if you're in the market for a pair of lower-midrange stereo speakers, we'd seriously consider snapping them up, especially at this price...
MORE:
Our list of the best bookshelf speakers we've tested
Read our Bowers & Wilkins 607 S2 Anniversary Edition review
How to get the best from your Bowers & Wilkins 606 S2 and 607 S2 speakers