Do you need a pair of speakers? Need no more, because we've got a pair of superb deals on two pairs of superb Q Acoustics speakers on sale right now thanks to Prime Day, but these deals won't last forever.
Check out Q Acoustics' M20 HD powered Bluetooth speakers for just $375 at Amazon as well as a pair of 3020i bookshelf speakers for just $337 at Amazon. Both of these five-star speakers normally retail for over a hundred dollars more, so if you're in the market, make sure to take a look.
Q Acoustics Prime Day speaker deals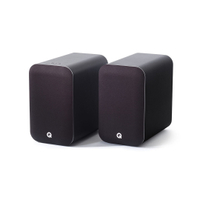 Q Acoustics M20 was $500, now $375 (save $124)
These five-star powered speakers pack in an insightful, expansive presentation, won't give you trouble in terms of placement, and have excellent connectivity options. At this price, there just aren't any meaningful downsides.
Read our Q Acoustics M20 review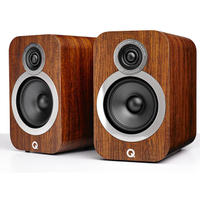 Q Acoustics 3020i was $450, now $337 (save $112)
The 3020i standmounts manage to provide an incredibly rich, warm sound, robust bass and nuanced treble, and excellent dynamics. This meaty discount makes it hard to say no to these speakers.
Read our Q Acoustics 3020i review
Both the M20 HD and the 3020i speakers from Q Acoustics are great pieces of kit. If you're looking for a flexible pair of Bluetooth speakers that double as a hi-res music system, the M20 HD (which include amplification inside) are perfect for the job. While if you're just looking for a passive pair of standmounters that sound excellent, the 3020i speakers are a fantastic option worth considering for anyone.
With the M20 HD speakers, you're getting a huge slew of connectivity options that includes Bluetooth 5.0 for easy wireless playback on top of aptX, aptX HD, and aptX Low Latency support as well as a nuanced, detailed listening experience that is likely to impress.
When it comes to the 3020i speakers, you're getting a deep, rich listening experience that can happily skip through just about anything you want to play. Whether it's something packed with bass or filled with thin, delicate sound, the 3020i do a fantastic job of representing just about everything faithfully.
Put simply, if you're in the market for a pair of five-star speakers, you can't go wrong with either of these Q Acoustics sets. With these meaty Prime Day discounts, you won't even have to spend an arm and a leg, either.
MORE:
Check out our complete guide to the best Prime Day deals
As well as our list of all the best Bluetooth speakers
And our list of the best hi-fi speakers