Sonos only launched its pair of Era speakers just a few short months ago, however, they're already subject to some major savings at BT Shop, as long as you use discount code 20SONOS23 at checkout. Offering 20 per cent off either model, you can currently save £50 on the Sonos Era 100, or £90 on the Sonos Era 300.
Usually retailing for £249, the Sonos Era 100 can now be snapped up for just £199 at BT Shop, making the already excellent speaker even more tempting. However, if you want the latest and greatest Sonos speaker, the Era 300 is also subject to some mighty fine savings, as it's available for just £359, down from its usual RRP of £449.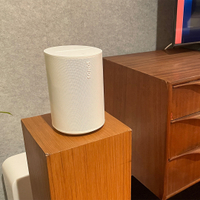 Sonos Era 100 £249 £199 at BT Shop (use code: 20SONOS23)
We praised the Sonos Era 100 highly in our review, highlighting its spacious, detailed and engaging sound, as well as its stacked feature set. You can snag one (or get a stereo pair) now for under £200 in white, or you can set up a stock notification if you want it in black.
The Sonos Era 100 replaces the beloved Sonos One smart speaker, and it brings a host of upgraded features and design cues. Starting from the outer shell, the Era 100 brings an updated look to the smart speaker, swapping out the rounded cuboid design of the One with a cylindrical build, with a new touch-sensitive volume slider adorning the top of the speaker. As is to be expected with Sonos, the build quality and overall experience are sturdy and smooth, and it even has a USB-C wired input and Bluetooth for enhanced connectivity.
Much like the existing Sonos speakers, you can stream wirelessly to the Era 100 via the Sonos S2 app, Apple AirPlay 2 or Spotify Connect. There are also voice assistants built into the Era, with Alexa and Sonos' own voice assistant; however, you won't find the Google Assistant on these newer speakers due to Sonos and Google currently being at odds.
When it comes to sound quality, the Sonos Era 100 is crisp, well-defined and balanced. Its engaging and lively sound won us over, and while the Apple HomePod 2 (its main rival) does tend to sound more natural when it comes to vocals, we still find the Era 100 to be a top-notch wireless speaker.
Functionality is a huge part of the Sonos experience, with the ability to use the Era 100 as surrounds with either a Sonos Beam (Gen 2), Arc or Ray soundbar for use in a home theatre speaker system, within an existing Sonos multiroom set-up, or even with another Era 100 in order to create a stereo pair.
The Era 100 ticks practically every box when it comes to a smart speaker, but if you want the latest and greatest from Sonos then you may want to turn your attention to the Sonos 300.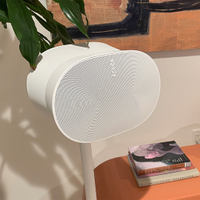 Sonos Era 300 £449 £359 at BT Shop (use code: 20SONOS23)
Sonos' spatial audio smart speaker is a winner in our books, with its detailed sound, punchy bass and excellent dynamics. Stock is low but you can grab the Sonos Era 300 in black if you're quick, or set up a stock notification for the white variant.
Sonos knocked it out of the park with the Era 300, its first spatial audio-focused smart speaker. While the Era 300 doesn't replace the Sonos Five, instead acting alongside it, we'd recommend it in leaps and bounds over the Five thanks to its extensive list of features and performance pros.
The Era 300 shares the same feature set as the Era 100 in many regards, with the same connectivity, streaming and smart features all bundled in. The new USB-C and Bluetooth connectivity options are on board, and it's worth mentioning here that Sonos sells a USB-C to 3.5mm audio jack adapter for hooking up everything from smartphones, tablets to even record players. As is the case with the Era 100, the 300 can also be integrated into a multiroom, home cinema or stereo set-up if you have existing Sonos speakers or fancy treating yourself to a pair of Era 300s.
The main upgrade over the Era 100 is more powerful sound and spatial audio support on the Era 300. Its controversial hourglass design isn't merely for aesthetics, as the Era 300 includes side-firing and upwards-firing speakers within its curvy outer shell to allow for spatial audio playback. You can either opt for Dolby Atmos mixes on Amazon Music Unlimited, or Spatial Audio tracks on Apple Music, however tragically Tidal is not yet supported.
But how does the Era 300 sound? Well, it earned five stars in our review for a reason, as the spacious, dynamic, punchy and detailed sound impressed us at every turn. The Sonos Era 300 is the smart speaker to go for, even with tough competition from Apple's HomePod 2 which is admittedly cheaper, although you'll need to be within the Apple ecosystem already if you want the HomePod. However, at this price, the Sonos Era 300's main flaw, its eyebrow-raising price tag, is somewhat diminished, so if you're looking to enter a new Era of smart home speakers, now is a great time.
MORE:
Read our full Sonos Era 100 review
As well as our Sonos Era 300 review
And check out our picks for the best multi-room speakers