It's getting to that time of year; there's a chill in the air and festive accoutrements are slowly creeping into shops, so that can mean only one thing – Black Friday is inbound. That being said, there are some early deals cropping up that suggest it might not be worth holding out until the end of November; especially this Bose headphones deal.
Currently, the brand new Bose QuietComfort Headphones can be yours for £300, which is £50 off the usual asking price, or 15 per cent. This deal can be found at a plethora of retailers including Amazon, John Lewis, Currys and even Bose's own online store.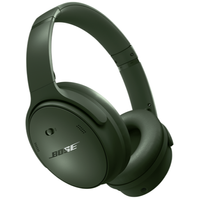 Bose QuietComfort Headphones £350 £298 at Amazon (save £52)
While we haven't tested this specific model of Bose wireless headphones, we have tested plenty of QuietComfort headphones in our time, including the very similar-looking QC45. Therefore, you should find this latest model to offer supreme comfort and noise cancelling, not to mention exciting and engaging sound performance. Available in Black, White Smoke and Cypress Green.
Also available at John Lewis, Currys and Bose
Bose only lifted the lid on its refreshed QuietComfort lineup last month, but you'll already find one of its latest models with a seriously appealing discount attached. Replacing the Bose QuietComfort 45 headphones, the new mid-range noise-cancelling headphones sit between Bose's QuietComfort SE and QuietComfort Ultra headphones.
We haven't reviewed the QuietComfort Headphones yet, but we have taken a look at other options in the range, including the Bose QuietComfort Ultra Earbuds and Bose QuietComfort Ultra Headphones. We've also reviewed the QuietComfort 45 which seems to serve as a major source of inspiration for this new minimalist reboot of Bose's iconic model, so can vouch for these new cans if they perform anything like their predecessors.
As for upgrades over the previous model, you'll find adjustable levels of active noise cancellation, the ability to set custom noise-cancelling modes, Bluetooth multipoint on board and a claimed battery life of up to 24 hours. Otherwise, the new QuietComfort Headphones are strikingly similar to their predecessors in looks, although you can pick them up in three slick finishes; Black, White Smoke and (my personal favourite) Cypress Green.
MORE:
Find more of the best headphones deals
Read our full breakdown of the new Bose QuietComfort range
Check out our list of the best wireless headphones