Amazon's Big Deal Days discounts keep on coming, but it's worth shopping around to check you're getting the very cheapest price, especially when it comes to hi-fi and home cinema kit.
And here's a good example of that. If you're looking to take your home cinema experience to the next level, Wharfedale's five-star DX-2 speaker package is down from £450 to just £299 over at Peter Tyson.
The DX-2 package won our 2022 award for 'Best speaker package under £500' and now it could be yours for under £300. That's a great deal.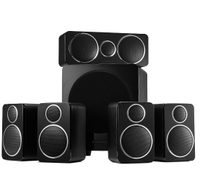 Wharfedale DX-2 was £450 now £299 at Peter Tyson
The DX-3 has superseded Wharfedale's DX-2 speaker package, however, with both systems earning five-star ratings you can't go wrong with either. This latest price drop brings the DX-2 down to just £299. We thought it was great value for money at launch, now you can get your hands on this system for even less.
Wharfedale's DX-2 system is a 5.1 package comprising a central speaker, a subwoofer, and four satellite speakers.
The sub features a 20cm driver, while each of the four satellites has a 19mm silk dome tweeter and a 7.5cm mid/bass driver. The centre channel uses two of the mid/bass drivers to flank the same tweeter.
We put the DX-2 speaker package to the test, and it came out with a glowing five-star review. We were impressed with its solid dynamics and overall punchy sound. It brings an impressive amount of heft to audio that's perfect for TV or movie soundtracks.
We've also tested out the brand-new DX-3 speaker package, which supersedes the DX-2 on offer here. The new package also received a five-star review and had a lot of positives in common with its predecessor, however, it hasn't received any similar discounts just yet.
While our recommendation would be to place the satellites on dedicated supports, these compact speakers are designed to fit nicely on top of shelves, bookcases, or anywhere you can find some spare space.
We thought that this package was a great option for buyers on tighter budgets at the time of reviewing and with this latest discount bringing the price down to £299, our thoughts ring even more true.
MORE:
What Hi-Fi? Awards: best speaker packages 2023
Best home theatre speaker systems 2023: budget to premium home cinema set-ups