Best TV deals
(Image credit: Future/Amazon)
32 inch TV deals
50 inch TV deals
55 inch TV deals
65 inch TV deals
For most households, a TV is one of the biggest purchases they'll make. But no one wants to pay any more than they have to. That's where we come in. We've scoured the web to find you the best TV deals around, and only on the best sets from our comprehensive reviews back catalogue. That's right - every TV in this list has been through our rigorous reviews process, and passed with flying colours.
There are all sorts here, from massive sets with the latest cutting edge tech to more basic models that are a little easier on the wallet. But no matter what type, they all excel at what they do.
Some of these TV deals may be last year's models, but that doesn't mean they're not worth a look. In fact, if you're willing to forego the latest improvements (which, let's be honest, are often pretty incremental), you could save yourself a pretty penny. That said, we are now seeing discounts on the 2019 flagship 4K TVs, making it more tempting to spend the extra on one of the new models.
Looking for the hottest of hot 4K TV deals? Over the last few weeks a real pricing war has erupted between LG and Samsung, with the C9 OLED and Q90R QLED both receiving fresh, hefty discounts. And with Black Friday and Cyber Monday just around the corner, it's a good time to keep an eye out for bargains.
32 inch TV deals
Sony KDL-32WE613BU HD Ready Smart TV £349 £254 at Amazon
Want a TV for a second room or bedroom? You can save £95 on this Sony 32-inch TV. It's only HD Ready but if it's for the kids or a spare room it still represents a decent bargain. View Deal
50 inch TV deals
Panasonic TX-50GX800B 50in 4K HDR TV £899 £689 at PRC Direct
The first TV we tested with both Dolby Vision and HDR10+ on board, the GX800 is a great buy, particularly as it's already dropped in price a fair bit.View Deal
55 inch TV deals
LG OLED55C9PLA OLED TV for £2499 £1499 at John Lewis
Brand new for this year, LG's C9 OLED improves on last year's C8 in almost every way, making it comfortably the better buy if you can stretch to it. Doing so is now a lot easier than it was, too, as the price has just dropped by another £200, taking the overall discount to a healthy grand.View Deal
LG OLED55E9PLA OLED TV for £2799 £1999 at Sevenoaks
Ultimately, if you're after a new OLED we'd suggest buying the C9 above and adding a good, separate sound system. But if you're going to be relying on your new TV's built-in speakers, the E9 is worth spending the extra on. The picture quality is identical, but the sound is a good step up and the difference is currently just £200.View Deal
Panasonic TX-55GZ950B OLED TV £1799 £1499 at Richer Sounds
Panasonic's 2019 OLED isn't quite as good as the C9 above in terms of picture performance, but it's close - and it does sound better. It's also already shed £300 from its price since we tested it, making it a real tempter.View Deal
Samsung QE55Q90R 55in 2019 QLED TV for £2799 £1899 at John Lewis
Samsung's 2019 4K flagship has now dropped in price, with a healthy discount of £900 from John Lewis (and others). It's still much more expensive than the C9 OLED above, but for some the punchier picture, nicer operating system and brilliant One Connect feature might be worth the extra.View Deal
Samsung QE55Q85R 55in 2019 QLED TV £2299 £1499 at Richer Sounds
Samsung's second tier 2019 QLED is undeniably a step down from the Q90R above, but the hefty price difference certainly makes this Q85R tempting.View Deal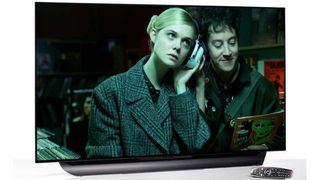 LG OLED55C8PLA 55in OLED TV £2999 £1249 at Amazon
The price gap between this C8 and the B8 is currently pretty significant, but thanks to the Alpha 9 processor under the skin, which improves the performance across the board, we think it's well worth spending the extra money.View Deal
Panasonic TX-55FZ802B 55in OLED TV £2299 £1199 at Richer Sounds
We gave Panasonic's FZ802 OLED TV five stars at its original price of £2299, so it really is a bargain with this huge discount.View Deal
Sony KD-55XF9005 55in 4K HDR TV £1699 £949 at John Lewis
X-motion Clarity tech promises smooth sports and action movies while HDR10, HLG and Dolby Vision support is present and correct. The price has dropped yet again lately, so you can currently get a huge £750 discount on this excellent telly.View Deal
65 inch TV deals
LG OLED65C9PLA 65in 2019 OLED TV £3299 £2299 at Richer Sounds
This 2019 LG OLED has just had another £200 shed from its price, taking the overall discount to £1,000. It's an awesome TV - a surprisingly big improvement on last year's model - and well worth the original asking price, let alone the new one.View Deal
Samsung QE65Q90R 65in 2019 QLED TV £3799 £2299 at Amazon
Samsung appears to be intent on matching its Q90R's price to that of the C9 above, despite it initially costing a good deal more. It's a brilliant telly and choosing between the two is terrifically difficult. The Samsung can't go quite as black, but it's much brighter, is nicer to use and has the brilliant One Connect box, which handles all of the connections so you don't have loads of cables running into the display itself.View Deal
Sony KD-65XG9505 65in 4K TV £2199 £1799 at Richer Sounds
New for 2019, this Sony has already dropped in price. Don't assume that means it must be a duffer, though - this is an excellent direct LED-backlit LCD model for the money, with a punchy, detailed picture and very good sound. LG's 2018 OLEDs (above) are the better buy while still available, but once they're gone this Sony will still be offering great value.View Deal
Sony KD-65AG9 65in OLED TV for £3999 £3499 at Sevenoaks
Sony's 2019 Master Series OLED majors on picture authenticity and has one of the best sound solutions of any current TV - hidden actuators vibrate the whole screen to make an excellent sound that matches the on-screen action perfectly. It's a pricey TV compared to many above, but this £500 discount makes it more tempting.