With the Black Friday deals just around the corner, it's a great time to be in the market for a new TV. The annual sales extravaganza is sure to feature savings on TVs, with big-screen Ultra HD and OLED TVs increasingly popular when it comes to the Black Friday sales, both online and on the high street.
If you haven't already taken the plunge, it's a great time to buy a 4K TV. Amazon and Netflix stream an increasing amount of 4K TV shows and films, while the BBC recently experimented with 4K iPlayer programmes - and for the ultimate picture and sound quality, there's 4K Blu-ray discs.
Last year Black Friday delivered discounts on 4K OLED TVs from LG, Sony, Panasonic and Philips, as well as cheap prices on Samsung 4K QLED TVs (the company's rival TV technology), with Amazon, Currys, John Lewis, Sevenoaks and more, all delivering deals.
Black Friday 2018 4K TV deals
Naturally, most of the best deals will arrive closer to the time - the official Black Friday date is Friday 23rd November, with the equally exciting Cyber Monday falling on Monday 26th November - but we have been given an early indication of some deals.
Hisense is the first TV brand to confirm it will be running deals on the big day. The Hisense Black Friday deals look set to feature the AE6100 and A6600 TVs, with 43-inch , 50-inch, 65-inch and 75-inch screen sizes set to be on sale. How cheap? We will have to wait and see.
The best 4K TV deals right now
Philips 50PUS6703
What Hi-Fi? Awards 2018 winner
50 inch LED with Ambilight
4K, HDR
Android TV
The 50PUS6703 is a superb TV with an incredibly low price tag. For £600, you get a 50in 4K HDR panel, with Philips' excellent Ambilight technology into the bargain. And it looks great too. If this gets further reduced on Black Friday, it deserves to sell by the bucketload.
Much like Philips' other televisions, the 50PUS6703 comes with the expected streaming apps, including Netflix and Amazon Prime Video. There's iPlayer, ITV Hub, All4 and Demand5, too. Android isn't quite as smooth on here as with rival sets, and the remote can be a bit fussy, but in terms of picture and sound performance, it's hard to fault for the price.
LG OLED55B7V
55 inch OLED
4K, HDR, Dolby Vision
2017 model
This 2017 LG OLED TV is an absolute stunner and a bargain at this price - and one to look out for being further reduced come the Black Friday sales. The B7 is an incredibly thin, stylish 4K OLED, complete with a smart, curved stand. It of course plays 4K content and supports the latest HDR and Dolby Vision picture technologies.
This smart TV runs on webOS, which has a clean interface and is easy to use, and there's one-button access to Amazon and Netflix content. And it delivers a stunning picture; the LG B7 combining the amazingly dark black levels that OLED is famous for, with bright, realistic colours. It may be a 2017 TV, but it's still a great buy.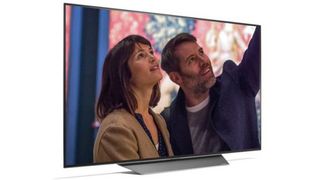 LG OLED55B8PLA
55 inch OLED
4K, HDR, Dolby Vision, HLG
The cheapest 2018 LG OLED is also one of the best-value 4K TVs we've seen this year. You might get a little more sharpness and detail by spending a little more, but it's hard to argue with the deal on offer here.
Inside is the fine webOS smart TV interface complete with Amazon and Netflix, the Google Assistant voice assistant, four HDMI inputs, and a surprisingly solid pair of speakers. In terms of video, black levels are strong, motion is smooth and colours are bright. It's a bargain. And if you see the 55B8SLC model on sale, it's worth noting LG says this TV is almost identical but for slight tweaks to the speakers.
Samsung QE55Q8DN
The Samsung Q8DN aims to squeeze the excellent picture technology of its top TVs into a more affordable package. And it's a success.
You get 4K HDR versions of Netflix, Amazon Instant Video, BBC iPlayer, Rakuten and Google Play Movies & TV. ITV Hub, All 4 and Demand 5 are also all on board, as are Now TV, Twitch, YouTube, Plex and Spotify. The sound isn't great from the small speakers, but the picture is sharp, detailed and colourful, with impressive smart features.
Sony KD-65XF9005
What Hi-Fi? Awards 2018 winner
65 inch OLED
4K, HDR
Android TV
A What Hi-Fi? Awards 2018 winner, you can save a few hundred quid on this 65 inch Sony LED TV. Despite having a host of flagship features, this Sony actually has a "midrange" price before we allow for any discount, which is part of the reason we rate it so highly. If you want a huge screen, it's hard to go wrong here (though the stand design is a little different, so check the dimensions work for you).
The XF9005 has an Android TV smart TV interface with a host of features: Netflix, Amazon, BBC iPlayer, Google Play Movies & TV, Deezer, Spotify... So you have more 4K HDR video options than you could need, plus streaming music services.
In terms of performance, the Sony XF9005 goes well beyond what we expect of a midrange TV and delivers a picture performance not significantly short of the very best flagship TVs. Need we say more?
LG OLED65C8PLA
What Hi-Fi? Awards 2018 winner
65-inch OLED
4K, HDR, Dolby Vision, HLG
Another excellent LG OLED TV. And this one is probably the most stylish TV of the entire 2018 range, with the C Series' table-top stand looking elegant in its gunmetal grey finish. The speakers and the TVs connections (four HDMIs, three USBs, aerial, satellite, optical and headphones) are all contained inside a wide, chunky enclosure that takes up around a quarter of the TV's back panel.
4K HDR, HLG and Dolby Vision picture technology is supported, alongside satellite and Freeview tuners, catch-up TV offerings and the webOS smart platform. But it's all about that picture: there's a jaw-dropping level of clarity and detail, plus punchy bright whites and great colours. Motion processing is fine, viewing angles are excellent and even the sound from the speakers is good enough.