The best Black Friday TV deals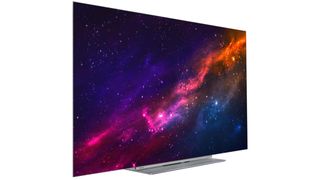 4K TV deals
OLED TV deals
QLED TV deals
Sky TV deals
Our editors search through thousands of deals to unearth the best prices from the most trustworthy retailers. You can support us by clicking these independently selected links, as we may earn a commission on any purchase you make - but at no extra cost to you.
The Black Friday 2018 sales are under way and there are already plenty of TV deals on offer. So if you're in the market for a new 4K TV, or perhaps you've got your eye on a new OLED TV, it's a great time of year to be buying.
Last year Black Friday delivered 4K TV deals on LG, Sony, Panasonic and Philips screens, including OLED TV deals, as well as cheap prices on Samsung 4K QLED TVs (the company's rival TV technology), with Amazon, Currys, John Lewis, Sevenoaks and more, all delivering discounts on TVs.
Of course you don't have to wait for the actual Black Friday date for the Black Friday deals! Many retailers have started early and we'll be comparing TV prices across all the retailers to work out whether the savings on offered really are deals. You can already save on TVs from LG, Philips, Samsung, Sony and Toshiba in screen sizes including 43-inch, 50-inch, 55-inch and more.
TV deals retailer pages
4K TV deals
4K resolution is 4096 x 2160 pixels. However, in order to shoehorn this higher resolution video into a normal 16:9 picture format, it has been altered to 3840 x 2160 – still four times the total number of pixels found on a Full HD 1080p screen (1920 x 1080). That's a lot of pixels, which should mean a lot of detail and a better overall picture. With plenty of 4K content available, there's no reason not to make your next TV a 4K TV.
MORE: Best 4K TVs
Samsung UE43NU7020 £549 £349 at Currys
This 43-inch Samsung 4K TV is available with a £200 saving and despite missing the odd premium spec, looks like a great budget TV deal. It supports 4K and HDR10+ video, has BBC iPlayer, 4K Amazon Prime Video, 4K Netflix and YouTube, plus two HDMI 2.0 inputs, two USB connections and an optical connection.View Deal
LG 43in UHD 4K HDR Smart LED TV £649 £388 at Amazon
A whopping 40% discount on this LG 4K TV has piqued our attention. It features Freeview Play, the latest version of the Freeview TV platform, supports 4K and HDR video, and has LG's ThinQ AI intelligent television. There's also the option to add a soundbar or a wall-mount as part of this deal.View Deal
Philips 43PUS7303 43-Inch 4K Ultra HD Android Smart TV with HDR Plus and Ambilight 3-sided (2018 model) £600 £399
Ambilight three sided makes your viewing experience more immersive by emitting a wide glow from your TV screen onto the wall. And we're fans. This 43-inch TV is now down to just £399 and features Android TV, Google Assistant and support for HDR video. View Deal
Samsung UE43NU7400 43-inch Ultra HD HDR TV £659 £439 at AO.com
4K Ultra HD and HDR, HDR10+ and HLG video is on offer from this smart TV from Samsung. There are three HDMI inputs and two USB ports, pus digital connections and support for MHL connectivity. Built-in WiFi will let you stream from all the usual suspects and there's the TV Plus interface for movies, boxsets and TV channels in one place.View Deal
Hisense H50AE6100UK 50-Inch 4K HDR TV £379 £329 at Amazon
Now this is a good TV deal. We gave the H65AE6100 a solid four-star recommendation so we have reason to believe that this smaller 50-inch TV should be a decent bet. Now you can save £50 for Black Friday. It supports 4K, HDR 10, HLG, Freeview Play, Netflix and more, so you're not missing out on any TV tech. View Deal
Samsung UE50NU7020 £599 £399 at Currys
A 50-inch Smart 4K Ultra HD HDR LED TV, this Samsung UE50NU7020 has had £200 shaved off the price just in time for Black Friday. It supports 4K Ultra HD pictures and the latest HDR10+ video technology, has iPlayer, Amazon Prime Video, Netflix and YouTube, plus two HDMI 2.0 inputs and two USB connections.View Deal
Sony KD55XF9005BU 55-inch 4K TV £1699 £1,149
Save £500 on this 55-inch Sony TV. 4K and HDR pictures should look fantastic on this screen while the solid stand makes it easy to install. X-motion Clarity tech promises smooth sports and action movies while HDR10, HLG and Dolby Vision support mean any high-quality video can be enjoyed. Also available is the Sony KD49XF9005BU 49-inch at £949, reduced by £450.99.View Deal
Hisense H65AE6100UK 65-inch 4K HDR TV £699 £579 at Amazon
As mentioned above, we gave this Ultra HD TV a decent four-star review and now you can save £120 on the original price. As with the smaller model, it supports 4K, HDR 10 and HLG video, plus Freeview Play. Three HDMI inputs and the option to add a wall bracket help, too.View Deal
OLED TV deals
OLED – Organic Light-Emitting Diode – is a type of display technology that makes it possible to reach dark black levels from ultra-thin screens while, at the same time, making TVs more efficient and eco-friendly. We've been blown away by the picture quality that 4K OLED sets can deliver, which means it's worth paying a premium if you can afford it.
MORE: Best OLED TVs
Philips 55POS9002 4K OLED TV with Ambilight £1499 £1199
We called the Philips 55POS9002 TV a "real return to form for Philips and one of the finest TVs currently available, particularly for HDR", delivering great 4K pictures with the added bonus of Philips' clever Ambilight technology. And now you can save £300.View Deal
55-inch Toshiba 55X9863DB OLED TV £1499 £1199
The 55-inch Toshiba 55X9863DB 4K OLED TV is now £1199, down from £1499. It supports 4K, HDR and Dolby Vision, has Freeview Play, and is compatible with Amazon Alexa voice control. Toshiba's OLED TVs are made by LG Display, who have turned out excellent OLED screens for a whole host of manufacturers on the market.View Deal
LG OLED55B8SLC 4K OLED TV £1479 £1299 at Amazon
The most affordable OLED in LG's 2018 range is now even more affordable. This is a brilliant 4K OLED from the company responsible for the best OLED TVs on the market. Expect top-notch pictures and a spec sheet to match.View Deal
65-inch Toshiba 65X9863DB OLED TV £2299 £1699
You can save a whopping £600 on the Toshiba 65X9863DB 65-inch 4K OLED TV. This smart TV also supports 4K, HDR and Dolby Vision video, has Freeview Play, and, you guessed it, is compatible with Amazon Alexa voice control. There are four HDMI inputs, three USB inputs, Freeview HD, and built-in wifi.View Deal
QLED TV deals
QLED stands for Quantum dot Light Emitting Diode and, while it currently has quite a lot in common with LED-backlit LCD TVs, it's actually intended as the next step on from OLED. Samsung is the only manufacturer currently selling QLED TVs, while the last year has seen an explosion in OLED models from a variety of rival manufacturers - although all of those use panels manufactured by LG Display. The idea is that, ultimately, QLED will combine the very best picture quality features of OLED (super-deep blacks, amazing contrast, superior viewing angles) with far superior brightness and colours.
Samsung QE55Q8DN
The Samsung Q8DN aims to squeeze the excellent picture technology of its top TVs into a more affordable package. And it's a success.
You get 4K HDR versions of Netflix, Amazon Instant Video, BBC iPlayer, Rakuten and Google Play Movies & TV. ITV Hub, All 4 and Demand 5 are also all on board, as are Now TV, Twitch, YouTube, Plex and Spotify. The sound isn't great from the small speakers, but the picture is sharp, detailed and colourful, with impressive smart features.
Sky TV deals
Before we get into the 4K TV deals, how about sorting out some 4K content? The Sky Black Friday deals help on both counts, offering a free TV when you sign-up to Sky. There's also a deal for existing Sky customers, which offers a discount on the Sky Soundbox alongside your subscription.
Free 43in LG 4K TV with Sky Q 2TB and 18-month subscription
The Black Friday Sky deal offers a Sky Q 2TB box and 18-month subscription to Sky Entertainment, Sky Cinema and Sky Ultimate On Demand for £55 per month. That's a saving of £10 per month or £120 a year over the regular price. And a free LG 4K TV - you have the choice of two 43-inch 4K models, each worth almost £500. View Deal
Sky Soundbox soundbar: £299 £220 (existing Sky customers); £800 £499 (new Sky customers)
Sky is slashing the price of its Soundbox soundbar until 30th November. It's certainly a competitive price for the wireless-speaker, which we gave four stars to last year and deemed a 'positive success'. There's a discounted price for new and existing Sky customers on the Devialet-designed TV speaker.View Deal