Quick Menu
Under £100
£100 to £250
£250 to £500
£500 to £1000
Over £1000
It's time for a reality check, your TV doesn't sound good. Even the best five-star TVs we test compromise when it comes to built-in audio. There are some rare exceptions, but generally speaking, you can certainly do better than the speakers that are inside your set.
Put simply, TV audio quality usually diminishes with the introduction of super-thin panel technology, it becomes even harder for manufacturers to find room for drivers at all, let alone drivers of a decent size. This often leads to audio quality and clarity being heavily compromised, something a soundbar can help remedy greatly.
If you haven't got the time or space to set up a surround speaker package, an excellent cost-effective way to hear dialogue more clearly and enjoy film soundtracks is with the help of a soundbar.
While some of the more basic options can be found at reasonable prices, the bars that also include features like Dolby Atmos and 4K HDMI passthrough are usually a bit more expensive.
Not sure which model is right for you? We have buying guides with all the info on the best soundbars and the best Dolby Atmos soundbars that we've tested across a range of prices. And at the more affordable end of the market, our best budget soundbars page has you covered.
SOUNDBAR DEALS QUICK LINKS
Best soundbar deals under £100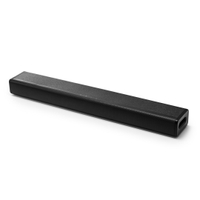 Hisense HS214 was £99 now £79 at Amazon (save £20)
Hisense's 65cm 'bar with multiple connections (line-in, USB, Bluetooth, optical, HDMI out ARC), three Audio Modes (movie, music, and news), and a bundled universal remote is a great way to upgrade your TV sound while spending very little.
Read the full Hisense HS214 review.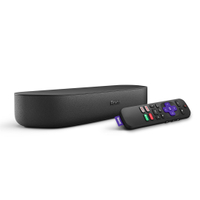 Roku Streambar was £130 now £60 at Argos (save £70)
The cheapest bar on our list of recommendations here, the Roku Streambar earned four stars when we reviewed it. Not only is this a soundbar, but it also offers streaming smarts and access to major video streaming platforms. We noted that the bar sounds direct and well-projected, supported by a great feature set and the ability to go loud.
It also offers HDMI (ARC), optical, and USB inputs to help the bar pair well with most TV and AV gear.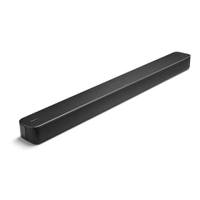 Sony HT-SF150 was £150 now £99 at Amazon (save £51)
An excellent budget soundbar, the Sony HT-SF150 will do a lot to take your TV's audio up a notch from its built-in speakers. We gave this bar a solid four-star review, praising its premium looks, impressive scale and width, and of course, its accessible pricepoint. Featuring HDMI (ARC) optical, and USB inputs, this bar should slot into almost any set-up.
Best soundbar deals £100 to £250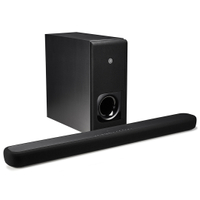 Yamaha YAS209 was £279 now £199 at Amazon (save £80)
Yamaha's YAS209 soundbar is an impressive budget soundbar – not only that, but it comes with a subwoofer for extending the bass response of whatever you're watching. In our four-star review of this package, we commended the spacious, weighty sound as well as well-placed 'surround' effects. This bar offers HDMI (ARC) alongside optical connectivity.
Also available at Richer Sounds for VIP Club members.
Best soundbar deals £250 to £500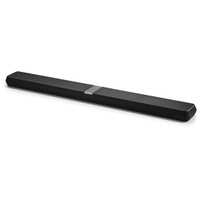 Bowers and Wilkins Panorama 3 was £899 now £399 at Peter Tyson (save £500)
Bowers & Wilkins's first Dolby Atmos soundbar is a sleek, stand-alone system that delivers 3.1.2 channels of audio from a single unit. There's Amazon Alexa onboard for hands-free voice commands and streaming is well catered for with AirPlay 2, aptX Adaptive Bluetooth and Spotify Connect, while high-resolution listening is supported via the Bowers & Wilkins Music App.
Read our full B&W Panorama 3 review.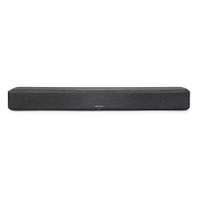 Denon Home Sound Bar 550 was £449 now £399 at Richer Sounds (save £50)
This is a good deal on what looks like a very good soundbar. We haven't tested this bar out, but with Dolby Atmos, DTS:X, HEOS built-in, and AirPlay 2 support on board, it is one of the more feature-rich soundbars we've seen.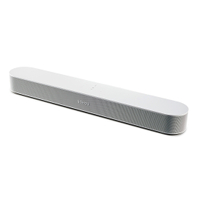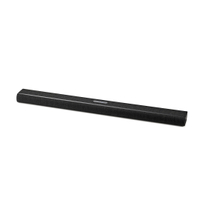 Harman Kardon Citation Multibeam 1100 £800 £499 at Peter Tyson (save £301)
This sleek, fuss-free Dolby Atmos soundbar delivers precise and detailed audio, as well as pleasingly well-projected sound and some hearty low-end kick as well. It's even equipped with HDMI passthrough, meaning you won't have to fully sacrifice a port on your TV.
Best soundbar deals £500 to £1000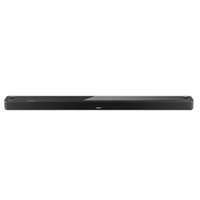 Bose Smart Soundbar 900 was £899 now £699 at Amazon (save £250)
This slick soundbar has all the specs you'd expect from Bose with wifi connectivity, Airplay, Bluetooth, Chromecast and multi-room streaming. Sonically it produces an impressively wide sound field and an articulate and crisp Dolby Atmos performance. Click the apply £40 voucher box.
Read our full Bose Smart Soundbar 900 review.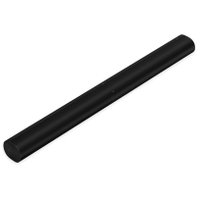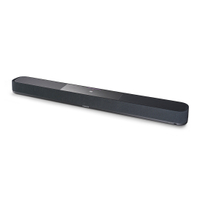 Sennheiser AMBEO Soundbar Plus was £1299 now £899 at Amazon (save £400)
Sennheiser's Ambeo Plus impresses with a wide, spacious sound field, excellent musical ability, and a fine spread of useful features and connectivity options. HDMI inputs are included as are a number of different steaming options, from Bluetooth to Spotify Connect. The Ambeo Plus sits among the best Dolby Atmos soundbars at this level.
Read our full Sennheiser AMBEO Soundbar Plus review.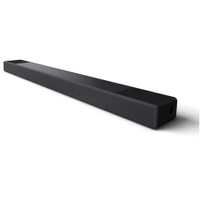 Sony HT-A7000 was £1299 now £969 at Sevenoaks (save £330)
This Award-winning soundbar delivers amazing Atmos and a bountiful feature set that culminates in a truly impressive soundbar. Equally as impressive are these savings, meaning you can get a big discount off the usual asking price right now.
What Hi-Fi? Awards 2023 winner
Read our full Sony HT-A7000 review
Best soundbar deals over £1000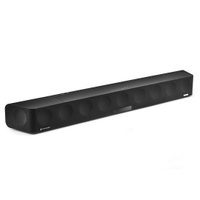 Sennheiser Ambeo Soundbar Max was £2199 now £1799 at Sevenoaks (save £400)
Standing almost 1.3m wide, Sennheiser's Ambeo is not for the faint of heart or short of space, but it takes up much less space than a full home cinema, sounds sensational, and boasts Dolby Atmos and DTS:X support. This is a hefty discount on Sennheiser's stellar soundbar so snap it up while you can.