If you asked someone in the street to name five headphone manufacturers, Sennheiser would doubtless be in the top three.
The renowned German headphone company is the smarts and elbow grease behind some of our favourite pairs of earphones, including five-star and Award-winning in-ear, wireless Bluetooth and noise-cancelling options. It's safe to say that if you trust us (and we humbly hope that you do) the Sennheiser deals and discounts below are truly worthy of your attention. And, not to put too fine a point on it, Black Friday is just around the corner. Now's the time to know what's what, so you can spend less cash wisely.
What Hi-Fi? sorts through thousands of deals to offer the best prices from the trustworthy retailers. While all of our reviews are researched and written independently, What Hi-Fi? is a participant in a number of affiliate programs designed to provide a means for sites to earn fees for linking to online retailers.

In-ear headphones
Sennheiser Momentum 2 In-ear
Comfortable fit
Clear and detailed sound
Expressive mids and highs
The Sennheiser Momentum M2 in-ears have racked up the What Hi-Fi? Awards in recent years and it's easy to tell why. They mix a modern look with a classy finish; the earpieces look striking in their deep-red colourway, nicely complimented by a two-tone headphone cable and in-line remote.
The M2 IEi version feature an in-line mic and remote for Apple smartphones, while a variant called the M2 IEG carries the relevant control/mic combination for Android mobiles (and shares the same sound quality). Fit is excellent and comfort levels are high.
And sound quality is stunning. They promote a smooth and balanced sound, with plenty of drive and a great sense of musicality. Lows are rich and weighty. If you want to upgrade the freebie in-ears that came with your smartphone, these Sennheisers are a great shout.
Sennheiser CX 5.00i
Smart design
Wide, rich sound
Affordable
A great pair of step-up headphones comes in the form of these stylish and sonically superb in-ears. Given the low price, the bass is banging but it's matched by rich tones and great warmth throughout the range. Just brilliant for those on a budget.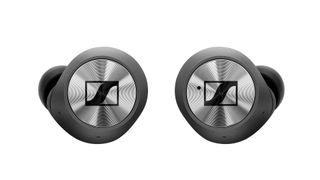 Sennheiser Momentum True Wireless
Impressive features
Good battery life
Balanced sound
No wires connecting them to your mobile and no wires connecting them to each other; that's the joy of true wireless headphones. Perfect for exercise or other tangle-free fun, like many of this type, these buds come with a charge case to extend their battery life up to 12 hours in total. They're sonically well balanced, full of detail and present a really clear and open soundstage.
Sennheiser Momentum Free
Impressive clarity
Powerful, musical performance
Excellent dynamics
The Sennheiser Momentum Free in-ears take all that's great about the M2 in-ears and place it in a wireless package. An unfussy design with six hours of battery life, they come with an in-line remote and mic. When they're not pumping music into your ears, you can connect the earpieces to each other via integrated magnets.
The Momentum Free in-ears have the same powerful and dynamic sound you get from the wired version – no small feat. You also get an impressive sense of clarity and detail for the money with the Momentum Frees carving out bass, mids and highs with expert precision.
Sennheiser CX Sport
Clear, detailed sound
Punchy delivery
Full-bodied bass
Not everyone can afford the True Wireless headphones above, but there's still a solution for sporty types thanks to these talented in-ear headphones. Oh, they're eye-catching and sweat/water-resistant, yes, but the sound is clear, expressive and enough to keep you pumping away on the treadmill for miles.
Sennheiser Momentum In-Ear Wireless
Open, lucid sound
Bags of detail
Powerful bass
These Sennheisers are similar to the Momentum Free, but with a neckband design. If you're a fan, the main benefit of this is longer battery life, up from six hours to ten. It's also a slightly more stable design so they can be left dangling without fear of losing them. The main section of the neckband is covered in soft sheepskin nappa leather, so any contact with your skin is actually quite pleasant. It feels comfortable and it's lightweight (53g). All your controls are built into a section at the end of the left arm.
As is the case with the other members of the Momentum in-ear family, across the board, the sound is packed with detail. It's dynamically strong too, with the Sennheisers scaling highs and lows with ease. It's an inviting presentation, with the expressive and far-reaching midrange a particular highlight. If you're looking for a commuting companion, they deserve serious consideration.
Over-ear headphones
Sennheiser HD 2.30
Chunky sound
Strong vocals
Minimalist look
If you prefer a no-frills, minimalist approach when it comes to headphones, the Sennheiser HD 2.30s are an extremely solid buy for the money. They're a slimline on-ear design that feels engineered enough to justify their asking price. There's a version with control and mic for iOS devices (Sennheiser HD 2.30i), but there's also a version for Android devices, called the HD 2.30G. Black and white finishes are available.
And, these affordable headphones deliver a chunky sound that's both free of harshness and aiming for something better than the easy wins of sparky treble or ear-flattening bass. The Sennheiser HD 2.30s are solid headphones for people who want good sound quality but don't want to pay through the nose – and aren't interested in paying more for a funky look. This extra saving on their original price just makes them more appealing.
Sennheiser Momentum 2.0 On-Ear
Decent amount of detail
Solid sound
Neat and attractive design
As you can probably tell from the name, these headphones are the on-ears of Sennheiser's Momentum family. They're an attractive pair with a neat folding design and earpads and headband that are both clad in Alcantara for extra comfort. You've also got access to a three-way inline mic and remote, to control a connected smartphone.
There's a lot of body and warmth to their sound, not to mention plenty of detail and texture. These elements make for an effortless and enjoyable listen across all genres. At this kind of money, you can't really go wrong.
Sennheiser Momentum 2.0 Wireless
Good noise cancellation
Great dynamics
Design
These wireless headphones have been around for a few years now, but they've dropped in price quite significantly and have to now be considered a serious bargain. They're collapsable, properly portable and have thick, comfy earpads. 22hr battery life, NFC pairing Bluetooth (of the aptX variety) and active noise-cancellation complete an extensive list of features.
They produce a rich, full-bodied sound with a level of composure and refinement that we aren't always used to hearing from Bluetooth headphones. The low end is weighty but detailed without ever sounding boomy or drowning out the rest of the frequency range. Vocals are expressive and focused, plus the Sennheisers time superbly. It's a sound that's endlessly listenable and well worth the investment.
Sennheiser Momentum Wireless (2019)
Energetic, rhythmic presentation
Convenient usability features
Effective noise cancellation
Sennheiser hardly needs any 'third time lucky' well wishes from us for its third-generation Momentum Wireless noise-cancelling headphones. Both the originals and second versions (listed above) were instant knockouts when they arrived, the latter winning a What Hi-Fi? Award just months after it came off the production line.
The flagship pairs in the now-iconic Momentum line have, alongside their extensive family of wired, over-ear, one-ear, in-ear and true wireless siblings, reflected the range's 'momentum' moniker perfectly. Physics may tell you that momentum relies upon mass and velocity, but here it is maintained by a consistently strong and reliable reputation for great-value sound.
And this latest pair are among the best wireless headphones we've tested in recent months. Significant reductions in price may not be with us any time soon, but these are headphones so fine, we feel compelled to tell you about them anyway.
Sennheiser PXC 550 Wireless
Top timing
Clear and dynamic sound
Effective noise-cancellation
Aimed at the 'discerning business traveller', the PXC 550s are an impressive and polished option for the money. Despite being packed with Bluetooth and noise-cancelling technology, they look surprisingly trim. The thick leather pads hug your ears – snug, not too oppressive – and do a good job of blocking out external noise. That level of isolation is taken further by two levels of NoiseGard Hybrid active noise-cancellation, which work very well.
The PXC 550s have a claimed 30 hours of noise-cancelling duty before they need a top-up via the USB-type B charging port. When it's flat, a cable for wired listening can slot into 3.5mm socket on the right ear cup. You'll find touch-sensitive controls built into the right ear-cup.
Sound quality is excellent. Thanks to the Sennheiser's roomy, open soundstage and dependable footing, the presentation is arranged and orderly; each note hits the mark within a presentation that sounds naturally, almost effortlessly, together. It's a mature performance and one that's now available with a discount attached.
Sennheiser HD 201
No mics, no noise-cancelling, no in-line controls but who cares at this ridiculously low price? Their sound is still very, very decent for the money with a fine and even tonal balance, some very good detail and no harsh notes to put up with. Bang for buck incarnate.
Sennheiser HD 820
Full bodied and detailed
Powerful and agile bass
Well engineered
Watch out for a price cut here. These high-end hi-fi headphones are reaching their first birthday and will have a few pounds knocked off at some point. Incredibly comfortable and engineered with Gorilla Glass to make the last, they're perfect for hours and hours of listening. With five What Hi-Fi? stars, you just know they sound great, too.