In the market for a new pair of headphones? On the lookout for a bargain? If the answer is a double yes, then this is the page for you.
With Black Friday and everyone's favourite shopping season approaching, we've identified the best deals on numerous different styles, with some savings of over £100.
So whether you're in the market for noise-cancelling wireless headphones for your daily commute, an affordable pair of in-ear headphones for your smartphone, or the latest true wireless tech, we've got you covered with these best savings...
In-ears: the best headphone deals right now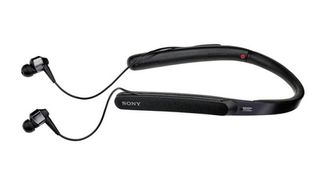 Sony WI-1000X
Range of noise-cancelling modes
Well balanced sound
Neckbud design
With great sound quality and an array of noise-cancelling features, these Sony buds are a great step up for those who want in-ear portability with on-ear battery life and power.
aptX HD Bluetooth allows you to stream audio via Bluetooth at 24bit/48kHz; noise-cancellation provides isolated music playback; and battery life is a decent 10 hours from a single charge.
For anyone who's after – or who doesn't mind – a neckbud design, these WI-1000Xs are well worth an audition.
MORE: Read the Sony WI-1000X review
B&O BeoPlay H3 ANC
Noise-cancellation
Solid sounding with good bass weight
These stylish noise-cancelling in-ears are impressive all-rounders, and the fact you can now pick them up for almost £100 less makes them well worth considering.
Turned on and fully charged, the B&O H3 in-ear headphones will provide a quoted 20 hours of noise cancellation. The effect is very subtle indeed, and it will dull the noise around you rather than block it out completely.
And like most B&O products, the Beoplay H3 ANCs certainly don't scrimp in the design stakes.
MORE: Read the B&O BeoPlay H3 ANC review
AKG N40
As comfortable as in-ears get
Mic and three-button remote
Class-leading sound
You can save a serious amount of money (£100 over our 'tested at' price) on one of our favourite pairs of in-ear headphones, which recently picked up a 2018 Best Buy Award.
You might expect a high-end pair of in-ears to impress you from the moment you open the box, and the AKG N40 earphones don't disappoint. They're smart looking, lightweight and super comfortable, have three audio filters to choose from and, most crucially, sound great.
MORE: Read the AKG N40 review
Sennheiser Momentum M2 IEi
In-line mic and three-button remote
Wonderfully clear and detailed sound
Possessor of our 2017 Product of the Year Award, these wired in-ears continue the success of Sennheiser's seemingly ever-growing Momentum range with a comfortable fit, attractive design and a wonderfully clear and detailed performance.
The icing on the cake: a current 25 per cent discount off the original price.
MORE: Read the Sennheiser Momentum M2 IEi review
Bose SoundSport Wireless
Wireless
NFC pairing
Six-hour battery life
As their name suggests, these are sport-friendly earbuds, with soft silicone rubber hooks making the fit secure enough for running or going to the gym, and IPX4 certification meaning they can handle sweat and splashes better than normal earphones.
Sound-wise, they're some of the best headphones you'll find for under £150. And the fact they're now closer to £100 makes them all the more tempting.
MORE: Read the Bose SoundSport Wireless review
Shure SE846
Stunning insight
Strong dynamic performance
Great comfort
How much?! These high-end in-ears may be pricey, but they're actually pretty heavily discounted from the £950 price tag we awarded them five stars at.
Unsurprisingly, they put performance first – it's fair to say they're the most capable in-ears we've heard – and deserve a source (such as a high-end portable music player) that can do them justice.
MORE: Read the Shure SE846 review
Sony WF-1000X
True wireless buds
Nine-hour battery life
Charging case
True wireless buds (those that don't have cables connecting the earpieces) are on the rise and rise, and our favourites - these Sonys - are the only ones of that kind we can really get behind.
The 2018 Award winners offer a performance that's balanced, detailed and rhythmic. Noise-cancellation and app smarts help their case - as does their recent healthy price drop...
MORE: Read the Sony WF-1000X review
On-ears: the best headphone deals right now
AKG Y50
Dynamic, punchy and detailed
Portable and well made
The 'AKG' lettering boldly brandished across the Y50s' colourful red, yellow, teal or (less colourful) black ear cups is certainly a talking point of these multi-Award-winning on-ears.
But while the funky design originally had us thinking they might be style-over-substance Beats wannabes, it's just a smokescreen for what's another great-sounding pair of AKG headphones.
They're balanced and insightful, capable of revealing a throng of detail, while top timing and rhythmic, punchy expression are their forte.
MORE: Read the AKG Y50 review
Sennheiser Urbanite XL
Robust build
Decent noise isolation
Powerful bass
The Urbanite XLs look like big, uncompromising brutes, but they sound relaxed and unfussy. The blurb on the back of the box promises 'massive bass and clear treble' - and we can't really argue with that.
They're certainly talented enough to warrant a place on your shortlist, and a good option for the money.
MORE: Read the Sennheiser Urbanite XL review
Sennheiser Momentum 2.0 Over-ear
Gorgeous, foldable design
Detailed, balanced and full-bodied sound
As far as premium portable headphones are concerned, the Momentum 2.0s tick all the boxes, and then some.
Timing is spot on, they have no trouble serving up weighty bass, and there's a great balance of energy and finesse that keeps you listening.
The 2.0s come in two flavours, the AEi for iPhone users and the AEG for the rest - so make sure you select the right ones for your source device.
MORE: Read the Sennheiser Momentum 2.0 Over-ear review
AKG Y50 BT
Wireless
Impressive clarity, detail and dynamics
Comfortable
We'll get straight to the point: these wireless on-ears are superb - especially considering they're roughly half the price we tested them at.
The sound is easily good enough to pass for a good wired performance, a full charge gets you an impressive 20 hours of juice, and the favourable ratio of aluminium to plastic to gives out a luxurious vibe.
MORE: Read the AKG Y50BT review
Sony WH-1000XM2
Impressive noise-cancelling
Wireless
20 to 30 hours battery life
Sony is behind some of our favourite premium noise-cancelling headphones in recent years, and now that it has launched the new WH-1000XM3, the predecessors you see here have benefitted from a price drop.
They may not be brand new, then, but that doesn't mean they aren't exceptional performers. Indeed they're a superb all-round package that excel in every area, from their noise-cancelling and audio performance to their ergonomic, comfortable fit.
MORE: Read the Sony WH-1000XM2 review
AKG N60NC
Noise-cancelling
Clear, punchy and musical sound
Former Award winners in our noise-cancelling headphone category, these entertaining on-ears remain one of the most desirable of their kind we've come across.
Our praise spans both their clear, punchy and musical sound and features. Flick the noise-cancellation switch on the left ear cup and office hum and train noise is almost completely drowned out, so you get a real sense of seclusion. They promise an impressive 30 hours of battery life in active noise-cancelling mode, too.