Best Budget TV Buying Guide: Welcome to What Hi-Fi?'s round-up of the best budget 4K TVs you can buy in 2019.
The pace of technological evolution is fast, and only getting faster. In the world of consumer electronics, the TV category is one of the areas where advances in specifications, features and performance move quickest.
This is in part because big brands such as LG, Samsung and Sony are eager to sell us all new TVs every year, but also because picture quality, and the tech that makes it happen, really does make leaps with each generation of televisions.
TV broadcasters such as BT and Sky, and streaming services like Amazon and Netflix, have made a difference in this regard, doing their best to push HD, 4K and now HDR video – meaning we all want to have a TV capable of displaying these picture upgrades.
The good news? As TV technology advances, so it becomes cheaper with every new generation. This list is proof of that particular pudding, showing you really can have a really good 4K TV for under £500. Take a look below for our picks of the best budget 4K TV bargains.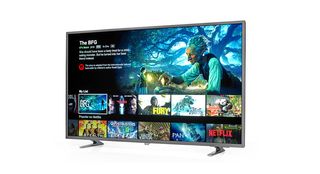 This Philips 50-inch 4K HDR TV has the company's eye-catching Ambilight picture technology, all that screen, and all the smart TV apps you need, all for less than £450. What's more, it delivers a picture performance that's genuinely brilliant for the price. It can be a little bit fussy to use but there's no arguing with the deal on offer here.
Read the full Philips 50PUS6703 review
Looking for a 4K TV in a sensible size and at an extremely reasonable price? You've found it. This Samsung MU range TV may not have all the bells and whistles of Samsung's top-of-the-range sets but it does come with an impressively good picture performance for the money, as well as just enough apps and features. Amazon Video and Netflix are here, as is HDR support and a smattering of HDMI inputs. Deep black levels, natural colours and decent performance regardless of the resolution, make for a great value 40-inch TV.
Read the full Samsung UE40MU6400U review
It's strange how a 43in screen TV is now considered on the small side. These days, as TV manufacturers are more concerned with pushing next-gen flagship tellies, we rarely receive anything smaller than 49in for review. The few models we have seen were rather disappointing affairs too – so much so, that we couldn't find one worthy of a 2018 Award. This Philips 43PUS6703 is also short of Award-worthy, but it's still one of the best 'small' TVs of the last few years, with a punchy, detailed and natural picture by prevailing standards. Just don't buy it for its HDR performance.
Read the full Philips 43PUS6703 review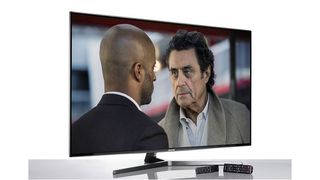 This is a fine TV, ready to give you a solid 4K HDR image at a mid-range price. In fact, we went as far to say it came close to the level of performance we'd expect from some of Samsung's QLED technology TVs. It's well-specified, too. Combined with support for 10-bit colour depth, BT.2020 colour space representation and its DCI P3 colour standard, the MU8000 ticks all the boxes for the Ultra HD Premium badge. The MU8000 has all the expected streaming services: Amazon Video, Netflix, YouTube, Now TV, Spotify, iPlayer and more. The icing on the cake is the 4K HDR picture, which has a really punchy colour palette and lashings of detail.
Read the full Samsung UE55MU8000 review
This Sony TV has pedigree, building on the success of previous generations to deliver Award-winning performance. Despite the relatively affordable price there's a fair amount of trickle-down from flagship sets on here, so it's not short of processing power. 4K and HDR is supported, with Amazon, Netflix, iPlayer and more on board, all within an Android TV interface, which is OK if not as impressive as LG's or Samsung's operating systems. HDMI, USB and optical inputs are here, too. But it's the picture that really impresses, most notably in terms of colours and contrast.
Read the full Sony KD-49XF9005 review
An LG OLED panel with Philips' Ambilight TV technology sounded good to us and luckily this TV turned out to be as good as it sounds. In fact, even without Ambilight it would be one of our favourite televisions of the last couple of years. The Android OS interface ensures most of the apps you'd expect to be here are present, though Amazon Video was missing when we tested it. In short, this is a superb TV, and yet another enhancement of LG's OLED tech. If HDR is your prime concern (and it should be) this should be right at the top of your new telly shortlist.
Read the full Philips 55POS9002 review
For just £329, Hisense will sell you a 43in screen with an edge LED backlight and support for 4K and HDR. The HDR is actually something of a busted flush, but the H43AE6100UK is in many ways quite the bargain. Hisense takes the liberty of pre-installing most apps so that they're more or less ready to go when you are, and that includes Netflix and Amazon, both in 4K and HDR. Colours are decent – vibrant within the set's brightness limits but also natural and relatively nuanced. There's reasonable detail and sharpness, too. Unfortunately the HDR performance proves poor but for this money, in every other aspect, it's a bargain.
Read the full Hisense H43AE6100UK review