Insignia is Best Buy's in-house brand that makes all kinds of tech from appliances to GPS systems. However, Insignia is most well known in the consumer electronics world for its budget TVs that compete with the likes of TCL, Toshiba, Hisense, and Amazon, to name just a few.
Insignia TVs are today divided up into four distinct lines: the N10 Series, F20 Series, F30 Series and F50 Series. These TV ranges scale up in terms of features and price, but the biggest and most expensive Insignia TVs will still cost you less than $1000, placing the brand firmly at the budget-conscious end of the market.
So, does retail giant Best Buy know what it takes to make a good TV? What features do Insignia TVs offer, and why might you want to buy one over a set from another brand? We haven't put these Insignia TVs through our comprehensive review process, but there's still a lot we can learn from delving into the specs of these sets.
So if you're wondering whether to take the plunge on an Insignia TV deal, sit back, strap in, and read on to learn all about the 2022 Insignia TV range…
What do Insignia TVs offer?
Insignia has a vast selection of TVs that range from 720p resolution to 4K; from 'smart' and app-filled to, well, non-smart and app-less; and from less than $100 to around $850. However, despite models boasting different feature sets, all Insignia TVs do share some things in common.
Firstly, Insignia TVs don't carry premium picture-related features often associated with higher-priced TVs, such as HDR10+, 120Hz support or gaming-focused features like VRR. Screen technology like full-array local dimming is also absent, as is HDMI 2.1 support. While these ommissions may disappoint those looking for a no-compromises set, they also invariably help to keep Insignia's prices competitive.
Secondly, most – but not all – of its models across the ranges are 'smart' TVs, meaning they can be connected to the internet and that supported video streaming services can be played directly from them. As all of Insignia's smart TVs use Amazon's Fire TV smart platform, the choice of apps available is plentiful, though the interface is rather Amazon-centric, so if you're not an Amazon Prime subscriber or fan of the Amazon ecosystem, you may want to consider TVs based on other smart platforms, like TCL's Roku TVs or Hisense's Google TVs, to name a few.
Luckily, all of Insignia's TVs come with familiar features like VESA mounting support and a variety of HDMI inputs including HDMI ARC. Generally strong user ratings and reviews attached to their listings on Best Buy help their case too.
In short, Insignia TVs aren't at the cutting edge of TV tech. They don't have premium OLED or Mini LED panels or next-gen gaming features. But if you're not concerned with buying the best set money can buy and your priority lies with getting the most screen for not a lot of money or just finding a cheap set for a second room in the house, Insignia offers up a spread of affordable TVs you'd have no trouble using to watch or stream whatever you'd like or casually play some games on.
Should you buy an Insignia N10 Series TV?
Sizes: 19-inch, 24-inch, 32-inch, 40-inch, 43-inch
Display type: LED
Resolution: 720p (HD) to 1080p (Full HD)
Refresh rate: 60Hz
HDR: None
Audio: DTS TruSurround
HDMI: ARC
The N10 Series is Insignia's most basic TV range, starting at $90 and topping out at $220. This is the only Insignia line without smart support, so if you want to stream from, say, Netflix or Hulu, you'll need to go up a TV range. Alternatively, you could buy and connect a cheap dedicated streamer.
The 19-inch, 24-inch, and 32-inch N10 TVs only support 720p, lower than the 1080p of today that is nowadays considered fairly basic in light of the increasing prevalence of 4K TVs. That said, for a 19-inch display, the difference between 720p and 1080p is going to be a lot less noticeable than it is on a larger screen.
Not all of the N10 Series TVs are 720p, though. The 40-inch and 43-inch N10 TVs are 1080p, which is a much better fit for a screen of these sizes.
Features-wise, the N10 TVs are generally about as basic as TVs come these days, but they are also some of the cheapest too. The 19-inch N10, for example, will only run you $90, so if you've got a small space you'd like to squeeze a small TV into, like a kitchen, then a set like this might be just the ticket.
We will say this, though: spending $220 on a 43-inch N10 1080p LED TV is very unlikely to be the best deal out there. Even for that modest budget, it isn't hard to find 4K/HDR TVs of the same size from other competing brands as well as Insignia's own F30 Series and F50 Series TVs…
Should you buy an Insignia F20 Series Fire TV?
Sizes: 24-inch, 32-inch, 42-inch
Display type: LED
Resolution: 1080p
Refresh rate: 60Hz
HDR: None
Audio: DTS TruSurround
HDMI: ARC
Insignia's F20 Series Fire TVs are a step up from the brand's N10 Series TVs, but not in the way you might expect. In terms of picture quality, we'd expect much the same performance from F20 TVs as we'd see from 1080p N10 TVs, considering they both have 60Hz LED displays.
The big difference between the two comes down to the F20 Series having smart functionality courtesy of Amazon's Fire TV OS. With the F20 Series, you can stream from a wide variety of video and music apps as well as enjoy Alexa voice control support, too. The F20 Series has a more limited choice of screen sizes than the N10 Series, though all the F20 TVs are 1080p regardless of size.
Pricing on the F20 Series TVs is, unsurprisingly, similar to the N10 Series. A 24-inch F20 will run you $190, a 32-inch costs $200, and a 42-inch is $270. Over the N10 Series, the F20 Series will go for around $50 to $90 more for the same size set to get that Fire TV functionality. So, we'd consider opting for an N10 Series model and buying a $25-$35 streaming stick if you're looking to save.
Elsewhere, you can find similarly sized sets with more features, like 4K/HDR support, for about the same prices as the N20 Series – especially if you're keeping track of sales. But if you don't plan on watching 4K or HDR content, you might not be better served by an alternative set that supports it.
Should you buy an Insignia F30 Series Fire TV?
Sizes: 43-inch, 50-inch, 55-inch, 58-inch, 65-inch, 70-inch, 75-inch
Display type: LED
Resolution: 4K
Refresh rate: 60Hz
HDR: HDR10, HLG
Audio: DTS Studio Sound
HDMI: ARC and eARC
The F30 Series Fire TV line is where Insignia's offerings start to get interesting. Like Insignia's N10 and F20 lines, F30 TVs also have LED displays and 60Hz refresh rates and are smart, but they're also 4K resolution and support both HDR10 and HLG. HDR is about displaying a wider and subtler range of colors, which can look great, but you will need HDR content to take advantage.
The F30 Series TVs are much more in line with the best-spec'd TVs at the budget end of the market nowadays. They put ticks next to 4K and HDR support, though reasonably their spec sheets stop short of fancier display technologies, like QLED and OLED panels, and niche features like VRR for gamers. That's OK, though, as TVs boasting such skills are far pricier than the F30s…
Insignia's F30 Series starts off at $300 for the 43-inch set and goes all the way up to $850 for the 75-inch set. These are often on sale for much less, too, so that can be a huge bonus. If you compare prices with Insignia's other TV lines, a 43-inch 1080p (no HDR) N10 is $220 and a 42-inch 1080p (no HDR) F20 is $270.
That $30 to $80 extra spend for an F30 model (or zero if the sale price is right) will net you a massive increase in resolution alongside HDR and HLG support, and you'll be getting smart TV functionality over the N10 Series.
This combination of features and price is about what you'll see from other budget manufacturers' flagship TVs – those from TCL and Hisense and the like offer similarly spec'd, similarly sized sets for around the same prices.
Should you buy an Insignia F50 Series Fire TV?
Sizes: 50-inch, 55-inch, 65-inch
Display type: QLED
Resolution: 4K
Refresh rate: 60Hz
HDR: HDR10, HLG
Audio: DTS Virtual-X
HDMI: ARC and eARC
The F50 Fire TV Series is where Insignia starts adding in some more premium features. These smart TVs sport QLED displays alongside 4K/60Hz support, HDR10, HLG, DTS Virtual-X, and HDMI eARC.
While we haven't seen firsthand how QLED tech is implemented in Insignia TVs, QLED technology is the real deal. QLED displays routinely offer better color and contrast over traditional LED TVs and can potentially provide better brightness than OLED TVs (though typically don't go as dark as them).
Insignia's F50 Series Fire TVs go for $430 for the 50-inch, $500 for the 55-inch, and $650 for the 65-inch, making them only $30 to $80 more expensive than an equally sized F30 Series set. For the price of sales tax, you can get yourself a meaningful upgrade in image quality.
What's more, these Insignia QLED sets are competitively priced compared to the QLED competition. For reference, Amazon's new QLED Fire TV costs $800 for the 65-inch mode, though you can find similarly sized QLED sets from other competitors like Hisense and TCL that cost less.
So, should you buy an Insignia TV? Are they worth it?
Insignia TVs have a lot to offer, albeit some models more than others. In 2022, you can do better than spending hundreds of dollars on a 1080p TV or a TV without smart functionality. You can almost always find smart, often 4K/HDR-supporting sets for the same or similar prices.
However, the more expensive lines of Insignia TVs, like the F30 Series and the F50 Series, appear to offer better value for the money than models further down, delivering 4K/HDR picture support at decent screen sizes for anywhere between $300 and $650. And look out for those deals and discounts at Best Buy, not least during the Black Friday sales.
There is only so much anyone – including us – can tell of a TV's value for money without having properly reviewed it. Picture performance quality can vary wildly, of course, and we'd be hesitant to heartily recommend anything we hadn't put through its paces. (For tried and tested TVs, check out our best budget TVs, and below you'll find links to Insignia TVs.)
But judging from the specs, features list and the many positive reviews from customers online, an Insignia TV looks to be a solid, cost-effective way to bring a smart TV into your home. So long as you don't mind the Amazon OS.
Best Insignia TV deals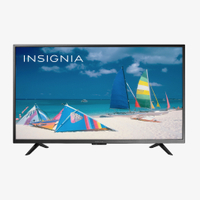 40-inch N10 TV: $189 $139 at Best Buy
This 40in TV features an LED-backlit LCD screen that offers a 1080p Full HD picture. You get 3 HDMI ports, composite (AV) jacks, digital optical audio output, headphone jack, coaxial jack and USB port. Basic, but a bargain at this price.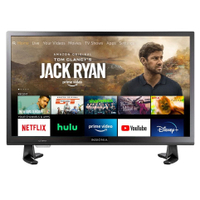 Insignia 24-inch F20 Series TV: $189.99 $169.99 at Amazon
The smallest Fire TV Edition TV that Insignia makes is now available at a great price. At 24in, it's not going to suit a big lounge, but would be perfect for a more modest living space or as a bedroom set. And it's HD quality, not 4K.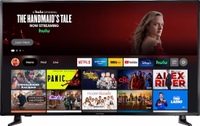 50-inch F30 TV: $399 $249 at Best Buy
Get yourself 50-inch smart TV for under $300. Enjoy all your favorite streaming services thanks to Amazon's Fire TV OS, and enjoy modern picture quality thanks to 4K/HDR support. Act fast and get one $120 off, too!
Frequently asked questions
Are Insignia TVs smart TVs?
Luckily, the majority of Insignia TVs are smart TVs that use Amazon's Fire TV platform and operating system. The only current range that isn't is the Insignia N10 series. Though, sometimes it can be more cost-effective to buy an N10 TV and a streaming stick over a more expensive smart TV, depending on what you're looking for.
Which is better, Insignia or TCL?
Insignia and TCL are both popular brands targeting the budget end of the market, and oftentimes, if you're looking for a deal, you may well be choosing between a TCL set and an Insignia set.
TCL makes a lot of Roku TVs, while Insignia makes Fire TVs. If you prefer the Amazon ecosystem, go with Insignia, and if you like Roku more, go with TCL. Depending on what services you already use, one may be a better fit for you than another.
In general, though, if you aren't comparing TVs with the same spread of features, some TCL sets will offer extra features like full-array local dimming and VRR. More basic sets tend to be cheaper over at Insignia, while if you're willing to pay a bit more, TCL tends to offer more for your money.
Depending on what you're looking for out of a TV, you may prefer the fuller feature set of TCL; however, some will prefer the Fire TV experience of Insignia and may not care about more niche gaming features like VRR.
Which is better, Insignia or Hisense?
Hisense is another brand that usually targets the budget end of the market, and oftentimes, if you're looking for a deal, you may well be choosing between a Hisense set and an Insignia set.
As is the case with TCL, some Hisense and Insignia TVs will be similar in terms of specs and prices. One of the differences that might swing your decision could be the operating system they use, whether that's Google TV and Hisense or Insignia and Fire TV.
However, in general, Hisense TVs tend to be a bit more expensive than Insignia TVs. Though, you will be able to find Hisense TVs with more features than Insignia TVs, including IPS panels and VRR support.
So, if you're looking for a simple TV at the lowest price, you might look at Insignia, and if you're looking for a budget TV with the most competitive features, you're more likely to be swayed by Hisense.
MORE:
Check out more of the best cheap TV deals
Should you buy a TCL TV? Our verdict on TCL Roku TVs
Find out how to choose the right TV