Spring has sprung and summer is just around the corner, so it's time to think about planning holidays, getting out into the garden or even heading to the beach. The perfect accompaniment? A portable speaker of course.
These are our pick of the best portable speakers on the market, ideal for outdoors, by the pool or taking on holiday, and featuring Bose, JBL, UE, Audio Pro and more. They're all powered by the magic of batteries, allowing you to pick them up and put them down wherever you want music.
With that in mind, many of them are waterproof, too, allowing you to sit by the pool without worrying about a rogue splash of water ruining your tunes. You can expect increasingly big batteries, with some speakers' battery life lasting for up to 24 hours, and some even allow you to top up your phone's battery if you're running low on juice.
Other wireless speaker features to look out for include the addition of a 3.5mm aux input, voice assistants such as Alexa and Google Assistant, AirPlay 2, multi-room technology and integrated music services such as Spotify Connect.
A fun design and great sound make the UE Roll 2 our favourite affordable portable speaker. There's Bluetooth connectivity, a 3.5mm input for adding any wired music source, and the option of a range of colours and styles. It's waterproof and 'shockproof', so ideal for throwing in your suitcase for a beach holiday.
Read the full review: Ultimate Ears Roll 2
If you can get on with the size and styling, the JBL Xtreme 2 is a great-sounding portable, waterproof speaker. Bass is deep, voices are clear and the treble is crisp. It's built to survive a good beating, too, so if you're going camping, you've just found this could be your new tent mate.
Read the full review: JBL Xtreme 2
If you want a feature-rich speaker that's bursting with modes, extras and sound profiles, the Wonderboom isn't for you. If, however, you're after an easy-to-use Bluetooth companion that sounds great, looks even better and can withstand the elements, it's the portable for you. And it gives surprisingly room-filling sound, given it's tiny size, including loads (maybe too much) of bass.
Read the full review: Ultimate Ears Wonderboom
The Dali Katch isn't as cheap as some speakers here but it's definitely a case of you get what you pay for - it looks good, sounds great and is well put together. Dali says just two hours of charge is sufficient for up to 24 hours of wireless music playback. Let's not get carried away, you won't be replacing your entire hi-fi with this one speaker, but you'll certainly be clearing bookshelves to find it a permanent home.
Read the full review: Dali Katch
The Echo Dot is a great little portable speaker that's perfect for the kitchen or bedroom, and easy to take outdoors or on holiday. Thanks to its Alexa voice assistant smarts, you can control all manner of streaming services, including Spotify, TuneIn and Amazon Music. Lots of 'proper' speaker manufacturers are getting onboard too, meaning you can control your better speakers through the Echo Dot. And if you're out of range, just speak to the Alexa app on your phone. One of the best cheap portable speakers around.
Read the full review: Amazon Echo Dot (3rd generation)
This is one of the less portable speakers in this list, but it can still be carted around thanks to the carry handle. It's robust rather than heavy, and boasts a battery life of up to 30 hours. If you like bass, you're in luck here - the noticeable leap in audio quality will have you enjoying music much more readily than on the smaller speakers on this list. If you want something for home and in the garden, this could work nicely – maybe not the one for your carry-on luggage, though.
Read the full review: Audio Pro Addon T3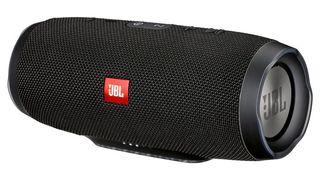 The main selling point of this speaker is the whopping great 6,000mAh battery. Not only does that power it for a marathon 20 hours, it also lets it charge up your phone or tablet. It's small enough to chuck in a backpack, and will survive being submerged in up to 1m of water for half an hour. It sounds satisfyingly weighty too. Outdoorsy types would do well to seriously consider this.
Read the full review: JBL Charge 3
Another five-star product from Ultimate Ears. This new Megaboom adds a redesigned top button (called the Magic button) that can control music and summon playlists without you having to look at your phone. You can also link up to 150 Ultimate Ears speakers of all types for one almighty party. Or you could just link two Megabooms for stereo mode, which might be more realistic. The Bluetooth range is an impressive 45m, too.
Read the full review: Ultimate Ears Megaboom 3
Audio Pro has switched up the design for the A10, stepping away from the more industrial-looking style of the excellent Addon range. But you'll be pleased to hear it has the same winning sound quality and can really spread sound throughout the room too. It might not be quite up there with the best Audio Pro has produced, but the A10 sounds sweet as, especially at this price.
Read the full review: Audio Pro A10
While this speaker might look sophisticated and feature-rich, it's actually a very simple proposition - you get Bluetooth and a 3.5mm jack and that's about it. There's no wi-fi, no multi-room support, no AirPlay. But sonically, it punches well above its weight, delivering a very musical listen.
Read the full review: Tivoli Andiamo
If you're after a portable speaker that doesn't scrimp on bass weight, the SoundLink Mini II could be for you. Small but heavy, features are kept to a minimum, but the hefty design ensures the sound isn't - it's big and loud and will definitely get you dancing by the pool. Other speakers on this list might be slightly better value and offer more detail and composure but for a big, bassy sound, this Bose speaker is great.
Read the full review: Bose SoundLink Mini II