For all those looking for a big new 4K TV that doesn't cost a ton, make sure to give the 65-inch Fire TV Omni on sale at Amazon for $560 a look.
With a long list of features and specs competitive with other similar value-focused TVs, this Fire TV is definitely worth a look if you're shopping for a big TV on a small budget. Check out our review of the Fire TV Omni.
Omni Fire TV 65-inch deal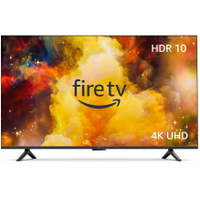 Amazon Omni 65-inch Fire TV $760 $560 (save $200)
This 65-inch 4K smart TV supports HDR10, HLG and Dolby Vision HDR, plus Dolby Digital Plus sound. Add in Amazon's Fire TV OS, and you've got yourself a very well-specified TV for a really good price.
Amazon's line of Fire Omni TVs is designed to compete with other budget brands such as Hisense and TCL, and these TVs usually put up a good fight, offering solid specs and features for decent prices. This Amazon deal, though, makes the Omni much cheaper than the other sets you might typically compare it to.
This Omni Fire TV is an LCD model with an LED backlight, and it supports 4K, HDR in the HDR10, HLG, and Dolby Vision formats, and Dolby Digital Plus audio. You'll also get Amazon's intuitive Fire TV OS that you'll have no trouble relying on to find all your favorite apps and services.
For gamers, you're getting a 4K/60Hz set you can connect to a PS5 or Xbox Series X. You won't be getting a ton of gamer-focused features, but if you're just looking to play casually in 4K every once in a while, this Fire TV can get the job done.
If you're looking for a modern 4K smart TV that you can pick up cheap, this Omni Fire TV at $200 off is a solid deal and worth marking on your radar.
MORE:
Everything you need to know about 2023 Amazon Fire TVs
Here are all the best TVs we've tested
And our list of all the best TV deals live now