Cambridge Audio is having a sale, and there are big savings to be had.
You can pick up the Edge A integrated amplifier at a discount of £2500. The Edge NQ streaming preamp and Edge W power amp both have £1700 off, and the Edge M monoblock power amp is reduced by £1850.
Now, a couple of caveats. These are all B-grade units, which means they've been bought and then returned. But they'll be in perfect working order, and each comes with a two-year warranty to prove it.
The other caveat? Stock is limited. Extremely limited. There are only four Edge A and Edge NQ units available, five Edge W and six Edge M. So you'd better hurry.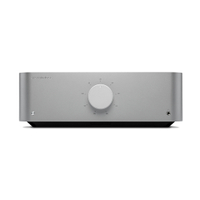 Cambridge Audio Edge A £5999 £3899.95 £3499.95 at eBay (save £2500)
The first price is for the device new, the second is the standard B-grade price, and the third is the sale price. Big discount. But stock is limited to four – yes, four – so you'd better hurry.
The Edge A integrated amp might be a few years old, but it's still a five-star product and part of the brand's high-end Edge range.
Created to celebrate Cambridge Audio's 50th anniversary, the Edge A combines high performance with a practical design. There are all the connections we would expect (USB, coax, HDMI ARC) plus aptX HD Bluetooth.
It's a pretty classy affair, thanks to its slick design, and the main control dial mechanism is a work of art. Sonically, it's a cut above. With huge scale and authority, it's a composed performer, one that refuses to sound ruffled.
Tonally, the Edge A is nicely balanced. It's got a slightly fuller and smoother balance than would be considered wholly neutral but it's not so far skewed as to be an issue. In fact, the balance makes this amp relatively kind to poorer quality recordings, while allowing it to be transparent enough with those that are better.
Stereo imaging is nicely expansive. This amplifier renders a wide sound stage and populates it with well-defined and focused instruments. There's a pleasing amount of stability here, and the amp locks sounds in place even when the music becomes demanding.
No wonder it made our list of 12 of the best Cambridge Audio products of all time.
The Edge NQ streaming preamp preceded the Edge A, and earned another five stars from us. That was thanks to its bold, spacious presentation, excellent streaming features and lovely design. We haven't reviewed the Edge W or Edge M, but we're sure they don't let the side down.
MORE:
Check out the best stereo amplifiers you can buy
These are the best hi-fi deals around
Our pick of the best headphone deals and best speaker deals