This year's Amazon Prime Day is fast approaching, meaning the world's biggest retailer is currently cutting prices on everything from fridges to furniture, cat beds to catapults (probably).
There are also huge discounts to be had in the realm of hi-fi and headphones in the early Prime Day sales, and What Hi-Fi? is the place to be if you want to be kept up to date with all of the latest deals as they emerge in the coming days.
One such deal comes in the form of the comfortable and classy Bose QuietComfort 45 over-ear headphones, which are now available for £219, down from their original retail price of £320. That's a massive saving of £100 (or 32 per cent) on some very competent noise-cancelling headphones, although this deal is only available when you order the cans in their stylish Triple Black finish.
Bose is arguably the current king of noise cancelling right now: we adore the brand's current Award-winning QuietComfort Earbuds II and these QuietComfort 45 over-ear headphones, despite being released a couple of years ago, are still a great shout if you're after top-class ANC performance. As we said in our review, the QC45's great ANC, superb 24-hour battery life and comfortable build make them a solid recommendation, especially at this considerably lowered price.
We've rarely seen such a massive discount on the QC45. In fact, this may be the lowest that the cans have ever gone, if you don't count discounts for refurbished models. So if you're in the market for some new ANC headphones, you might want to consider this one, because it's unlikely that price tag will fall much lower in the future. If it does, of course, we'll let you know as part of our extensive coverage of Prime Day sales.
Bose QuietComfort 45 headphones deal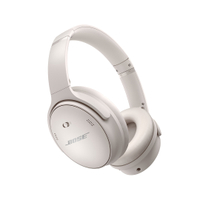 Bose QuietComfort 45 was £319 now £219 at Amazon (save £100)
The QuietComfort 45 are hugely competitive at this price, and while we love the wireless earbuds model even more, the 45's energetic, three-dimensional sound presentation, combined with an exceptionally competent feature set, really shouldn't be ignored.
In our original Bose QuietComfort 45 headphones review, we saw the 45 model as a step forward for the QuietComfort brand as a whole. As we wrote then: "If you want a set of wireless over-ear headphones you can put on, deploy noise-cancelling... and largely extinguish the outside world for up to 24 hours, the Bose QC 45 have the edge over most of the competition at the price."
The 45 cans have been around for a while and newer rivals have overtaken them in some areas, but don't underestimate just how solid Bose's headphones are, especially with regard to sound and musicality. We expect a classy build and exceptional noise cancelling from such a reputable brand, but these cans are more than capable of delivering weight, excitement and detail in their sonic presentation.
It's not often you'll see a pair of Bose headphones drop by such a significant margin, especially ones that are fresh out of the factory rather than a refurbished model. If you're a dedicated Bose disciple and just can't resist a bargain, head over to Amazon now.
MORE:
Best wireless headphones: the best wire-free audio for your budget
Read our original Bose QuietComfort 45 review
Amazon Prime Day 2023 UK: everything we know so far about the biggest sale of the summer