If you're looking for some new headphones, you're in luck, because you can get a pair of Apple's AirPods Max for just $370 over at Woot.
In our review of the AirPods Max, we gave them five-stars in our review, and we loved their excellent audio quality and noise-cancelling, their enchanting spatial audio, and the impressive build quality on display.
Apple AirPods Max Woot sale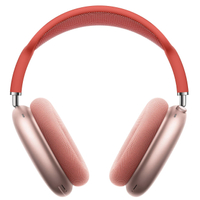 AirPods Max were $549, now $370 at Woot (save $179)
These headphones manage to offer up impressive audio quality, effective noise-cancelling, cinematic spatial audio, and overall fantastic build quality. Put simply, these are a great pair of headphones made even greater by this sale.
Apple's AirPods have been around for a while, and they've come to be known for impressive build quality, solid audio performance, and exceptional build/design quality. In these respects, the AirPods Max are no different, while this Woot deal makes these headphones also an exceptional value.
The AirPods Max come with Bluetooth 5.0 support, ANC, AAC + SBC codecs, 20 hours of battery life, a number of finishes, and they weigh in at 385g. You also get an included case; however, the case isn't too impressive.
In terms of noise-cancelling quality, it's excellent. When it comes to audio quality, the AirPods Max are similarly impressive. These headphones sound super-crisp and have a spacious delivery with an impressive level of clarity and energy. All around, you won't be disappointed with how these cans sound.
In short, the biggest downside of the AirPods Max were their retail price, but down to just $370, it's hard to say no to these headphones. If you're looking for a new pair, make sure to put this Woot deal on your radar while supplies last.
MORE:
Check out our full AirPods Max review
As well as our list of all the best headphones
And our list of the best headphones deals live now