Bowers & Wilkins celebrated the 25th birthday of its famous 600 Series speakers back in 2020 by launching the superb 607 S2 Anniversary Edition. They've now been succeeded by the newer (also five-star) 607 S3 (pictured), but that just means the older model are absolutely primed for a discount or two.
And so it's proven to be the case. The five-star, former Award-winning B&W 607 S2 are just £249 at Peter Tyson in what we assume are their final days of shelf life approaching Cyber Monday. They've bounced up and down in price almost by the hour, but we're confident that £200 saving will stick around for a few days as retailers look to shift their last remaining stock.
That's not the nicest way to put it. These Bowers aren't the newest kids on the block anymore, but the veteran favourites are still some of the best speakers at their level, and certainly some of the best performers at this knockdown price tag.
The deal itself remains one of the best we've found during the winter sales period, and we hope the price could once again fall in the coming days. If you're after standmounts and your budget is below £300, start here first.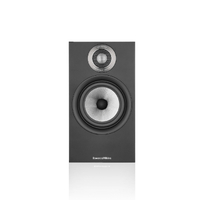 B&W 607 S2 Anniversary Edition was £449 now £249 at Peter Tyson (save £200)
The five-star 607 S2 bookshelf speakers started life at £449 but have been available for around £300 for several months now. This deal doesn't however, mark their lowest price ever, so there's a chance they could sink back to a lower price of £249 before Cyber Monday is over. Stick with us for all the latest deals and updates as they come in.
Five stars
While it's not the first time the B&W 607 S2 Anniversary Edition have dipped underneath their £449 launch figure, this is still an exceptional price if you are in the market for speakers to fill a smaller space but can't quite stretch to the new Award-winning 607 S3, or indeed don't have the room and/or budget for the larger (also five-star) 606 S2 Anniversary Edition siblings (also on sale for £349 at Richer Sounds).
Despite the 607 S2 AE's modest size (just 30cm tall), they still manage to squeeze in a 13cm Continuum drive unit, above which is a decoupled 25mm aluminium dome tweeter. Also key to their performance is the use of special bypass capacitors which have been specially treated by capacitor experts Mundorf.
The net result is a sound that's delivered with bags of enthusiasm. The quality and projection of the speakers belie their diminutive dimensions, too: bass is not only deep but also extremely agile. There's loads of detail across the entire frequency range, too.
Despite being rear-ported to achieve a cleaner, sleeker overall image, the 607 S2 Anniversary Edition are dab hands at positioning while being versatile enough for pretty much any room in the house. Small, powerful, adaptable and almost 40 per cent off... what's not to like?
MORE:
I review hi-fi for a living and these are my top 10 Cyber Monday deals for every audio category
Read our Bowers & Wilkins 607 S2 Anniversary Edition review
I've built a five-star vinyl system for less than £800 using Cyber Monday deals
Want more? Check out the best Cyber Monday hi-fi deals 2023 currently live on five-star kit
Best Cyber Monday speaker deals 2023: Top savings on bookshelf, floorstanders, wireless and more