If you're in the market for new AirPods and looking for a bargain, you might want to check out one particular Walmart deal. The retailer has Apple's second-generation AirPods on sale for just $99. That's $59 less than the latest third-gen AirPods.
In our AirPods 2nd Gen review, we gave them four stars for their decent tonal balance, excellent wireless technology and iOS friendliness. Put simply, these are pretty impressive buds for their discounted price, particularly if you're an Apple fanboy/girl.
Apple AirPods Walmart deal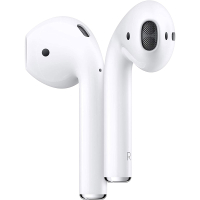 AirPods were $129, now $99 at Walmart (save $30)
These official Apple earbuds come packed with near-flawless wireless technology and overall tonal balance and sonic sophistication. Plus, they pair seamlessly with Apple devices. AirPods are a reliable pick of earbuds, all told.
Apple has been making AirPods for some time now, and they're always incredibly popular products. The second-generation AirPods are not just popular, but they also perform very well and sound great, so at under $100 are certainly worth considering.
These earbuds come with Bluetooth 5.0 support, five hours of battery life and another 19 hours with the included charging case. They sport Apple's classic earbud design, unlike the noise-cancelling AirPods Pro with their more familiar look and feel. You can use these buds with non-Apple devices, of course, but they work most seamlessly with Apple products.
In terms of audio quality, the AirPods overall sound is natural and fairly neutral without any sense of artificial bass boosting or treble enhancement. These buds in particular have a great tonal balance and sonic sophistication to them, too, making for a pleasant, engaging listening experience for just about anybody.
All around, the second-generation AirPods are capable earbuds. At under $100, these earbuds are also a good value, so if you've got an Apple device and are looking for a pair on a budget, this Walmart deal is worth snapping up.
MORE:
Read our full review of Apple's second-generation AirPods
And check out our list of the best wireless earbuds
Or our list of the best wireless earbuds deals