The AirPods Pro 2 are among the best wireless earbuds you can buy, but they don't come cheap and discounts aren't always easy to find. Luckily, now you can pick up a pair for just $199 over at Amazon, down from $250.
In our review of the AirPods Pro 2, we gave these buds five-stars and enjoyed their clear, detail-rich sound, awesome noise-canceling, long battery life, and excellent integration with iOS devices.
Best AirPods Pro 2 deal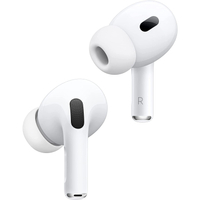 Apple AirPods Pro 2 (2022) $249 $199 at Amazon
The 2nd Gen AirPods Pro wowed us with their, excellent noise-cancelling, improved battery life and fantastic sound quality. Apple discounts don't come around very often, so now could be the perfect time to buy. This deal applies to both Lightning and USB-C models.
In our AirPods Pro 2 review, we gave them five stars and complimented their clear, detailed sound, excellent noise-cancelling and good battery life. If you're in the market for a new pair of wireless earbuds and are invested in Apple's ecosystem, the AirPods Pro 2 are definitely worth a look.
On the design front, the 2nd Gen buds largely mirror their predecessor's design save for the tweaked positioning of the vents and microphones. Apple did, though, build touch controls into the stems which allow you to swipe up or down to change the volume. Apple also added a pair of XS eartips in the box so you now have four to choose from to optimise fit.
Battery life got a bump from 24 hours to 30 but, more importantly, so did noise-cancelling courtesy of a new "low distortion" driver and H2 chip.
The original model launched with a charging case that boasted Apple's Lightning connector, but Apple recently announced a pair with USB-C to complement its new iPhone 15 range. And we're pleased to report this version is also included in the Amazon deal.
Not only is the ANC now among the very best in its class and a rival to the Sony WF-1000XM4 and Bose QuietComfort II, but so too is sound quality. We haven't heard a pair of in-ear AirPods sound as musical, detailed or powerful. They really are a fun listen!
All in all, the new AirPods Pro 2 bring multiple improvements to Apple's flagship earbuds and they're great performers at full price. Thanks to this Amazon deal, they're an even more attractive proposition.
MORE:
AirPods Pro 2 (2022) vs AirPods Pro: which Apple earbuds are better?
The one big feature missing from the AirPods Pro 2: hi-res audio playback
The best wireless earbuds we've tested