The opening keynote for Apple's 2023 Worldwide Developer Conference (WWDC) is mere hours away and rumours about what the tech giant has in store for us are coming in at a frenzied pace.
Key industry rumblings suggest it could be one of the longest WWDC keynotes in Apple's history with the firm being expected to unveil everything from an entertainment focussed VR headset to updates on its latest tvOS software and Apple Music platform.
Our team of experts will be covering the event in real-time once the keynote kicks off at 10am PT/6pm BST on 5 June - so make sure to check back then for all the latest Apple news. But in the run-up we've created this guide detailing the five biggest TV and audio announcements we expect, or want, Apple to make at WWDC 2023.
These include everything from, how its hotly rumoured headset will try and entice music fans, as well as gamers to what new features we want from tvOS 17, plus a couple of other surprises.
Apple AirPods Max 2
It's no secret, we loved the original Apple AirPods Max. As we said in our AirPods Max review, Apple's first set of over-ears are among the best wireless headphones we've tested that offered wonderful sound quality, especially with Apple Music, during our tests. That's why we gave them a perfect 5/5 and also why if you're lucky enough to see my predecessor in the wild, he's usually still sporting a pair.
But they weren't "perfect". Key annoyances include the fact they don't use the more common USB-C connectivity for charging or cabled connections. As well as being annoying as most devices use USB-C, the lack of connectivity is a key reason the Max doesn't support lossless audio, which is a shame as Apple Music does. With rumours suggesting Apple may make the jump from Lightning to USB-C on its next iPhone 15 line of phones, the timing would also make sense.
The other minor annoyance we had is that you couldn't swap out the Max's headphone band. This was a key thing we were excited about, with pre-release rumours suggesting you could. Adding the option would improve the AirPods Max 2's longevity and be a win for sustainability.
This is why we're really excited at the prospect of Apple unveiling an updated AirPods Max 2 that fixes these minor annoyances at WWDC 2023. However, we've used the word "want" in this feature as there are currently conflicting reports regarding their arrival at WWDC. Though there are a number of "leaks" suggesting the AirPods Max 2 will appear, there's an equal number suggesting we'll only see new colour options for Apple's existing over-ears at the event with the new model following later this year.
tvOS 17
An update to Apple's TV OS software is almost a certainty at WWDC. The conference is always focused on Apple's software offering given that's for developers, with its main consumer show, where the new hardware is unveiled, usually following in September.
Jump over to our Apple TV 4K review and you'll see that we're big fans of the OS already, with it offering a fantastic array of content, top-quality streaming options and compatibility with most HDR standards as well as Dolby Atmos-powered Spatial Audio.
But, like the first generation AirPods Max, there are a few things we'd like added to the software at WWDC 2023. There have been lots of rumblings about 8K streaming, and while that would be nice for futureproofing, given the lack of 8K content on offer at the moment, there is one key, more basic, thing I'd like added.
Specifically, why not get Apple's new Classical Music app onto tvOS? Given how many people stream from their Apple TV, and how good it can sound if you've got a couple of Apple HomePod 2's connected in stereo, based on our testing, this seems like a no-brainer. Check out our TV editor's opinion feature on why he's replaced his Sonos Arc with two HomePod 2s and you'll see why.
Apple VR/AR
All the press for WWDC has been around Apple's potential plans to launch a VR/AR headset. And normally we wouldn't cover this, given our remit at What Hi-Fi? for AV and audio.
The reason we've included it though is that, unlike past headsets from Vive, Oculus and PlayStation, pre-event rumours suggest Apple's headset will have as much of a focus on music as it does on gaming.
Specifically, the latest report from Bloomberg suggests Apple sees the headset being worn at parties, discos and even potentially live events like gigs. This caused some head-scratching among the team at What Hi-Fi?, myself included. But, supposedly the idea is that it offers an experience like a silent disco, or potentially lets musicians add an altered reality element to their act, like the immersive experiences we've seen on the Oculus Quest.
Whatever the end product, we'll be curious to see if these pre-launch rumours are true and what specific uses in audio and TV it has made for the headset.
Apple soundbar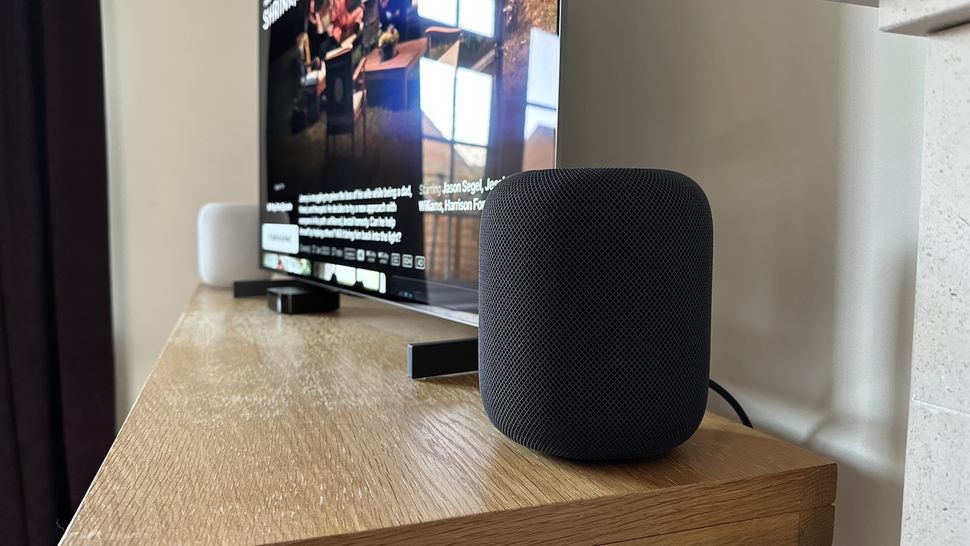 To be clear, this isn't one of the products expected to launch at WWDC 2023. It's on this list purely because our TV / AV editor Tom Parsons has been wishing for Apple to make a soundbar for years at this point.
The last time we heard any concrete rumours about an Apple soundbar was last year when rumblings emerged suggesting it could make its debut alongside the HomePod 2. With the HomePod 2 now out, and having earned a perfect 5/5 when we reviewed it, that clearly didn't happen.
But with the HomePod 2 being marketed as much for home cinema use as it is for music, with it letting you set two up in stereo with an Apple TV 4K, expanding to include a soundbar would make sense for Apple.
What shape this would take is unclear, but according to a very old rumour from Bloomberg, Apple has been playing with the idea of releasing one with an atypical design featuring Siri voice controls, plus a custom built-in display and camera. While this sounds cool, given the radio silence on the Apple soundbar recently we don't have high hopes it'll appear at WWDC, however.
AirPods Lite?
The final entry in this list has a question mark after it, as the AirPods Lite is a definite long shot. We heard a load of rumblings suggesting Apple may follow Google and Samsung's lead and release a "Lite" cheaper version of the AirPods over a year ago, but things have since gone quiet.
With no firm rumours or leads to go on it's hard to report any specifics on what to expect. But given how well Apple's latest AirPods performed when we got them in for testing, we can't help but get a little excited about the prospect of a cheaper version making its debut at WWDC 2023.
MORE:
These are the best wireless earbuds we've reviewed
Check out our picks of the best wireless speakers
Looking to cut the cable? These are the best wireless headphones we've tested