Black Friday or Cyber Monday could be the perfect time to upgrade your TV's audio, and there are already plenty of early Black Friday soundbar deals.
Whether you want a soundbar or soundbase, it's an easy way to boost your TV's sound performance without cluttering your lounge with speakers. Premium TV speakers will offer pseudo surround sound and even support for next-generation Dolby Atmos sound. Here's our pick of the best Black Friday deals when it comes to speakers for your TV.
MORE: Best Black Friday 2018 deals
Black Friday soundbar and soundbase deals
The best pre-Black Friday soundbar and soundbase deals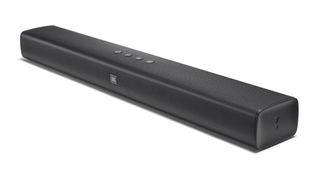 JBL Bar Studio
Solid and punchy sound
Plenty of bass
Good range of features
The JBL Bar Studio is proof there's some amazing value to be had in the soundbar market. Originally tested at £150 and now available for less then £100, it's a fine budget option with a punchy and rich sound. There's little to quibble about when it comes to its build and on-board features, too. At just under 6cm in height, it will slot under most suitably sized TVs without looking out of place. HDMI (ARC) and optical sockets cover the rear and Bluetooth is also onboard for simplified streaming. At this kind of money you can't really go wrong.
Yamaha YAS-207
Crisp, dynamic sound
Spacious and immersive
Slim, practical design
Yamaha has proved time and again that it knows how to build a decent soundbar. Take the Award-winning YAS-207. It creates a hugely effective virtual surround sound experience which defies the bar's physical proportions. It creates a wider spread of sound than rivals at the money, while it's more spacious and more enveloping too.
Add 4K HDR support and Bluetooth streaming and you've got a convincing, convenient package, now available with a tidy discount.
LG SK10Y
Expansive, immersive sound
Clear dialogue
Atmos speakers work well
The SK10Y won't be for everyone because if its sheer size, but for owners of 55in TVs and above it could be a fine solution. It's a relatively slender design that squeezes in a 5.1.2 speaker set-up which includes a pair or angled, upfiring drivers to help deliver a convincing Dolby Atmos experience. The soundbar's audio has been tuned with the help of British hi-fi stalwart Meridian, and delivers a clear, clean and punchy sound. The Sony HT-ST5000 listed below might be our favourite at the money, this discounted LG is worth investigating.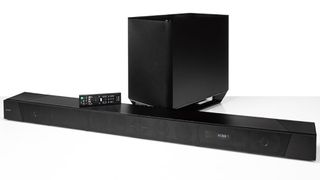 Sony HT-ST5000
Excellent integration
Fine detail
Suports Dolby Atmos
If you're looking for a fuss-free way to get Dolby Atmos into your home, this is the best we've seen so far. The Sony is fantastic - pairing a real sense of height with sophisticated sound quality. It's easy to set up, use and comes with a useful selection of 4K HDR-compatible HDMI inputs, Bluetooth connectivity and streaming support for Spotify and Tidal among others.
In the grand scheme of soundbars, this Sony might not be the cheapest, but it now boasts a big discount which should add to the appeal. We've no hesitation in recommending the HT-ST5000.
Best soundbase deals
Cambridge Audio TV5 V2
Tight bass
Fluid dynamics
HDMI (ARC) connectivity
If you don't like the idea of soundbar, how about placing your TV on a soundbase? The Cambridge Audio TV5 v2 is one of the best examples of the genre. It's a sturdy piece of kit, and at just over 70cm long should sit happily under most sets. It boasts a 3.5mm jack, an RCA connection, optical input and aptX Bluetooth connectivity. Bass is tight, mids are punchy and the speaker has more than enough dynamism to fill most rooms.
MORE: Best TVs 2018
Sonos Playbase
Impressively big, wide soundstage
Streaming smarts
Stylish and sturdy
Typical of Sonos, the Playbase offers simplicity and style in abundance. It's also an impressive sonic upgrade over your average flatscreen TV, blessed with a surprisingly wide and three-dimensional soundfield. The Playbase works well on its own or you can, of course, use it as part of a larger Sonos-based multi-room system and take advantage of its numerous streaming skills. Tidal, Apple Music, Amazon and Spotify are all on board, there's internet radio from TuneIn and you can also access any music stored on your computer phone or NAS device. It's also now available for £100 less than our original 'tested at' price.