Looking to upgrade your home cinema setup without blowing the budget? Need a portable projector to create a garden cinema while leaving some money for nibbles and a few 4K Blu-rays? You've come to the right place to find top projector deals, but before you dive right into the best projector, here are a few things to bear in mind.
Remember to check out the dimensions and how versatile any potential projector is with positioning before you buy. You don't want to take delivery of a new toy only to discover it's not suitable for your room. To help you, we've also written our own guide on how to set up your projector and get the best picture.
Pricier models will handle 4K content, giving you an incredibly lifelike picture uncovering greater detail, better contrast and more accurate colours. Make sure it has the relevant inputs that support your sources e.g HDMI for a games console or 4K Blu-ray player. Some projectors even include wi-fi and built-in video streaming for the ultimate in convenience.
Right, that's the basics covered. Here's our pick of the best projector deals.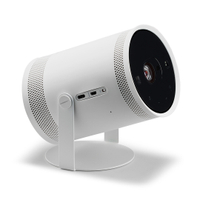 (opens in new tab)
Samsung The Freestyle portable projector £699 £449 at Richer Sounds (save £250) (opens in new tab)
Originally retailing for £999, The Freestyle is a portable projection bargain at this price. With a Full HD resolution, integrated speaker and streaming apps, you basically have a cinema that you can take wherever you go.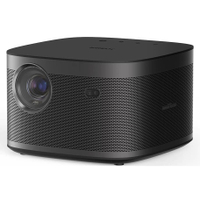 (opens in new tab)
XGIMI Horizon Pro Native 4K Projector £1899 £1649 at Amazon (save £250) (opens in new tab)
Capable of producing a picture between 40-300 inches in 4K HDR quality the Horizon Pro is a smart device with Android TV 10 OS on board, Google voice control and there's even Chromecast built-in too. We haven't tested this coffee table style model but with a healthy discount and a decent spec, we think it's well worth a look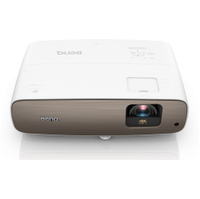 (opens in new tab)
BenQ W2700 4K HDR projector £1499 £1299 at Richer Sounds (save £200) (opens in new tab)
BenQ has a knack for serving up fun and compact 4K projectors that bring cinematic flair to your home cinema. This plucky projector looks to follow suit with the company's other sets, and at £200 off, it's even more tempting.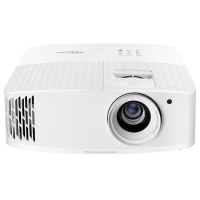 (opens in new tab)
Optoma UHD35 4K HDR projector £949 £899 at Richer Sounds (save £50) (opens in new tab)
Not one we've tested but this price point is often something of a sweet spot for Optoma and its 4K projector range. It outputs a 3600 lumens picture at 33-300in in size and offers a response time as low as 6.7ms at 4K 60fps which gamers will enjoy.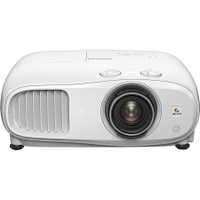 (opens in new tab)
Epson EH-TW7000 4K projector £1199 £1099 at Richer Sounds (save £100) (opens in new tab)
This is the best projector at around the thousand-pound mark at the moment. Black depth is unsophisticated but contrast, colour and cinematic appeal are well beyond the competition. It's a great starter projector for a budget home cinema set-up.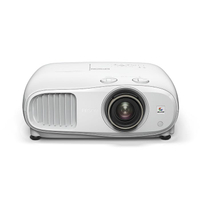 (opens in new tab)
Epson EH-TW7100 4K HDR projector £1699 £1599 at Richer Sounds (opens in new tab)
It may seem pricey for what is an entry level 4K product but this projector is a real gem. The black depth is very decent for this kind of money, the colours are bold and balanced, and the HDR production brings an excellent sense of immersion.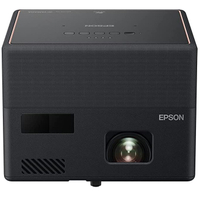 (opens in new tab)
Epson EF-12 Full HD Laser Projector £999.99 £849.99 at Amazon (save £150) (opens in new tab)
Epson's cuboid projector packs a 1000 lumen laser light source for full HD movies, TV and gaming. It also comes with Android TV onboard for streaming, and sound by Yamaha making this a convenient cube that gets you straight into the action.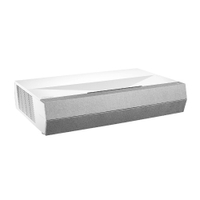 (opens in new tab)
Optoma CinemaX P2 4K UST projector £1799 £1599 at Richer Sounds (save £200) (opens in new tab)
The P2 is Optoma's second stab at an ultra-short throw machine and, while we've not had the pleasure of a full review, we've certainly enjoyed the demos we've seen. If you're after a 'laser TV' for your living room. This entry-level projector is a strong candidate, particularly with this discount.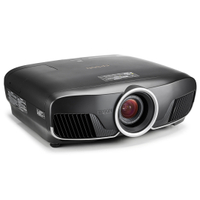 (opens in new tab)
Epson EH-TW9400 4K projector £2549 £2499 at Sevenoaks (save £50) (opens in new tab)
This big, brassy projector is as good as you'll get before forking out for the beauty of native 4K projection. Colour accuracy, contrast control and HDR are all handled brilliantly and help make for a proper cinematic feel on a relatively modest budget.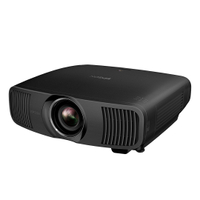 (opens in new tab)
Epson EH-LS12000B 4K laser projector £4499 £4399 at Sevenoaks (save £100) (opens in new tab)
Epson's dependable and bright laser projector was awarded five stars by us thanks to its cinematic feel and 4K/120Hz support. Here you can pick it up for £100 off, a welcome discount on this premium projector.