Best HDR TVs Buying Guide: Welcome to What Hi-Fi?'s round-up of the best HDR TVs you can buy in 2019.
4K might have dominated the headlines in recent years, but there's another way to really boost your TV's picture quality: HDR. This stands for high dynamic range, and it enhances the difference between the light and dark parts of the image, giving the picture more depth and making it look more vibrant.
But it's not as simple as buying an HDR TV and sitting back and enjoying the quality boost. Oh no. Rather, there are competing formats of HDR, with different TV manufacturers backing different ones. That's right, we've another format war on our hands.
The most common form is HDR10. It's an open standard that has been adopted by numerous manufacturers, service providers (like Amazon and Netflix) and the Blu-ray Disc Association (BDA). Basically, all 4K TVs should feature HDR10. This means your TV will be compatible with the most widely available 4K Blu-ray discs, 4K players and 4K streaming content – and it should offer a far better picture than a 4K TV without any HDR.
Dolby Vision is another format of HDR. It promises a subtler, improved image because its dynamic metadata is added to an HDR image on a frame-by-frame basis (whereas HDR10 adds it scene by scene). Though in reality, it depends on how well the film or disc implements the tech. LG, Panasonic, Sony and Philips TVs all employ Dolby Vision, though not all of their ranges do, so it's worth checking before you buy. Both Netflix and Amazon Prime Video support both HDR10 and Dolby Vision.
HDR10+ is Samsung's own standard of HDR. Samsung's 4K TVs support it, but not HDR10, as it's a rival technology. But Samsung isn't the only manufacturer to support HDR10+ - both Panasonic and Philips have enabled it on some of their sets, some of which support both HDR10+ and Dolby Vision. Amazon Prime Video also supports HDR10+. Confused? Tell us about it.
HLG stands for Hybrid Log Gamma, and is designed for HDR TV broadcasts. Most manufacturers have HLG-compatible HDR TVs, but the content is decidedly thin on the ground.
Finally, Advanced HDR by Technicolor is a format made by LG and video specialists Technicolor. As such, LG is the only TV maker so far to support it, though we're still yet to see any content mastered in the format.
So that's the current state of the HDR landscape. But which are the best HDR TVs around? Let's take a look...
The C series gives you LG's best imaging tech in its most affordable package - hence it's a great bet for those who want superior visuals without breaking the bank. Despite it being more affordable (if £3,000+ can be called affordable) than some of LG's snazzier designs, it still looks absolutely gorgeous, with invisible speakers and a near-floating aesthetic. The picture doesn't disappoint: its black levels are off the chart, while there's a richness to the colours that lend skin tones a real authenticity. A truly fantastic set.
Read the full review: LG OLED55C9PLA
A ridiculously cheap £400 gets you an awesome 50in, 4K HDR telly with the company's own Ambilight tech to make the picture more immersive. While the setup is more than a little fiddly (you have to go tinkering in the menus, and then again for HDR mode), it's worth it: the image pops from the screen, delivering bold colours but still with subtle hues within them. It's equally adept at handling skin tones. The user interface might not be quite as slick as Android TV found on its pricier sets, but this set is still unbelievable value for money.
Read the full review: Philips 50PUS6703
Always one to plough its own furrow, Samsung has created QLED, a TV technology to rival OLED. For this set, it's addressed previous criticisms and greatly improved viewing angles, while also improving the amount of detail visible in dark scenes without compromising black levels. Which is no mean feat. Colours remain on the cooler side, maintaining a more neutral balance but with no loss of punch. Again, impressive. The one slight niggle is motion processing, but if you can live with that you'll be more than happy with this set.
Read the full review: Samsung QE65Q90R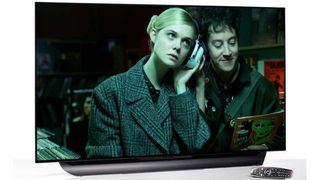 This is last year's TV, and it's more of an incremental step forward than an outright revolution in itself. But considering LG was already leading the pack when it comes to OLED tellies, it's still one of the best sets money can buy. HDR comes courtesy of Dolby Vision, HDR10 and HLG, and the telly itself proves a supremely capable, consistent and natural performer. Colours are incredibly rich and punchy, while bright detail doesn't leave you wanting. But despite all this pop, the picture always looks natural and lifelike, never artificial. In a word, stunning.
Read the full review: LG OLED55C8PLA
Another model from last year, and another absolute belter of a TV, worthy of a What Hi-Fi? Award. Its legs - while a little too reminiscent of manspreading for some tastes - allow room for a soundbar beneath the screen, and it has Sony's awesome X1 Extreme processor which allows advanced upscaling and motion processing. And it shows. Picture quality is first class, with a fantastic contrast ratio and oodles of detail. If you're after an HDR set under 50 inches, look no further.
Read the full review: Sony KD-49XF9005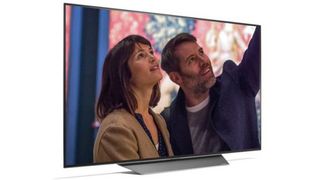 The B8 is not only old, but it wasn't even top of the range when it launched last year. So how does it look in the face of more recent competition? Still pretty great, actually. The lush picture has bright colours and a lovely contrast ratio, meaning more detail than you can wave a remote control at. Combined with its new, lower price, it's one of the best pound-for-pound value sets around.
Read the full review: LG OLED55B8PLA
Combining high-end specs and features with a distinctly mid-range price, this 65in set is fantastic value for money. A direct LED backlight with multiple zones that can be lit or dimmed independently gives near-OLED contrast ratios, while the X1 Extreme processor helps with motion processing and upscaling. Brightness is a particular highlight, combined with bags of detail and nuance in the whites. Colour balance is another strength, as are realistic skin tones and particularly motion processing. Mark our words - £1500 gets you a lot of telly.
Read the full review: Sony KD-65XF9005
If your house - and budget - is big enough to accommodate a 65in set, you'll be in for a treat with this set. Looks-wise it's something of a design statement, while it's packed with features including a four-part noise-reduction system, frequency-based image sharpening, object-based contrast enhancement and adaptive colour mapping. Phew. The result? The picture bursts with colour, and there's a jaw-dropping level of detail and clarity. It also adjusts its sound balance to suit your room set-up.
Read the full review: LG OLED65C8PLA
This TV is part of Sony's Master Series - a range of professional-grade TVs that aims to provide picture quality that's nigh-on identical to what the original content creators intended. So you won't be surprised to learn it's a stunner, from the easel-style stand that makes it look like a work of art to the spectacular picture quality and exceptional level of detail. Three grand well spent.
Read the full review: Sony KD-65AF9
Believe it or not, nowadays 43in is considered small for a TV. But this set feels so much bigger thanks to Ambilight, Philips' feature that projects coloured lights from three side of the screen to make for a more immersive picture. It doesn't deliver a vintage HDR performance, but just having it at this price is a real boon. And there are decent colours and detail on show. If you're looking for HDR but don't want to - or can't - go bigger, this is a great bet.
Read the full review: Philips 43PUS6703