Sennheiser is a brand with an impressive heritage. Founded in 1945, it began as a manufacturer of microphones before soon expanding into other areas of audio. It can comfortably claim to make some of the best headphones in the world, so it's well worth looking out for a Sennheiser pair.
How to choose the best Sennheiser headphones for you
Why you can trust What Hi-Fi? Our expert team reviews products in dedicated test rooms, to help you make the best choice for your budget. Find out more about how we test.
The company offers headphones to suit all styles and budgets – and (a lot of) very good-sounding ones at that. So good, in fact, that we've lost count of how many What Hi-Fi? Awards the brand has acquired over the years.
So, whether you're after sporty earbuds for running and the gym, a premium pair for travelling, or some of the best noise-cancelling headphones for home listening, you'll find something to satisfy you below.
There are are plenty of wireless options but if do you opt for a pair with Bluetooth and noise-cancelling, be sure to check the battery life rating. It's also worth remembering that high-end wired Sennheiser headphones may benefit from a dedicated headphone amplifier. These are all things to consider when making your choice.
And now the fun bit: selecting the best Sennheiser headphones you can buy in 2023...
Sennheiser's Momentum True Wireless earbuds have performed consistently well in recent years and this third generation model is the company's finest yet.
Comfort is good, build quality is typically impressive and the sound is spacious, refined and clear. The spec sheet boasts top-notch battery life (28 hours), Bluetooth codec support (aptX Adaptive) and superb noise-cancelling technology.
Sennheiser's app allows users to create 'Sound Zones' that let them select desired EQ and noise isolation levels when you enter or leave a specific radius. So, for example, you can have the buds automatically crank up the bass when you enter the gym.
Building on an already winning recipe with an improved feature set, decent step up in performance and sensible price tag, the Momentum True Wireless 3 are the best Sennheiser headphones you can buy right now.
Read the full Sennheiser Momentum True Wireless 3 review
For almost a decade, we have been able to associate Sennheiser's Momentum wireless headphones range with classy leather headbands, pearlescent or matte-finishes and distinct metal sliders. The new Momentum 4 drop that design language in favour of a more modern look that is a little... 'safe'.
Still, if you're happy with synthetic leather earpads (they contribute to improved sonics, apparently) the Momentum 4 are a fantastic buy. The staggering 60-hour battery life is truly class-leading (the Sony WH-1000XM5 only offer 30 hours) and you get support for aptX Adaptive, one of the highest-quality Bluetooth codecs around.
Sound is clear, direct and neutral. The Momentum 4 might have shed a little of the richness that made their predecessors so appealing, but highs are well-honed and mids are pleasingly plump. You can even create 'Sound Zones' – essentially profiles characterised by specific EQ and noise isolation levels.
When you consider the outstanding battery life, detailed sound and competitive price, the latest Momentum over-ears have a lot going for them.
Read the full Sennheiser Momentum 4 Wireless review
The HD 250BT might not feature any luxury flourishes, but they're a good-sounding, durable and truly likeable set of budget on-ears. Indeed, they were among the 'best wireless headphones' at the 2022 What Hi-Fi? Awards.
Despite the low price, features include Bluetooth 5.0 with aptX Low Latency, a 25-hour battery life, app support and Sennheiser's beloved-of-DJs transducer tech. Pretty decent, then.
The build is a black plastic affair, but it is functional and solid and features the firm's traditional S-in-a-rectangle white branding on each ear cup. Said ear cups are nicely padded, although the headband is not.
When it comes to sound, the HD 250BT are a good deal more musically detailed, agile and rhythmically gifted across the frequencies than one might expect given the eye-popping price tag.
All in all, the HD 250BT are a superb budget buy – and a great way to experience what Sennheiser is capable of, without breaking the bank.
Read the full Sennheiser HD 250BT review
The Sennheiser Momentum True Wireless 2 bring a raft of improvements compared to their predecessors and one of the most refined sounds we've heard from a pair of wireless headphones.
The design looks much the same as the original, but there has been a slight aesthetic tweak. The earpieces are slightly slimmer, so they protrude less from your ears, and, more importantly, they're more comfortable to have in place for long listening sessions. One of the major changes is the introduction of noise-cancelling, which works extremely well and is pretty much on par with the Sony WF-1000XM3. They're nice to use too, with touch-sensitive pads on each earpiece which can be customised to control music playback and features.
Battery life is competitive, with a single charge giving seven hours of playback and the charging case providing an additional three charges, bringing the total battery life at your disposal to 28 hours.
It's all positive and we haven't even touched on the sound quality, which is extremely refined and sophisticated for the money. Highs and lows are composed and controlled but dynamics aren't sacrificed. The Sennheisers present a detailed soundstage with impressive scale and authority. They're a little pricier than other wireless in-ear headphones, but if your budget can stretch, your ears will be rewarded.
Read the full Sennheiser Momentum True Wireless 2 review
Sure, the 17-hour battery life can be bettered, but with the Sennheiser Momentum 3 Wireless, that's where the gripes end. Their thick leather earpads make these headphones incredibly comfortable and even provide a good dose of noise isolation – handy if you don't have enough juice left to power the noise-cancelling feature. The on-cup controls and their collapsible design also make them easy to use and very convenient to take with you, too. And then there's the sound.
They're rich and gloriously full-bodied but still maintain clarity, particularly in the midrange. It gives them a superb tonal balance alongside their depth of bass, which will reward listeners of all stripes.
Admittedly they've been superseded by the Momentum 4 (above), and you can get some great competitors for a bit less. But rhythmically speaking, these Sennheisers are cohesive and consistently dynamic too, making them a stunning buy.
Read the full Sennheiser Momentum 3 Wireless review
Sennheiser's IE 900 in-ear headphones will appeal to purists who want to get the best audio possible from a high-quality source. The premium in-ears come with six ear tip options and three cables with a choice of normal 3.5mm and balanced 2.5mm and 4.4mm connectors. The only thing they don't have is an in-line remote.
Sennheiser's engineers have chosen to go with a single driver rather than the more fashionable multiple unit approach that many rivals take and it's made with rigidity and low resonance in mind. The results? Fantastic. The IE 900 sound clear, open, confident and insightful, revealing layers of detail and organising every track into a structured and cohesive whole.
Partner these high-end Sennheiser headphones with a high-quality outboard DAC, such as the Chord Mojo and use good quality files and you'll hear just why the IE 900 justify their premium price tag.
Read the full Sennheiser IE 900 review
These are the latest iteration of the iconic HD 600 headphones, which are now over 20 years old. They have an open-backed, over-ear design, with a 38mm driver complete with an ultra-light aluminium voice coil. You can see some of the workings through the perforated grille, and a vented magnet system minimises distortion.
The velour earpads are plush, generously sized, and very, very comfortable. The headband isn't quite as comfy, but it doesn't exert undue pressure on your head, and the headphones are fairly light, making them well-suited to long listening sessions.
To listen to, they're wonderfully relaxed, and take every track in their stride. Midrange and voices are particular highlights, though they struggle with more bass-laden fare. They're not bad in this regard, but they're less impressive than rivals – there's a lack of tautness and punch which also stifles the low-reaching dynamics. But if it's a nice, easy listen you're after, they fit the bill perfectly.
Read the full Sennheiser HD 660S2 review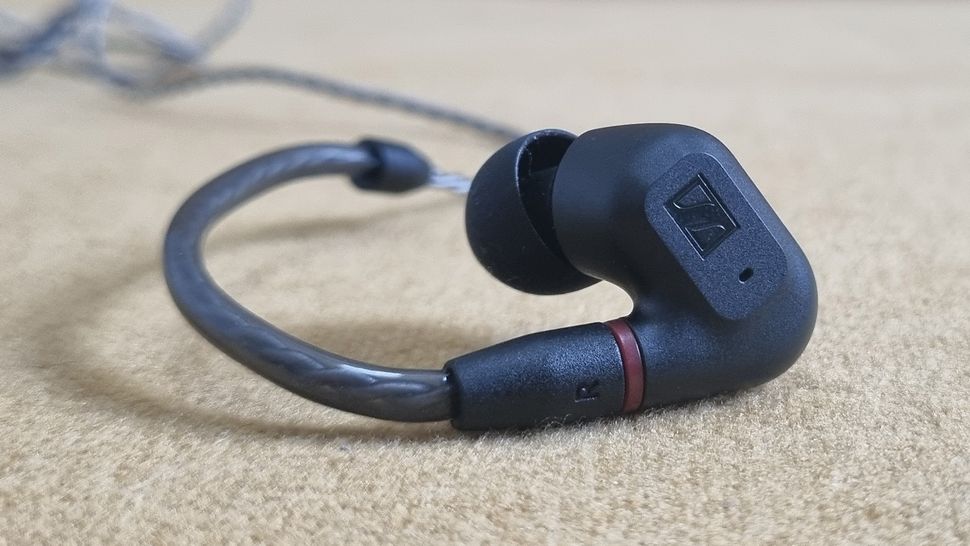 Audiophile performance on a budget – that's the promise of these wired in-ears. They're the entry-level models in Sennheiser's audiophile headphones range, but they still feel reassuringly well made.
The 1.2m braided cable is durable and, thanks to MMCX connectors at the earbud end, can be swapped out for another down the line. The finger-length ends nearest the earbuds are covered by a tubing designed to wrap around ears for a more secure fit, while the relatively non-descript black housings themselves are discreetly compact. Three sizes of silicone and memory foam eartips, plus a pleather pouch (less 'audiophile' but reasonable for the price), complete what amounts to the kind of generous, well-considered design you might expect from a company that has been in the business for as long as Sennheiser has.
There are no in-line controls, but one listen and you won't mind. Clear, rich and weighty, they're instantly likeable, and sound much more open than most similarly-priced wireless earbuds. Proof you don't need to spend big in order to join the audiophile club.
Read the full Sennheiser IE 200 review
While they may lack the outright transparency and simplicity of the very best noise-cancelling pairs out there, there really is plenty to like in the HD 450BT – not least in the way of top-notch features, such as excellent, 30-hour battery life and aptX Low Latency support, which are far from given in headphones of this price.
If battery and bass are up there on your list of priorities, you won't regret making these Sennheisers yours.
Read the full Sennheiser HD 450BT review
These are very much high-end headphones for proper home hi-fi systems. They're closed-backed, and use Corning Gorilla Glass which is usually found in high-end smartphones.
The tonal balance is smooth and full-bodied, while they're sure-footed rhythmically. If your system demands premium headphones and you can stretch to the HD 820 you won't be disappointed. They're comfortable and engineered to last.
Read the full Sennheiser HD 820 review
If you thought over-ear headphones had to cost the earth, check out the HD 201. They're a cheap, no-frills pair, about as basic as they come but surprisingly good given the price. You have to make do without any bells and whistles like noise cancelling or an in-line remote, but sound quality is decent, with highlights being insight and balance.
They paint a clear sonic picture, while the top end is never harsh. If you're after headphones that don't cost the earth and make you drum along on your desk, these will do nicely.
Read the full Sennheiser HD 201 review
Sporty types, these are for you, as indicated by that splash of neon. But there's much more to these than just an eye-catching colour scheme: they're wireless, so you won't get tangled while working out, and they're splash- and sweat-resistant, so should last a while. The sound is clear, with expressive mids and bass powerful enough to get you pounding the treadmill. A solid and appealing pair of sports headphones.
Read the full Sennheiser CX Sport review
The neckband design won't be for everyone, but if you can get on with it there's a lot to like about these headphones. Wireless connectivity, for starters. And less chance of losing an earbud. There's a decent sense of space and openness, and sound is packed with detail. They're dynamically strong too, with the Sennheisers scaling highs and lows with ease. You're treated to an inviting presentation, with the expressive mids a particular highlight.
Read the full Sennheiser Momentum In-Ear Wireless review
How we test headphones
We have state-of-the-art testing facilities in London, Reading and Bath, where our team of experienced, in-house reviewers test the majority of hi-fi and AV kit that passes through our door.
Of course, testing headphones don't often require such facilities (though we do often try audiophile headphones in our reference hi-fi system). What is important in our headphones reviewing process is that each pair is compared to the best in its price and style class – whether that's one standout pair or a few we favour the highest among the 100+ pairs we listen to each year for reviews and What Hi-Fi? Awards judging. What Hi-Fi? is all about comparative testing, and we keep class-leading products in our stockrooms so we can always compare new products to ones we know and love.
We are always impartial and do our best to make sure we're hearing every product at their very best, so we'll try plenty of different types of music and give them plenty of listening time (and time to run in), while the wired headphones that might warrant being used with a DAC are tested with a suitable one. It's not just about sound quality, of course. If a pair has active noise cancellation – increasingly the case these days – we'll ensure part of our testing involves using them in different environments.
All review verdicts are agreed upon by the team rather than an individual reviewer to eliminate any personal preference and to make sure we're being as thorough as possible, too. There's no input from PR companies or our sales team when it comes to the verdict, with What Hi-Fi? proud of having delivered honest, unbiased reviews for decades.
MORE:
Our pick of the best headphones for every budget
And the best wireless earbuds around
Treat your ears to the best over-ear headphones