Best 55-inch TVs Buying Guide: Welcome to What Hi-Fi?'s guide to the best 55-inch 4K TVs you can buy in 2021.
55in TVs are the sweet spot for many people – more impressive visually than smaller sets, more able to fit in a tight space than giant, big-screen TVs. And it's an increasingly popular size now that more and more of us are enjoying HD and 4K content.
Pick the right TV size and type
Take the time to make sure your choice of TV has the connections you need and the feature support to watch your favourite streaming services. You can rest assured all the below sets deliver great pictures, while some come with upgraded TV speakers or soundbars to offer high-quality sound, too. So without further ado, let's help you choose the best 55-inch 4K TV for your home.
It's a good time to upgrade your home entertainment experience and for many people, a 55-inch TV will be the optimum size. If that's you, read on, because we've trimmed down our list of the best TVs to bring you a specific run down of the best 55-inch TV sets currently available.
How do we choose the best 55-inch TVs?
Here at What Hi-Fi? we review hundreds of products every year. So how do we come to our review verdicts? And why can you trust them? The What Hi-Fi? team has more than 100 years experience of reviewing, testing and writing about consumer electronics.
We have state-of-the-art testing facilities in London and Bath, where our team of expert reviewers do all our testing. This gives us complete control over the testing process, ensuring consistency. All products are tested in comparison with rival products in the same price category, and all review verdicts are agreed upon by the team as a whole rather than an individual reviewer.
From all of our reviews, we choose the best products to feature in our Best Buys. That's why if you buy one of the products recommended below, or on any other Best Buy page, you can be assured you're getting a What Hi-Fi? approved product.
We can't praise the Philips OLED805 highly enough – it produces a natural-looking picture that impresses and superb sound for a TV. Provided you're willing to forego a few cutting-edge features, this well-priced allrounder is the best 55in TV you can currently buy.
Its crisp picture is enhanced by Philips' awesome Ambilight tech which uses coloured LED lights to extend the onscreen action onto the walls (you can switch it on or off as you please). In addition to standard 4K HDR formats, this set supports Dolby Vision and HDR10+, which means you can stream content from both Netflix and Amazon Prime Video in the best quality available.
Sound is rich and bass is surprisingly solid for a TV. As for the software, Philips has opted for Google's Android TV operating system, which places plenty of apps at your disposal (although it's a shame that Apple TV app is currently missing).
Despite the outstanding spec, design and performance, Philips has managed to price the 55in OLED805 lower than equivalent sets from LG, Sony, Panasonic and Samsung. In short, it's a top-notch set at a price that's hard to beat.
Read the full Philips OLED805 review
The new TU8000 punches well above its weight, performing brilliantly across 4K, HD and standard definition. It might not be one of Samsung's top-of-the-range models, but it arguably represents the best balance of price and picture quality in the company's 2020 lineup.
There's much to like about the solid build quality and superb Tizen operating system which provides all the major streaming apps including Netflix, Amazon Prime Video, Disney+, Now TV, BT Sport and Apple TV.
HDR content looks spectacular on this 55in TV's LED panel, with a level of shading and punch that you would normally only expect from Samsung's pricier QLED panels. Step down to SD content and it does a fine job of upscaling.
Sound is decent enough but not a patch on the Philips OLED805 (above) or the Sony KD-55A8 (below), so we'd recommend upgrading to a soundbar. It's also worth noting that you'll need a unit or AV rack that's least 103cm wide to support this set's stand.
Still, if you want an app-laden 55in TV that delivers premium picture quality at a mid-range price, the TU8000 is up there with the very best.
Read the full Samsung UE55TU8000 review
The Samsung Q90T is a slightly tricky proposition. It's the top 4K TV in Samsung's 2020 TV range, but as a result of the company's increased focus on 8K models, it's also less of a flagship model than last year's equivalent.
Any whiff of a downgrade is bound to set alarm bells ringing, but it's rarely sensible to draw conclusions from a spec sheet alone. And so it proves here: the Q90T is an excellent TV and a great alternative to its OLED rivals.
Purchasers of the PS5 or Xbox Series X will love the feature set, which includes eARC, HFR (High Frame Rate), ALLM (Auto Low Latency Mode) and VRR (Variable Refresh Rate). The Q90T also has an input lag of just 11ms and a couple of gaming-specific picture features that can smooth motion and increase dark detail, thereby increasing its gaming credentials even further.
But it's great for movies and TV, too, being noticeably brighter than its OLED rivals. Sharpness and detail are excellent, and the delivery is lovely and punchy, too. And in terms of audio, it has a tonally natural and balanced sound, with decent dynamic subtlety and a good combination of spaciousness and directness.
Read the full Samsung QE55Q90T review
The Panasonic TX-55HZ1000B might resemble Clark Kent, but power it up and you'll discover that it performs more like Superman. This brilliant OLED set produces a punchy, vibrant, well-controlled picture that makes the most of 4K HDR content and does an impressive job when upscaling lower resolution video.
Sports fan? Panasonic's new Smooth Motion Drive Pro technology handles motion (almost) as skillfully as Lionel Messi despatches defenders. Sound is clear and dialogue well-projected, but you might want to take a look at our list of the best soundbars for audio to match this TV's superb picture.
In addition to HDR10 and HLG, Panasonic supports HDR10+ and Dolby Vision, though it's a shame that the implementation of Dolby Vision makes it difficult to optimise. Also, the remote doesn't feel very 'premium' in comparison to the TV.
Such trifles should be quickly overlooked, though – this is one of the very best 55in TVs you can buy and a great choice for both sports and movie fans.
Read the full Panasonic TX-55HZ1000B review
Sony might now be in the shade of LG and Samsung in some people's minds when it comes to TVs, but its clever picture processing and innovative TV sound technology makes this cutting-edge OLED one of the company's best new models.
The Sony KD-55A8 combines an LG OLED panel with Sony's picture and sound smarts, and does so to excellent effect. It's thin (just over 5cm), though buyers should note that the feet are positioned at the edge of the screen, so you'll need a large stand to accommodate it.
One thing you may not need is a soundbar, as Sony uses actuators that vibrate the screen imperceptibly, essentially turning the display into a big, flat speaker. The A8 combines two of these actuators with two subwoofers. It's a neat trick and performs brilliantly.
Expect the typical connections, streaming apps and tech features, including support for the crucial HDR picture formats. But the real excitement is finding out just how strongly the A8 performs when it comes to picture and audio. It majors on realism and authenticity, delivering a subtle but vibrant picture, without sacrificing punch or colours. Fast motion is handled with aplomb, too. Throw in the fact it sounds very good by TV standards, and you have one of the best 55in TVs we've tested in recent memory.
Read the full Sony KD-55A8 review
This Samsung QLED sets a formidable benchmark, offering high-end performance at a mid-range price.
It may look fairly familiar, a little bit chunkier than last year's models now that all the connections are inside rather than in a separate One Connect box, but there have been plenty of upgrades. The four HDMI inputs support the key features of HDMI 2.1, such as eARC and HFR, while 4K HDR streaming is available via Netflix, Amazon Prime Video, Disney+ and Apple TV+. In fact, the app support is superb, with pretty much every video and music streaming site you can think of on offer here. If there is a gap in the feature set, it's Dolby Vision.
A simple TV to set-up when it comes to getting the best possible picture, the Q80T ultimately delivers a brilliantly dynamic image with deep black levels, excellent contrast and neutral but vibrant colours. The colour balance remains a strength, no matter the material you're watching, while motion is handled confidently and smoothly throughout our testing. And while we'd recommend adding a soundbar or some speakers, Samsung's Object Tracking Sound technology provides open, engaging audio.
There are rare occasions when playing an HDR video that the Samsung's vibrancy seems a touch exaggerated but overall, this mid-range 55in TV impresses with a dynamic and solid picture, substantial sound and cracking feature set.
Read the full Samsung QE55Q80T review
With its incredible colours, intense blacks and razor-thin panel, this What Hi-Fi? Awards 2019 winner is another in a long line of excellent OLEDs from LG. The LG OLED55C9PLA is a great looking TV with a feature set to match and, while it's now considered an older model, it's also cheaper than when it originally launched and therefore even better value for money.
The healthy feature count includes a nifty gesture remote, a generous helping of inputs and outputs, and a thorough offering of streaming video and catch-up services, with Amazon Prime Video, Netflix, Google Play Movies and more.
There's also an Alexa app you can install to voice control your TV usage, plus Google Assistant too. HDR is taken care of by Dolby Vision, HDR10 and HLG. Sound is just 'OK' and a little more peak panel brightness might help with those dark details, but for the money, this is a superb 55in TV that delivers great colours, excellent contrast and super-sharp attention to detail.
Read the full LG OLED55C9PLA review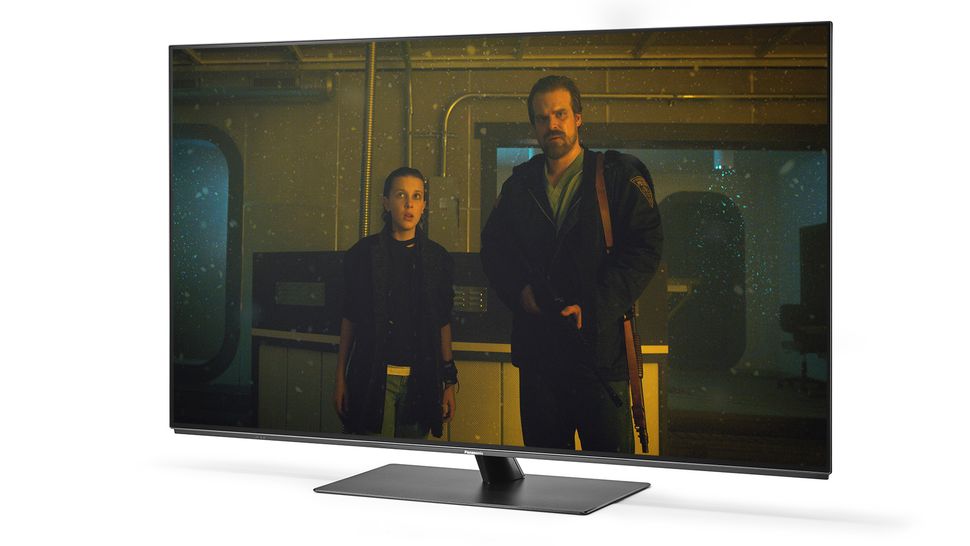 Let's get this out of the way: the 2019 Panasonic GZ950 OLED is not quite as good as the LG C9 (above) in terms of picture quality. It's just that little bit less punchy and eye-popping. That said, it supports both Dolby Vision and HDR10+, and it sounds significantly better.
Besides, in its own right, the GZ950 produces a great picture with brilliantly natural colours and perfectly deep blacks. It's also a very accomplished upscaler of standard definition content.
Panasonic's operating system prioritises simplicity over flashiness. That ease-of-use will appeal to some, but others might find it a bit basic next to the slick software offered by the latest Samsung and LG sets. The styling is a variation on that theme: it's utilitarian and 'understated' (some may say bland) but does the job. The remote looks a little dated, too.
That being said, the TX-55GZ950B is still a great option. Some of its newer rivals in the 55in category are more polished but this Panasonic is a five-star performer that impressed us with its crisp, natural picture and weighty sound.
Read the full Panasonic TX-55GZ950B review
Thin, even by OLED's svelte standards, this model sports LG's sleek 'Floating Screen' design, giving it a minimalistic look. Despite the thinness, it packs in plenty of features including LG's 2019 AI Sound audio processing technology. In fact, you'd need to spend upwards of £500 on a soundbar to improve the audio significantly.
The main attraction is the picture, though. LG's clarity and crispness produces an immense sense of depth, even when faced with fast-moving action. It's extremely convincing and does a decent job of upscaling standard definition content.
The E9 also features LG's new Intelligent Edit Function, which automatically places your most used apps front and centre for easy access. All the expected apps are there, including Netflix and Amazon Prime Video, plus pay-as-you-go movie streaming services such as Google Play Movies & TV.
On the downside, there's no support for HDR10+ (although this TV does support the more popular Dolby Vision HDR format). But make no mistake, this 2019 set holds its own and is a fantastic 55in for the money.
Read the full LG OLED55E9PLA review